Aside from your customers, search engines are crucial to consider when building a website. It is essential to make your website SEO-friendly so that customers can find your products through Google. However, you also need a user-friendly, creative site where customers can easily find what they're looking for.
The challenge for site owners is balancing the need to be both users- and SEO-friendly, especially on a website that offers hundreds of products. This is further complicated by the fact that many businesses employ separate teams for web development and SEO. Having the teams coordinate and work together can be tricky, even if they're both in-house.
You're probably best off hiring a full-service digital branding agency and letting the professionals take care of this side of the business for you.
However you choose to handle the development of your site, you should know about the core principles of SEO web design, why it matters, and what specific things you should optimize to get the best results. That is what this article is about, so let's start with the basics.
What Is SEO-Focused Web Design and Why Does It Matter?
SEO web design is the process of designing a website so that it is optimized for search engines. A website designed from the ground up with SEO in mind will have a much higher chance of being ranked at the top of the search results within a given niche.
You could have the most beautiful website that offers an excellent user experience, but you won't get far unless people can find it through search engines.
While PPC ads and social media are great for boosting traffic, you'll also need to attract prospects in organic ways, which means getting as high as possible in the search engine result pages.
Let's discuss a few of the most significant benefits of SEO web design.
Increased Organic Traffic
Traffic that comes to your website organically is any traffic that hasn't been paid for, such as visitors from search engines. These are visitors who found your site after performing a search on Google and browsing through the top results.
Specifically, over a quarter of all clicks go to the first search result, 15% go to the second search result, and there's a sharp decline from there.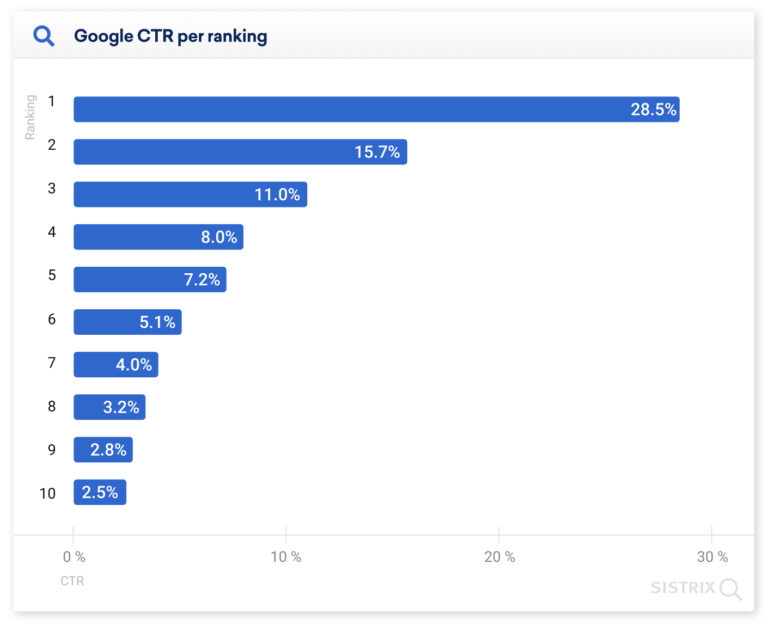 Seeing that only 2.5% of clicks go to the 10th result, it is safe to say that any organic traffic outside the first page is abysmal. To improve your chances of ranking higher in SERPs, you must optimize your website as well as possible.
More High-Intent Traffic
Google searches are usually conducted because someone has a specific query that they want to find information about. If the exact answer to their question appears on your page, they'll likely click on it.
It's possible they won't convert right away, but they now know where they can look for answers to any similar questions in the future. Your website should be optimized to increase search engine rankings to gain high-intent traffic.
Improved User Experience
According to a Forrester report, UX has a staggering ROI of 9,900%, but that's not the only benefit of a good user experience. The key to getting on Google's good side is to optimize your website for SEO while also making it user-friendly.
Google has refined its ranking system to take user experience-related metrics into account. Some of these metrics include:
Bounce rate
Mobile-friendliness
Time on page
The UX optimization of your website is an integral part of your marketing strategy. This will ensure that your website is easy to navigate, so your visitors can find the information they need.
To avoid affecting the user experience of its own users, Google only wants to rank the best websites. In other words, a high-ranking site builds trust along with helping the user find just what they're looking for.
Affordability
An SEO strategy can take some time to be implemented, but the changes often cost nothing. Business owners can set up SEO parameters themselves with a little bit of website knowledge, or they can delegate this task to a team member.
Ultimately, SEO is an inexpensive strategy for promoting your website and increasing your revenue.
How to Optimize Your Design for SEO?
Having learned why SEO web design is essential, let's discuss how you can optimize your website.
The first thing to remember is to keep search engine optimization in mind throughout the process. It makes no sense to have your web development team build your entire website only for your SEO team to tear it apart.
The two teams should cooperate closely during the design phase to streamline the process.
More than 200 factors determine a website's ranking in Google's search algorithm. It is nearly impossible to consider all of these factors, no matter the size of your design team. Instead, the best SEO companies focus on the following elements.
Mobile-friendliness — Besides improving your search engine optimization, having a responsive website makes it easier for your audience to access your content from either a computer or mobile device.
Site speed — Google's algorithm also factors in your website speed. This is only logical — no one wants to deal with slow-loading websites, so Google tries not to display them.
Readability — Your visitors will not be able to learn anything valuable from your website if they can't read the content on it. You should use big, bold fonts throughout the site for the best readability and divide your content into easily consumable chunks.
Sitemap — Sitemaps are files that list all the pages, files, videos, and other website items. These are useful for websites with multiple pages, especially if they are not all linked to one another. With a sitemap, Google will be able to find and crawl all your web pages, allowing them all to be ranked. It's simple — Google cannot drive organic traffic to a web page if it can't find it.
URL structure — Before launching your website design or redesign, conduct keyword research for every page. Be sure to do this for every new page you create. Using keywords in each page's URL helps Google understand what your page should rank for. It also keeps URLs short and to the point, which is great for user experience.
Meta tags — You can improve your SEO by utilizing your page or post's focus keyword in the title tag and meta description. Bear in mind that your title tag may contain up to 60 characters, while your meta description may contain up to 160 characters.
Conclusion
A well-designed, SEO-friendly website requires bridging the gap between web development and search engine optimization. As a team, encourage everyone to work together from the start to ensure both SEO and usability are fully optimized on your website.
Remember, the best way to rank in search engines is to provide value to your customers. If you optimize the components above, create quality content, and design excellent user experiences, your search results are destined to improve.