Having a website is an integral part of many businesses. There are plenty of website building platforms to choose from. WordPress, Joomla, and Wix are some of the most popular ones. But no matter what platform you choose, site speed is an issue.
Slow site speed sometimes makes it impossible to open a web page. Not only does a slow website turn away visitors but also has a significant impact on your business overall.
In this article, we'll be looking at the many different ways a slow website can impact your business.
Surprising Impacts of a Slow Website
Deteriorating user experience
Studies show that in the past decade, the average attention span of a human being has shrunk from 12 to 8 seconds. So it comes as no surprise then that visitors to your site will leave if it too long to load. In fact, studies also show that 40% of users are known to abandon a site if it takes over 3 seconds to load a page. And, especially with the number of competitors that businesses have, visitors know that they can look elsewhere. That way, a slow website is causing you to lose visitors and potential customers even before they have a chance to read about the service you are providing.
For e-commerce websites, the impact of slow page load is even more severe. Slow websites lead to increased bounce rates and shopping cart abandonment.
Back in 2013, the world's largest retailer, Amazon lost $66,240 every minute in a 30 minutes downtime episode. In fact, it's been speculated that giant retailer could lose up to $1.6 billion in sales due to a second's delay.
Your e-commerce site (or any other site) may not be as big as Amazon, but you will still incur losses if your website is loading slow.
To the visitor, a fast website offers a sense of moving towards their goal. The goal could be anything from buying a trendy piece of clothing or the latest PlayStation. The faster they move towards their goal, the more satisfied they are. The opposite is true, as well. Slow websites lead to a decline in user satisfaction thanks to unsatisfactory user experience.
This decline can be measured in a number of ways. For e-commerce websites, frequent abandonment of carts should be a sign. In other websites, this can show up in increased bounced rates as explained below.
Increase in bounce rate
Neil Patel, the internet guru, describes bounce rate as –
A "bounce" occurs when someone visits your website and leaves without interacting further with your site.
A lot of times, the reasons behind why a visitor leaves (or bounces off) a web page too soon can be traced down to the site's performance. A Google report found that a second's delay can increase the bounce rate by over 100%. Unfortunately, an average website can take up to 22 seconds to appear properly on the browser.
There are many tools that you can use to know what your website bounce rate is. But the most commonly preferred tool is Google Analytics. It enables you to find out if your website is experiencing an increase in the bounce rate, which means more and more people are leaving your website without interacting with the site.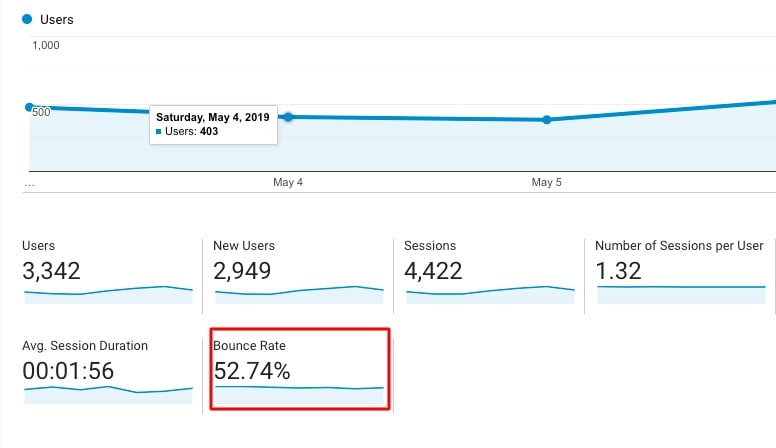 Google measures 'interaction' by the number of pages the visitor views. A visitor viewing two pages means he is interacting with the site. But if most visitors leave without glancing at more than one page of your website, it's a sign of something being wrong. Like your site could be facing performance issues like slow loading speed. This will directly impact your search engine ranking.
Fall in search engine ranking
Anyone who has published anything on the internet hopes that someone would read it. But the online space is highly competitive. Only the first few websites (shown in the image below) that appear on the search engine (like Google) attract visitors. You must have noticed it yourself! When you Google for anything, do ever find yourself scrolling down and opening the last few websites that appear on the search engine? Most likely, no.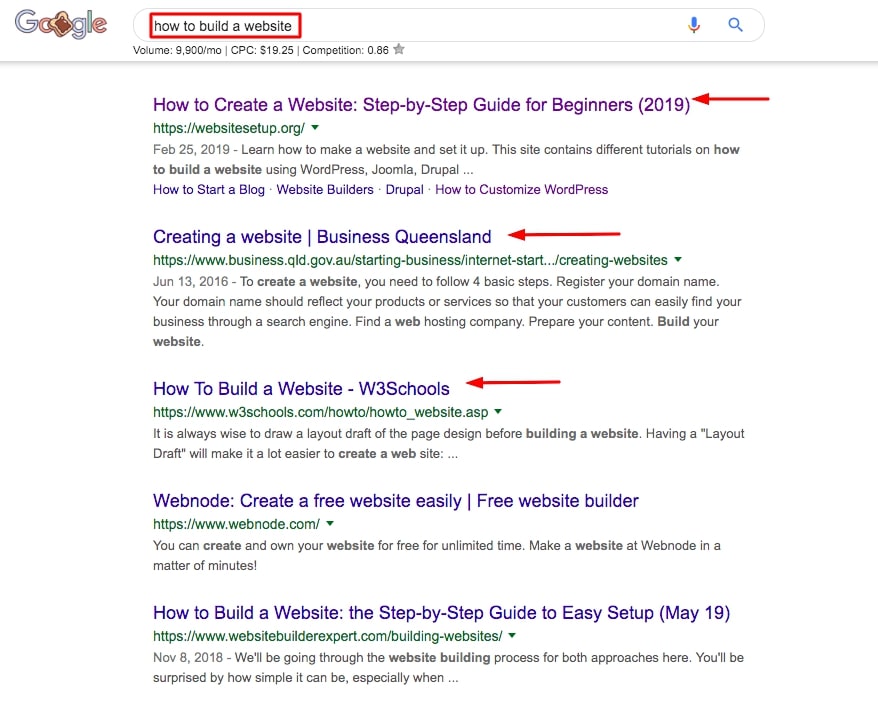 Hence, if you want an audience, you need to rank high on the search engines, which is a competitive space. Every website is trying to top the other, trying to climb to a better position. There are many factors that enable websites to rank high. Performance of a website is one of them.
Although Google, the world's largest search engine is normally tight-lipped about ranking factors, they have made it clear that website speed is one of the factors. Google states that: "We're striving to make the whole web fast." Clearly, the search engine giant wants its users to have a fast browsing experience. Other search engines like Yahoo and Bing have joined the cause of fast internet.
When websites fail to meet this demand for speed, they fail to rank on search engines.
Fast websites can sometimes become slow due to reasons like heavy themes, use of excessive plugins, the site being hacked, etc. As your site speed falls, so does your ranking.
Search engines take note when visitors are leaving your website quickly. It's a sign that visitors are not happy with your website, possibly because of unsatisfactory user experience. Google and other search engines wants users to have the best browsing experience. When your website is unable to offer such an experience, it either fails to rank or can't sustain search engine ranking. And a dip in the ranking can be clearly measured from the decline of traffic.
Loss of traffic
A dip in search engine ranking inevitably leads to a fall in traffic. The lower your website appears in the search engine, the lesser traffic it draws.
As we mentioned in the previous section, websites that hold the first few positions in Google search (or any other search engine) draw the largest amount of traffic.
The first position receives 33% search traffic, compared to 18% for the second position. The traffic only degrades from then.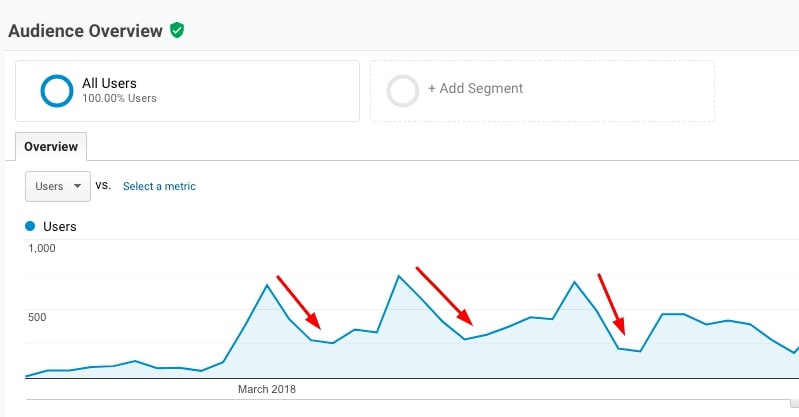 For e-commerce websites, this is particularly distressing because low traffic translates to low sales. Studies show that 79% of online shoppers who are dissatisfied with a website don't return to the site ever again.
Even if you are not running an e-commerce site, drop-in visitors mean fewer people are learning about your business, or clicking on ads or making purchases through affiliate links. The whole point of building a website for your business is so that people can visit the site and learn about your work or the service you are providing. But if a slow website is preventing from access your site, then it defeats the purpose of building a website for your business!
Impact on revenue collection
Over the last few years, the e-commerce industry has been experiencing massive growth. More and more e-commerce websites are being built each day. The popularity of the WooCommerce plugin in WordPress and Virtuemart, J2Store, Hikashop in Joomla- plugins that enable users to easily convert their websites to e-commerce sites – shows just that. While building an e-commerce website is easier than ever, selling products and making money is still a challenge.
For e-commerce websites, it's much worse because your business solely relies on the website. Although there are any non-e-commerce websites, who depend heavily on ad revenues. Regardless of whether it's an e-commerce site or not, when your website undergoes performance issues, visitors leave, impacting the revenue collection of the site.
Here are a few examples of how site performance has played a huge role in increasing revenues and earnings –
AutoAnything, a large online retailer of specialized automotive products, saw a jump in sales by reducing their web page loading speed to half. Mobify found that customers with faster websites were experiencing higher conversions and increased revenue.
Over to you
To be able to establish your business in the market is an uphill battle. Don't let an issue like site speed derail that climb. The challenge is to pinpoint the cause behind a slow website. Knowing what's causing the issue is a step towards fixing the problem at hand.
One of the most common reasons for declining website speed is that the site is hacked and infected with malware. In such cases, you'll need to clean your website immediately. There are trusted solutions in the market such as MalCare (for WordPress sites), Admin Tools for Joomla, etc that you can use to clean your website. We strongly recommend using a trusted security solution to ensure that your website is running smoothly at all times.
---
Want to Speed up your Joomla or WordPress Websites?
We are CMS experts and can help you to clean and boost your Website speed. No Downtime or Data loss.