Is your website open to all visitors?
If you believe so…… You may be mistaken!
Because one in every four people has some form of disability. Many people around you, use the web differently than a normal website visitor.
So, it is your humble duty to be equal to everyone and make sure your dream website is accessible to all.
This in turn also increases your website's traffic and gives your business a boost.
But now the concern is: How will you make your website accessible?
All organizations, whether in the public or private sector, need to prepare to make their websites and mobile apps accessible, if they want to remain competitive and compliant. 
Making your website more accessible would be costly and time-consuming, given your hectic schedule of marketing, content creation, social media participation, etc.
So, one of the ways to achieve this is through using the WordPress accessibility plugin for websites that help you reach out easily to people from all walks of life, particularly those with disabilities.
We've researched and put together this complete guide, which includes the best WordPress Accessibility Plugins that will make your websites easily accessible for everyone.
But before that let's go through certain terms and facts related to these WordPress plugins.   
So, sit tight and keep reading!
What is a WordPress Accessibility Plugin?
To comprehend these WordPress accessibility plugins, you must first understand what website accessibility is. It means every single visitor can access and use your website properly and easily.
Having access to your website means exploring the web pages, and comprehending the visual and written content.
Experts claim that a website is accessible only when it can be used by people with cognitive, physical, auditory, neurological, visual, and speech difficulties.
The W3 web accessibility initiative has produced an international guideline to ensure that website developers adopt a common accessibility design approach called the Web Content Accessibility Guidelines aka WCAG.
You may customize your website automatically to suit international accessibility standards by using these WordPress plugins.
You have just read about what these plugins are! Now let's discuss some of the benefits of using these plugins on your website.
Importance Of WordPress Accessibility Plugins
Accessible websites are faster, smoother to use, provide a nice user experience, and have improved SEO. The most important and obvious advantage of accessibility is that people with disabilities can read and enjoy the material, products, and services offered on your web pages. When you make your website services available to everyone, you'll be able to :
Increase the reach of your website
Improve your website's credibility
Increased access to image alt texts, transcript videos
Improved search engine optimization and better rankings
Easy and quick to browse by everyone thus growing your audience
Since you know how beneficial these plugins are, it's time to have a look at the best WordPress Accessibility Plugins.
Want to Hire a Web Accessibility Expert?
Don't worry, we are here to help you. Let's book a free consultation call with our expert and let us understand your business and what you want to achieve.
FYI, JoomDev has been offering tailored web accessibility services for more than 7 years.
Best WordPress Accessibility Plugins
WP Accessibility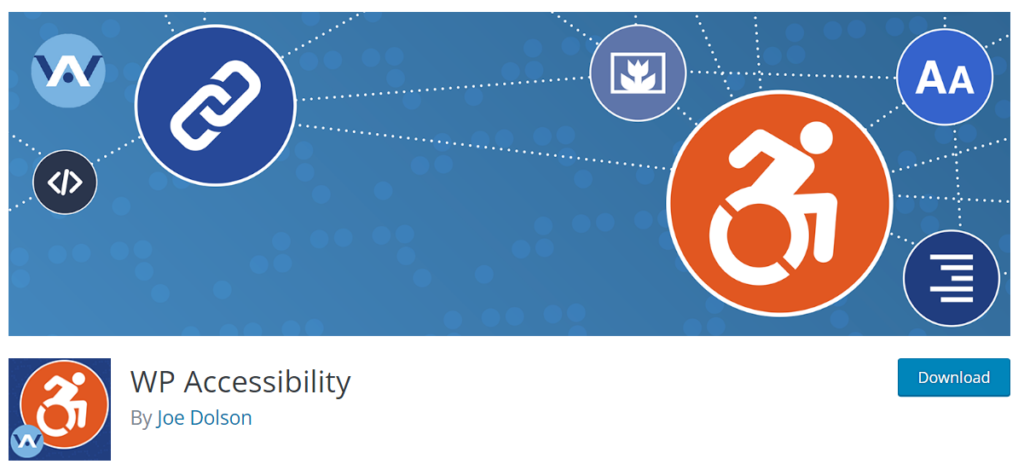 The first plugin that comes number one on our list is WP Accessibility. It is one of the best free accessibility plugin options available in the market for addressing WordPress accessibility issues. While most accessibility concerns cannot be solved without modifying your theme, the WP Accessibility plugin offers several useful accessibility features with little setup or coding knowledge.
All features can be turned on or off depending on your themes' requirements. For expert users, all of the functionalities based on altering stylesheets can be changed by inserting the necessary stylesheets in the theme directory and utilizing your custom styles.
Key Features:
Add skip links as per viewer targets
Add an outline or framework around focusable elements
Add text and language direction attributes
Add long descriptions to the image in the image description's area
Alt image properties in its classic editor
Easy to add post titles in "read more" links
Remove the tab index from focusable components
Pricing:WP Accessibility plugin is entirely free. You can just download and install it with the steps provided.
One Click Accessibility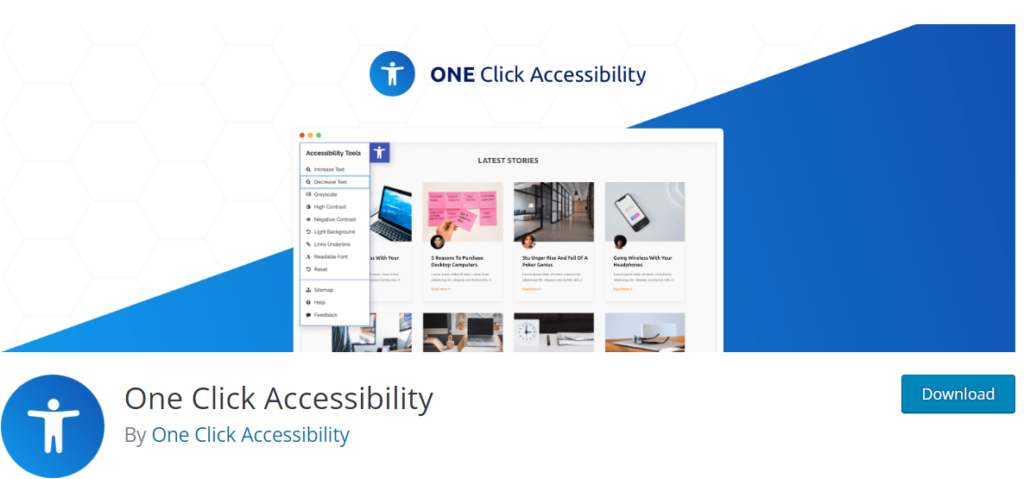 The next plugin that comes on the recommendation list is One Click Accessibility. This plugin is the quickest way to improve the accessibility of your website. One Click Accessibility was created originally for the Pojo framework, however now it is compatible with any WordPress theme.
One Click Accessibility is simple to set up and operate, making it a wonderful alternative for people who want to make their website most accessible to their visitors. It allows you to give more accessibility by highlighting the links, setting grayscale, adding a light background to make your material stand out, having negative and high contrast effects, improving the readability of your fonts, and much more.
Key Features:
Allows for content skipping
Have an outline focus for focusable elements
Eliminate the target attributes from the links
Landmark roles for all links
Style adjustment with customizer
Set access to sitemap, feedback, and help pages
Pricing:One Click Accessibility is a free plugin with no premium version. It offers you both manual and automatic installation procedures.
Accessibility by UserWay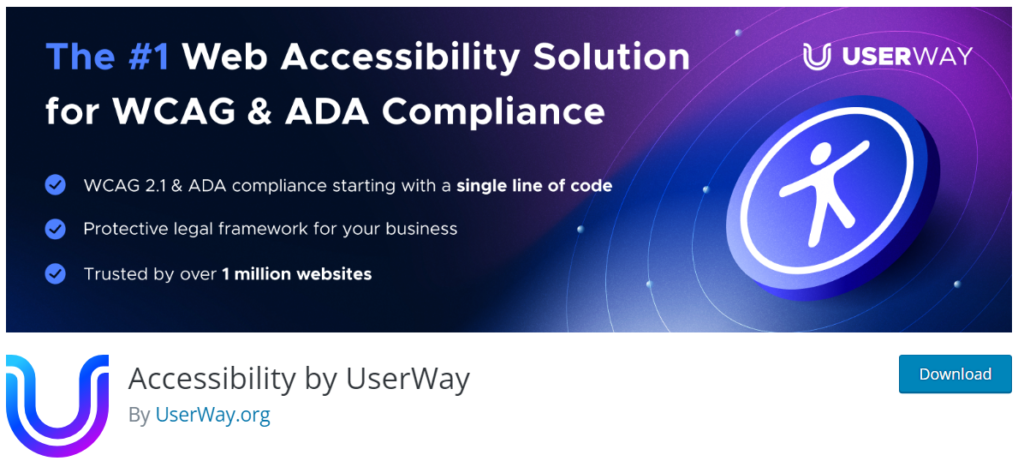 If you need seamless digital accessibility for your website then go for UserWay by UserWay.org, trusted by millions around the globe. The AI-powered accessibility widget from UserWay was created to provide small and medium-sized businesses with a cost-effective yet comprehensive accessibility solution.
It will automatically detect and solve any errors detected on your website, allowing it to make your website more accessible to everyone.
Key Features:
Automatic Alt text
Page layout resolution option
Remediation of broken links
Cursor enlargement
Screen reader tool
Dyslexia-friendly font
Real-time accessibility monitoring in the pro version
CAG 2.1 AA, ADA, Section 508 compliance in the premium range
Pricing: UserWay provides you with a 10-day free trial. You can get its monthly plan starting at $49 and its annual plan at $490 with many more premium version options.
Screen Reader WCAG Accessibility Tools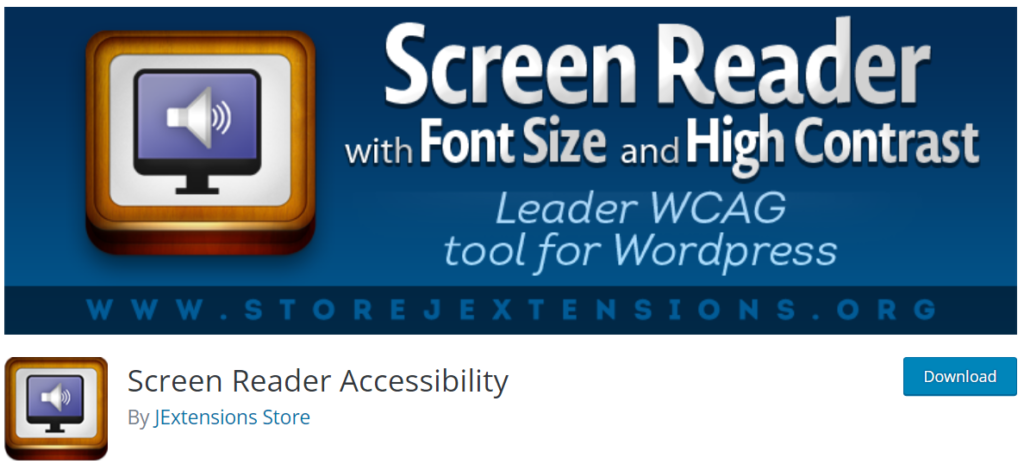 Screen Reader Accessibility is the next one of the best and most simple WordPress accessibility plugins that you can choose for your site. It will add accessibility elements to your website, such as a text-to-speech engine, to ensure that it complies with the WCAG guidelines. 
It can be a valuable tool whether used as a reader for your page text or as a text-to-speech program. More than 50 languages are supported by the audio reader, which can read the text in a variety of languages.
Key Features:
Simple to install and configure
Act as a shortcode to posts and pages
The availability of a single switch button as an alternative
Show or hide the title as per convenience
Option for removing widgets for each page
Automatic theme rotation is possible
High text-to-speech audio quality
Pricing:
The Screen Reader tool is available in the free version but all of its main features are covered in the pro version which costs you $49 per year.
WP ADA Compliance Check Basic

WP ADA Compliance Check Basic is a free WordPress plugin that helps you find accessibility issues on your site. It is one of the trustworthy and secure accessibility plugins used by thousands of small businesses, and educational, and government institutes.  
This WordPress accessibility plugin has 78 separate error checks, which is significantly more than competitor plugins. It integrates smoothly into your workflow, receiving your website for accessibility issues as soon as new content is uploaded or you may run a full scan of your website. References and easy-to-follow instructions are also contained in the result report of the accessibility check.
Key Features:
Automatic issue correction
Assessment under WCAG 2.1 Level A, AA, and Section 508 guidelines
Scan the entire website including posts, pages, custom post types, widgets, theme files, shortcodes, embedded iframes, PDF and CSS files, etc.
Integrate seamlessly with existing workflow and on-demand single-page scan available
Easy to read reports and summary
Works with many website editors like Elementor, Gutenberg, Beaver Builder Divi, etc.
Includes a web accessibility widget
Identify untagged PDF files
Pricing: WP ADA Compliance Plugin comes in both freemium and premium versions.
The pro version which includes many more features comes at a price range of $179 annually for one site with one year of updates and support and $565/lifetime for one site with full support and updates. Many other pro version options are also available.
Web Accessibility By accessiBe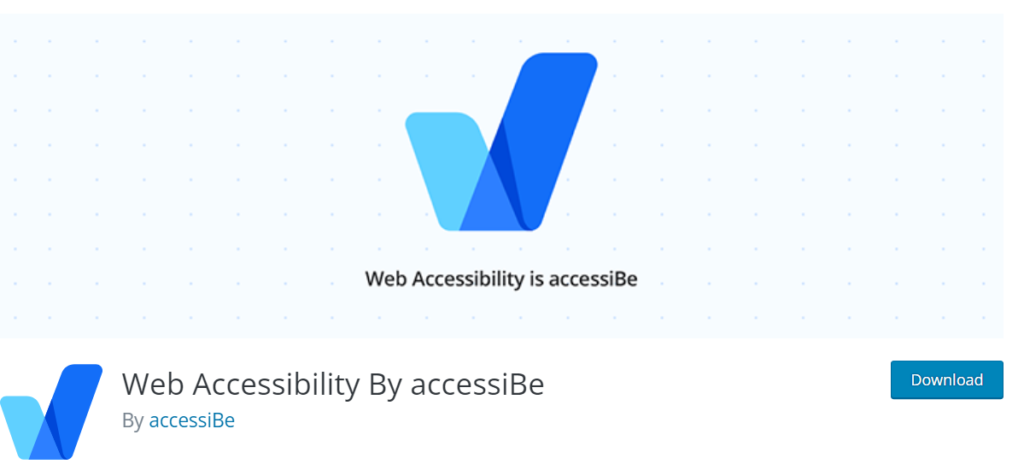 This next plugin on the list is a software-as-a-service plugin specially designed to make any website more usable and accessible. It offers very easy installation and configuration.
The accessiBe WordPress plugin allows you to connect to the accessiBe AI service without touching any code. By making your website more accessible and compliant, accessiBe AI-powered overlay improves brand impression.
It can also assist you in changing page structure so that it is more keyboard-friendly. Furthermore, the plugin continuously scans new content to ensure that accessibility settings are consistent between old and new content
Key Features:
Automatic screen reader adjustments
Automatic keyboard navigation adjustments
Seamless customization options
AI programming automatic daily scans for content
Resolves accessibility issues like image alt texts, ARIA attributes, forms, etc.
Pricing:
This plugin comes in both free and pro versions. The premium range starts from $49/month with a 7-day free trial service. Many other pro version plans are also available.
WP Accessibility Tools & Missing Alt Text Finder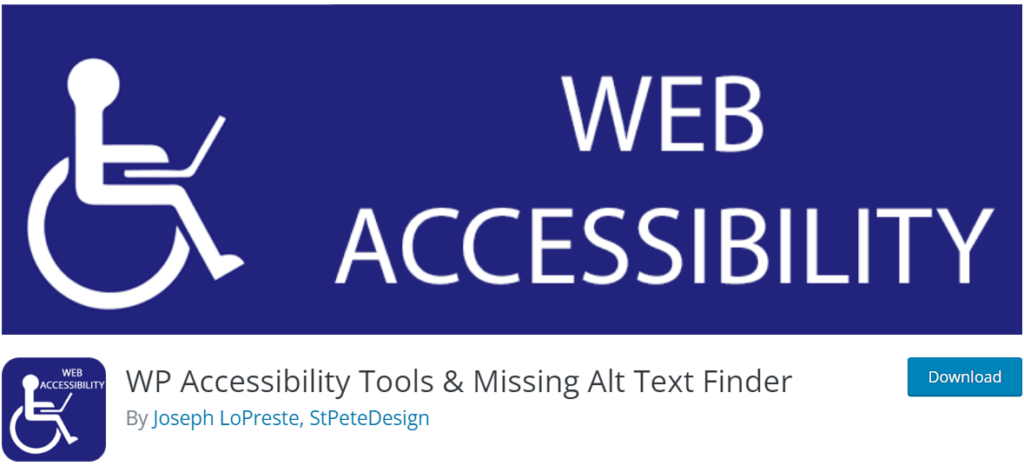 Another reliable and easy-to-use plugin on the list is WP Accessibility Tools and Missing Alt Text Finder. Its fantastic feature is the missing alt text finder, which scans your media library, pages, and posts for images that don't have alt text. You can add it easily with a single click. You can also use it to add descriptive text.
This plugin provides you with a contrast ratio checker and a missing alt text finder. You can use the A11Y auditing feature to perform several accessibility tests on your website and receive recommendations on how to improve it.
Key Features:
Show you all the images missing any of the three forms of text from your media library or posts.
Allows you to add any form of missing alternative, description, or caption text in just one click
Allows you to conduct an automated A11Y accessibility audit
Offers a free contrast ratio checker
You can get a lot of free accessible resources in the form of links to help you understand web accessibility
Pricing:
You can get this plugin free of cost. It offers you a very easy installation process.
WP Accessibility Helper (WAH)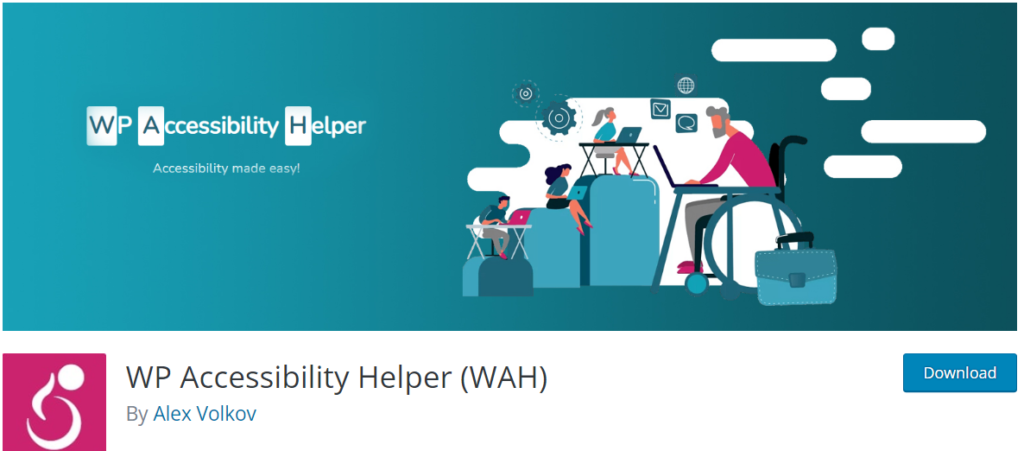 Another plugin on our recommended list is a freemium WP plugin. WP Accessibility Helper offers a lot of features even in its free version. It comes with a document object model (DOM) scanner to check for accessibility issues in your posts and pages as a comprehensive set of tools to help you solve those issues.
Font scaling, skip links, link underlining, and animation removal all are included in both free and pro versions. Visibility options, shortcodes, tiny bars with contrast, font resizes, and gray scaling as well as an online speech API all are covered in the premium version.
Key Features:
Web Speech application programming interface (API)
Font resizing as per requirements
Vision impairment, ADHD, Cognitive Disability Features
Accessible pop-ups and widgets
Accessible helper buttons
 Pricing:The WP Accessibility Helper is available for free of cost but its pro version costs $199/year for a single site. You can also check the more options available for pricing this plugin.
Zeno Font Resizer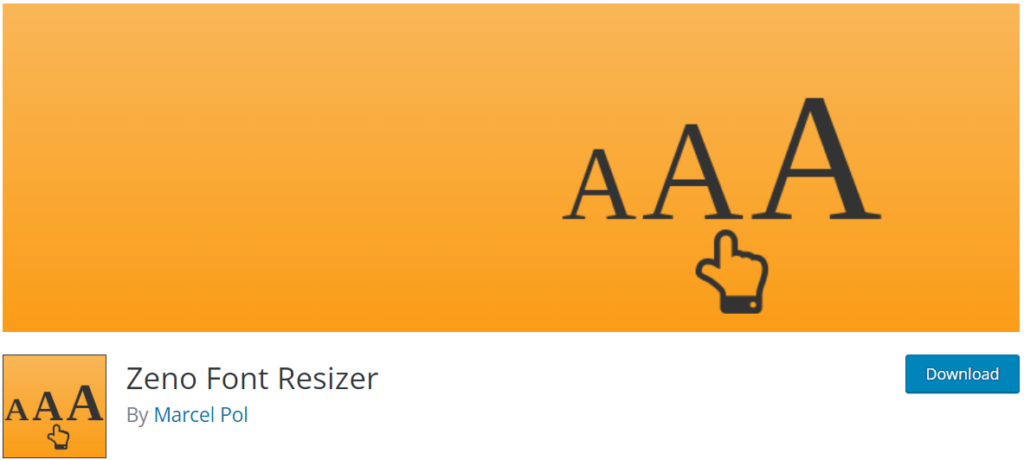 It's time to discuss our next plugin on the list which is Zeno Font Resizer. It is a very basic but good plugin to set the font size of your text on WordPress sites. The plugin includes a widget that allows users to adjust the text to their taste. The lowest and highest font sizes as well as the amount of sizing change can be customized. The plugins use jQuery and JavaScript to fix the font sizes.
The visitor's font size preference is recorded in the cookies, so the font will automatically adapt to the required preference if they return to your site. Just make sure the website is cookie-compliant!
Key Features:
Classic widget availability
Compact and simple plugin
Option of adding PHP code to a template in the theme, preferably a child theme
You can set the content which is to be resized and the resize stages on the admin page
Easy font size changes as needed
Compatibility with ClassicPress
Pricing:
This plugin is free to use with all its features.
Final Notes: Leave no visitor behind
We have put together a list of the finest WordPress accessibility plugins that are easy to use and solve your website's accessibility problem easily. So, don't forget to include these accessibility plugins on your website as you want your website to be accessible to all..!!!!
I hope you find this article informative!
Please let us know in the comment section below about the plugins that you find more suitable for your dream website. Also, Do you have any other plugin in mind you want to learn about then feel free to contact us….!!!!!