Unbounce's email list is the biggest asset we have for driving new acquisitions. Why? Email marketing consistently generates 80-90% of our landing page traffic when we launch a new campaign, piece of content or product feature. Email allows us to engage our audience in a creative, personalized way that blog posts or tweets can't. _ Corey Dilley (Marketing Manager at Unbounce)
As per Corey, email marketing is an important factor to grow your business smoothly. If you are collecting the emails from your visitors, you are building your audience and you can use that audience as you want. You don't need to be dependent on search engines or social media or another audience to generate sales when you launch your new products/campaigns.
But collecting emails is not an easy task. You have to convince your visitors to give his/her email address to you so you can send your promotional stuff directly to their inbox.
So, the biggest question is how to convince your visitors to give their email to you? Here are few hacks which will encourage them to give their email address to you.
Trigger creative and attractive Popups.
Look of your content
Offer them some valuable stuff
Start Giveaways or contests
Offer them premium download directly to their inbox and might be some more offers.
So if you are a Joomla user, then how you can display creative and attractive popup Opt-ins?
There are few free and premium Joomla Popup Opt-ins extension like JD PopX by JoomDev which offer you easy to use solution for displaying Popup Opt-ins. Let's check out how it works.
Step by step guide to trigger Opt-ins with JD PopX
First of all, you have to download the JD PopX Joomla component from JoomDev's official website. But before trying to JD PopX, if you want to check the demo of JD Popx, you can check it from here.
If you are satisfied with the demo, download it from here.
Install JD PopX
Before installing JD PopX, you need to install ACYMailing extension. Because all the emails you will collect with the JD PopX Popups, will be stored in the ACYMailing lists. You can select a list where you want to store the emails.
Once you are done with ACYMailing, download JD PopX and simply install it with Joomla installer.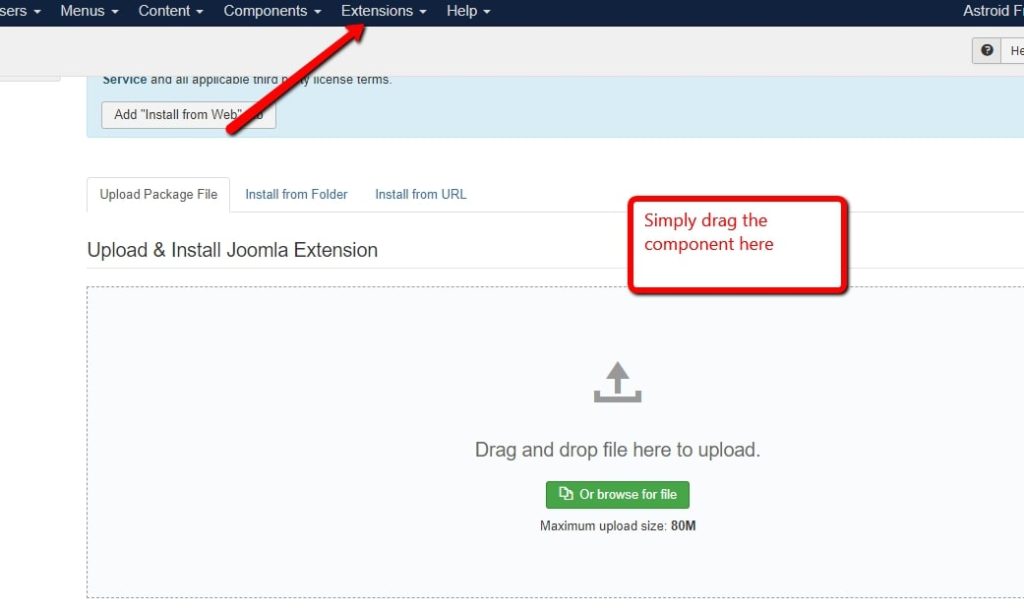 Select Opt-in Type & ACYmailing List
Once the JD PopX is installed on your Joomla Site, Configure it.
Simply, find JD PopX menu under Components and open it.
Now, you have to select the ACYMailing list in which you want to store email collected through Popup Opt-ins.
Then, you have to select the opt-in type. There are 4 types of opt-in styles.
Full-Screen Opt-in – It will trigger a full-screen popup.
Small Sidebar Opt-in – It will trigger a small popup on the sidebar of your website. You can set the sidebar position at left or right and popup alignment top, center and bottom. And it will display according to your configurations.
Bar Opt-ins – This style will trigger Bar Popup on your website. You can set bar position on top of the website or at the bottom of the website.
Lightbox Opt-in – It will trigger a small popup in the middle of the screen.

Configure the Template
To be true, you don't need to do anything to configure the Pop template. But if you want to change its look and feel by changing the colors, images, or text, you can do it easily.
Once you have selected the Opt-in style, there are two templates for each of the opt-in style. (We are working on the other templates as well. We will launch more templates soon.) Select the template and change its color and images as per your requirements.
You can change:
Images
Input fields
Backgrounds colors
Text
Button Color & Text
Additional Configuration Settings
Once you have customized the template according to your theme color schemes, now you can do few more settings which will enhance the experience visitor's experience.
You can do the following settings
Set effects – you can set the popup intro effect. You can choose any of the effect from the available 4 intro effects.
After Subscribe – What action you want to perform when visitor successfully subscribed to your newsletters. You have the option to close the popup or you can redirect the visitor to another internal or external page. You simply need to put the page URL if you want to redirect the visitor to another page.
Time Delay – Here you have to set that after how many seconds popup will be trigger when a visitor enter to your website.
Cookie Time – You can set the cookie time here. If a visitor closes the popup, it will not until the cookies expire.
This is how you can setup beautiful popups on your Joomla website and grow your email list fast.
Key Features of JD PopX
Fully Responsive Layout
Attractive Design & Typography
Compatible with ACYMailing
Fast and Lightweight
Easy to use and Customize
Multiple opt-in styles and much more.
At last, if you want to build your own audience, it is important to build your own email list. And to make people enter their details on your website, you need attractive Opt-ins. And JD PopX is the best solution to trigger creative yet attractive opt-ins.