Content versioning in Joomla 4 is a very powerful and robust feature. It allows you to manage multiple versions of your Joomla articles and go back to a certain version(s) in case there have been edits that weren't supposed to be made or maybe you just want to go back and see who has been making edits to a particular article.
How to enable and use Content Versioning in Joomla?
To enable versioning, Navigate to Content >> Articles.
On this screen, click the Options icon on the top right.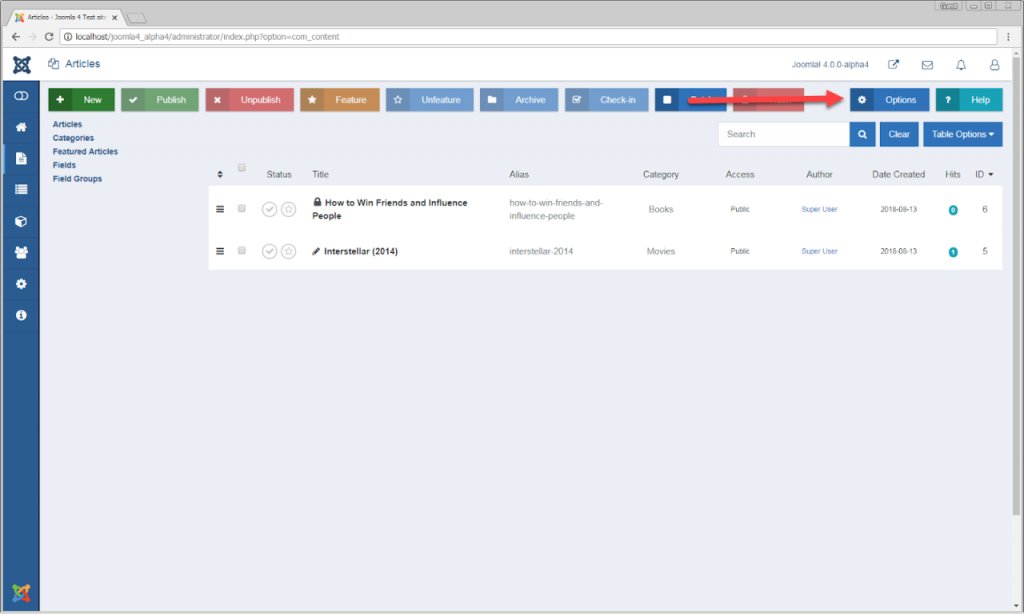 Once there, Click the Editing Layout tab and then click Enable Versions. Leave the maximum number of versions to 10 (this is the default value), this is the number of versions you'll be able to go back and review for any changes.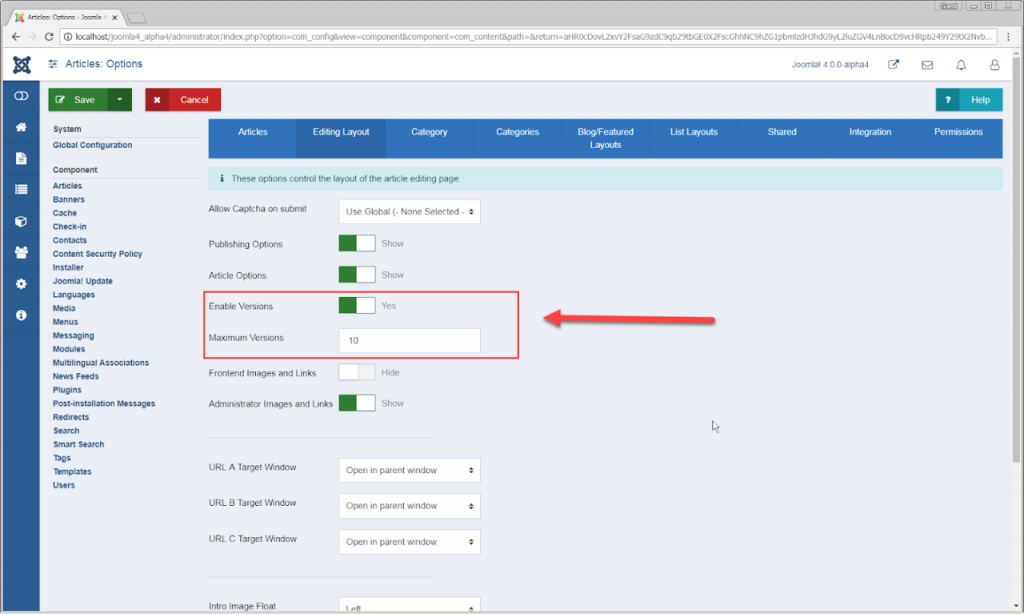 Once done, hit Save on the top left.
Let's go ahead and create a new article or edit an existing one and you will be following see the version options on the article editing screen.
Let's you look at specific versions of this particular article.
Let's you add a version specific note ( a version number ) while making the edit.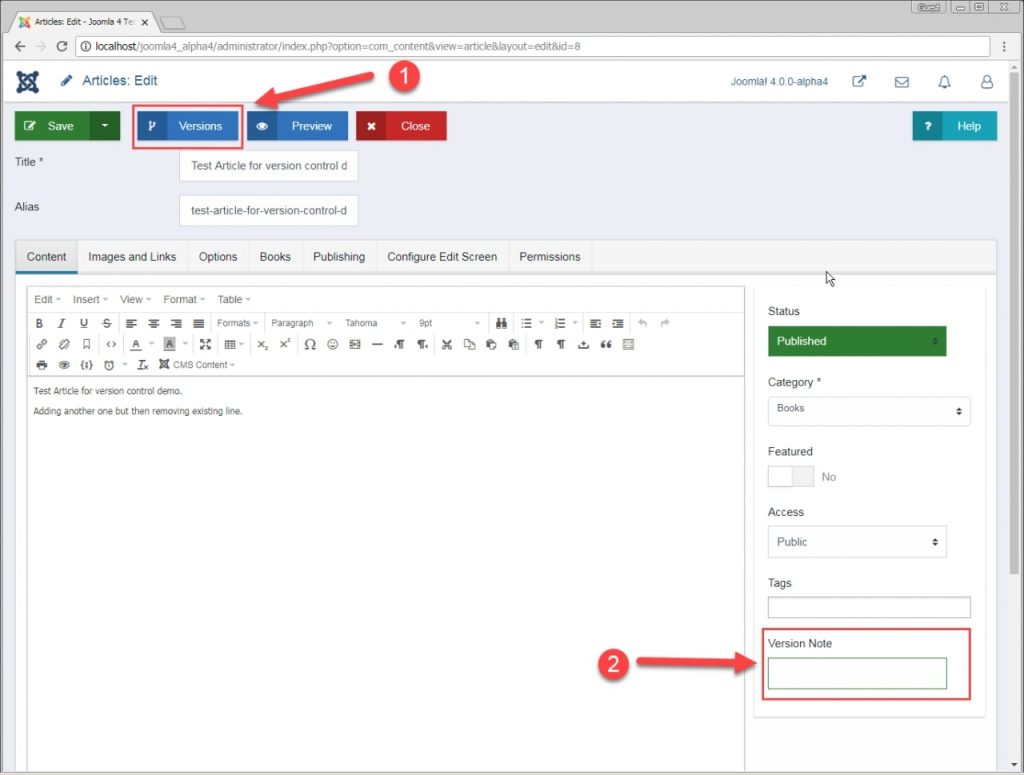 Click Versions to see different versions that have been saved every time there were edits to the particular article.
Toolbar info: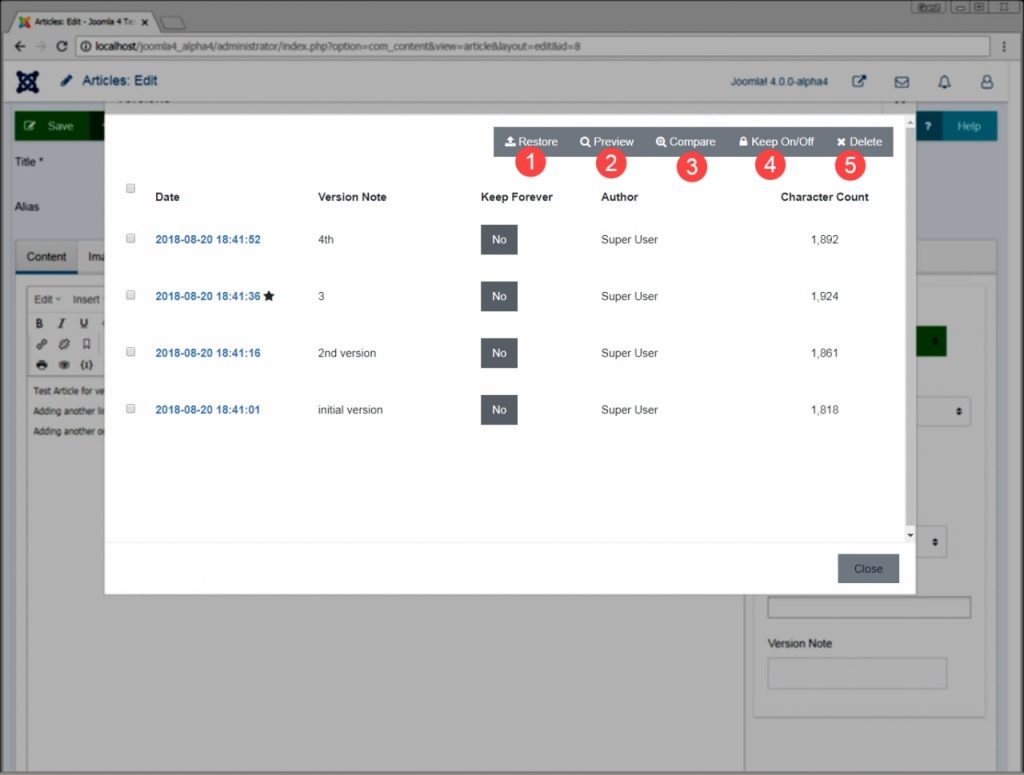 Restore: Button lets you restore and go back to the selected version of your choice.
Preview: Let's you preview the selected version.
Compare: You can select 2 different versions and compare them against each other.
Keep On/Off: This button lets you permanently keep a version since the limit is 10 versions per article, you can use this button to mark the versions that will not be deleted even after you have made more than 10 different modifications to the article.
Delete: This is in case you want to do some cleanup and delete any particular version.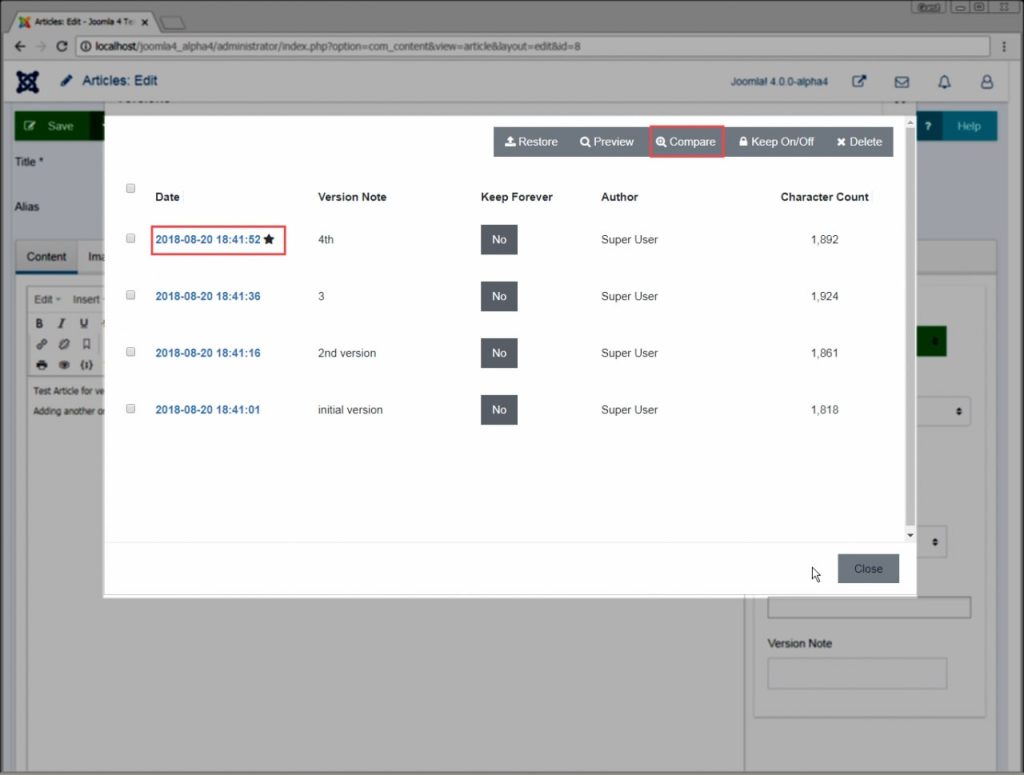 The Star icon next to the version number denotes the current (active version).
How to Compare Two versions of Joomla Article?
Compare 2 versions, select any 2 versions and click the Compare button.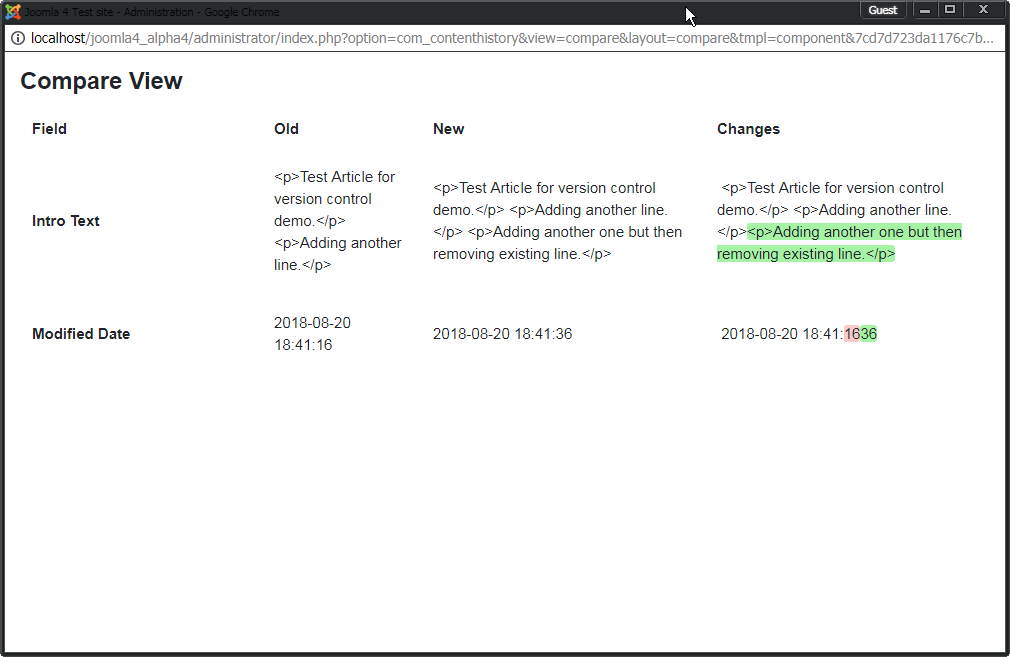 You will see a popup similar to this one.
Anything added is in Green, Anything removed will be highlighted in Red color.
How to restore the previous version of a Joomla article?
You can restore any version by clicking the checkbox next to the version of your choice and the restore button.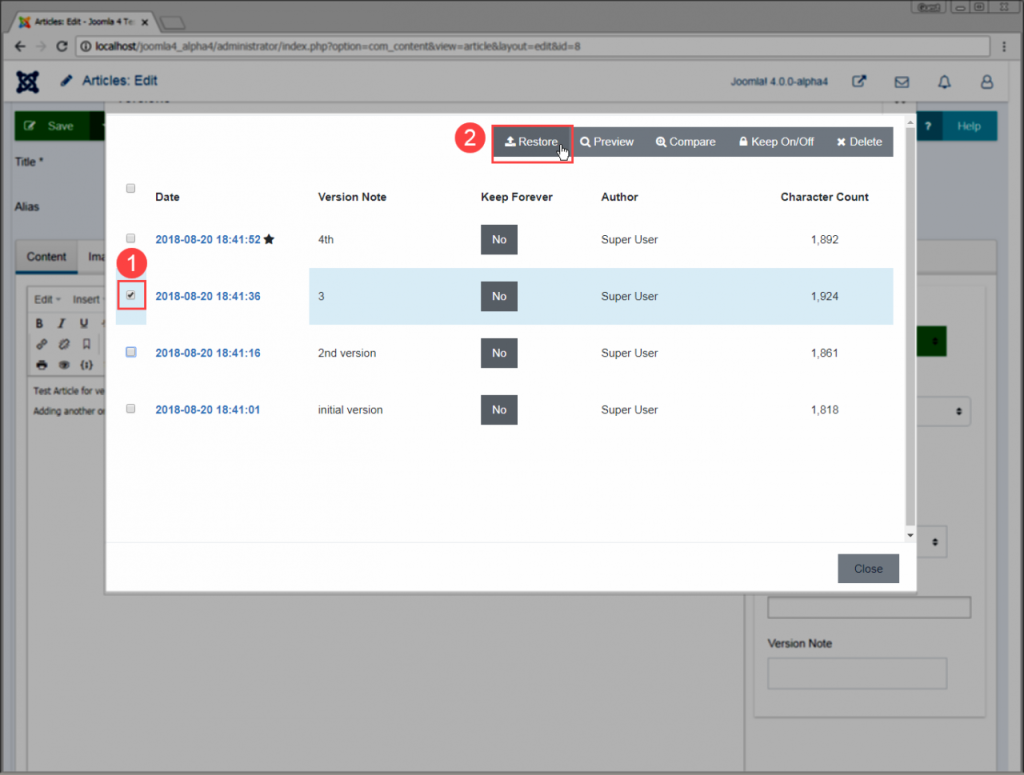 Once the restore is complete, you will see the success message like the one below.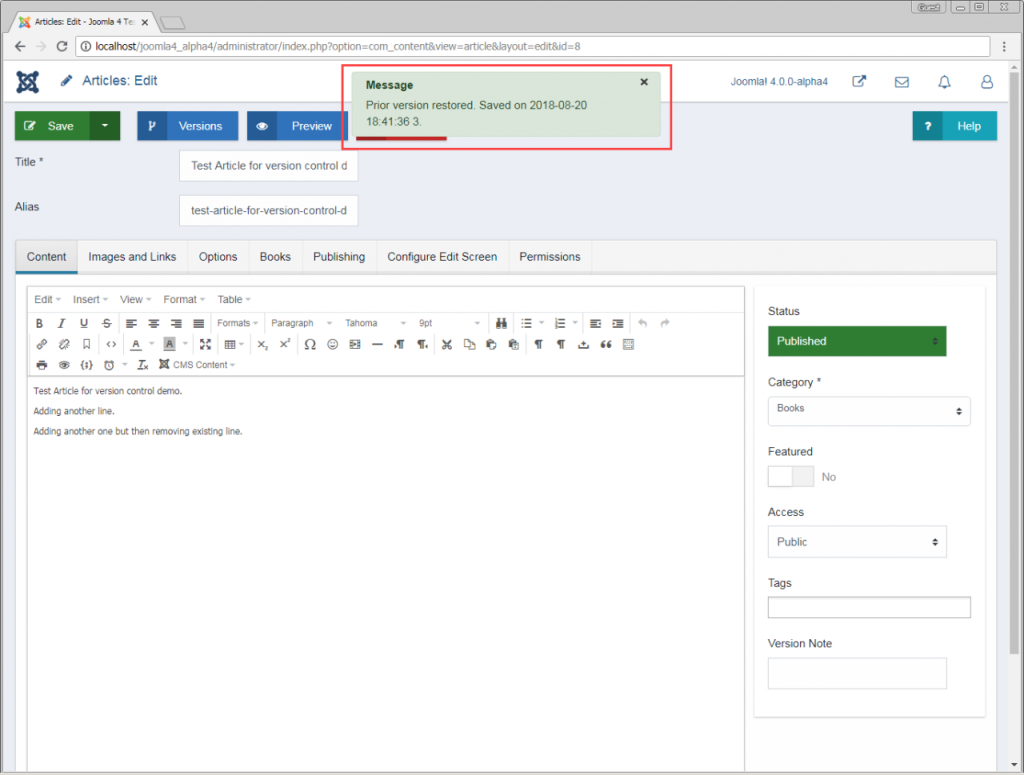 That's it, these are the basics of content versioning and it's pretty straightforward but very very useful when you are making edits to going back to a particular version. Let us know if we missed anything in the comments down below.