Our motive is to provide you full flexibility to design any complex layout with Astroid Framework & JD Builder. So, let's welcome Astroid 2.3.0 which will help you to scale up your workflow and experience while you are designing any Joomla website.
In this update we are introducing:
Responsive Typography Settings
Typography is an integral part of your website. You need to be very careful when you are setting up the font size, line height, font weight, letter spacing and all other parts of the typography.
And it is not always a good practice to have the same spacing or size on the desktop and mobile devices. There are 90% chances that you need a smaller size or space on mobile devices than desktop devices.
Earlier, you need to write CSS codes to manage all these things. But Astroid 2.3.0 comes with responsive typography settings which allows you to set different Font Size, Letter Spacing, Line Height for mobile, tablet and desktop devices.
Shortcut Keys – Speed up your Joomla Designing
Shortcut keys are the keyboard shortcuts that can be used to perform specific actions such as save settings, clear cache, preview or close the popup.
Astroid 2.3.0 will help you to boost your productivity with shortcut keys. You don't need need to use the mouse to perform the action, simply use the Keyboard shortcut as you use in the Microsoft Office or your Visual Studio.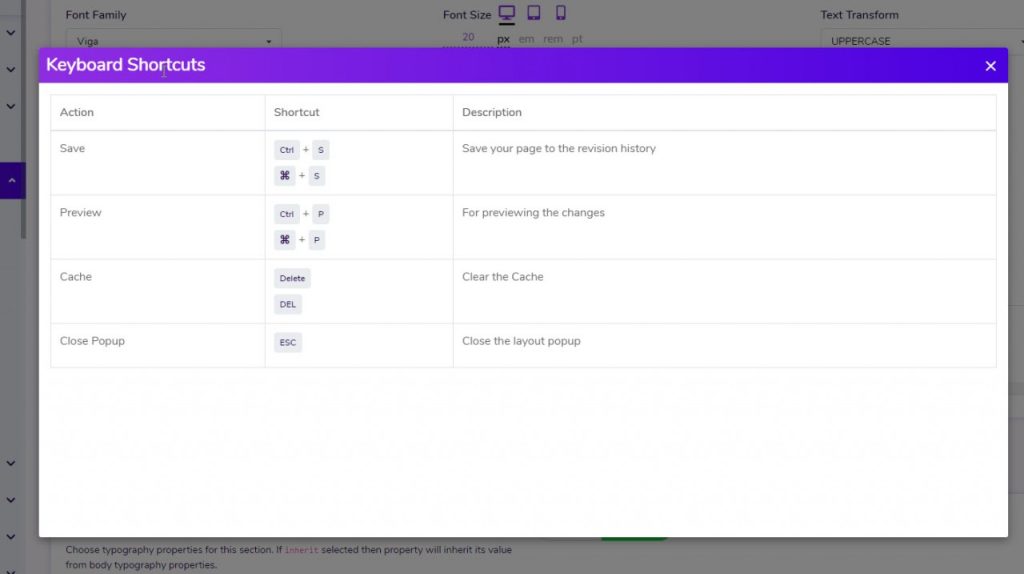 By pressing Shift + ? you can have a list of all the available shortcut keys along with the action description.
Responsive & Design Settings for Row Level
Responsive & Design settings were missing on the Row level. But the current update brings you all these settings as well.
This will help you to achieve the complex layout as well. Now, you can have different responsive & design settings for row and sections.
Custom Margin Padding on Section Level
Now, you have margin and padding option on the section level. So if your design needs to add spacing, you don't need to write the custom CSS. You can simply do with from the backend by adding Margin or Padding.
The most important thing is that it comes with responsive settings. Means, you can set different margin and padding for desktop, tablet and mobile devices. You can choose any unit such as px, %, em or rem.
Astroid is now integrated with JD Builder 1.3.0 which makes the framework more powerful. Now you can design any page with just drag and drop the elements.
Apart from the above-mentioned features, we have also made some improvements, updated the plugins/libraries to give you a great design experience with Astroid Framework.
Create Stunning Looking Themes & Websites with JD Builder & Astroid Framework
Choose from 100+ ready to use template layouts and 200+ sections and design your website in minutes.