The ability to Native Lazy load images has come to the web & to your Joomla website as well!
Joomla 4 has tons of exciting features and one of them is the ability to enable lazy loading of images thus helping speed up your website pages and boost the user experience. You can read more about the Lazy-loading feature here.
Why Lazy Loading?
Images are the most requested data type (after videos) on any web page and on average account for 90% of the size of the page. Lazy loading (or delayed loading) of images results in faster-loading pages, better user experience, and better organic rankings for your website.
It's a win-win situation and with Joomla 4, It's easier than ever to implement this throughout your website.
How to enable Lazy Load in Joomla 4
Thanks to Joomla 4 that you don't need to install any third-party extension to enable lazy load on your Joomla site. Joomla 4 comes with a built-in plugin for Lazy Load. Once it is enabled, it will automatically lazy load all the images.
So to enable the lazy load, log in to your Joomla backend, and navigate to System >> Manage >> Plugins.
Search for Lazy in the plugin manager.

Simply enable the Content – ImageLazyLoading plugin.
That's it. Any images in your Joomla articles moving forward will now be lazy-loaded automatically. See the video below for a more thorough walkthrough.
Lazy loading images is one of many things that contribute to a faster loading website, read more about website speed optimization for your Joomla website on our blog post here.
Enable Advanced Lazy Load with Astroid Framework
The default Joomla Lazy load does not give you the flexibility to control where to apply the lazy load and where not. If it is enabled it will be applied throughout the whole Joomla content.
So we have added a new feature in the Astroid framework as well. The Astroid lazyload offers you advanced lazy loading where you can select on which component and template view you want to enable the lazy load.
To enable the lazy load in with astroid, navigate to template admin panel > Miscellaneous > Lazy Load Images > Enable Lazy Load.
Once you enable it, you will get more options where you can set the controls.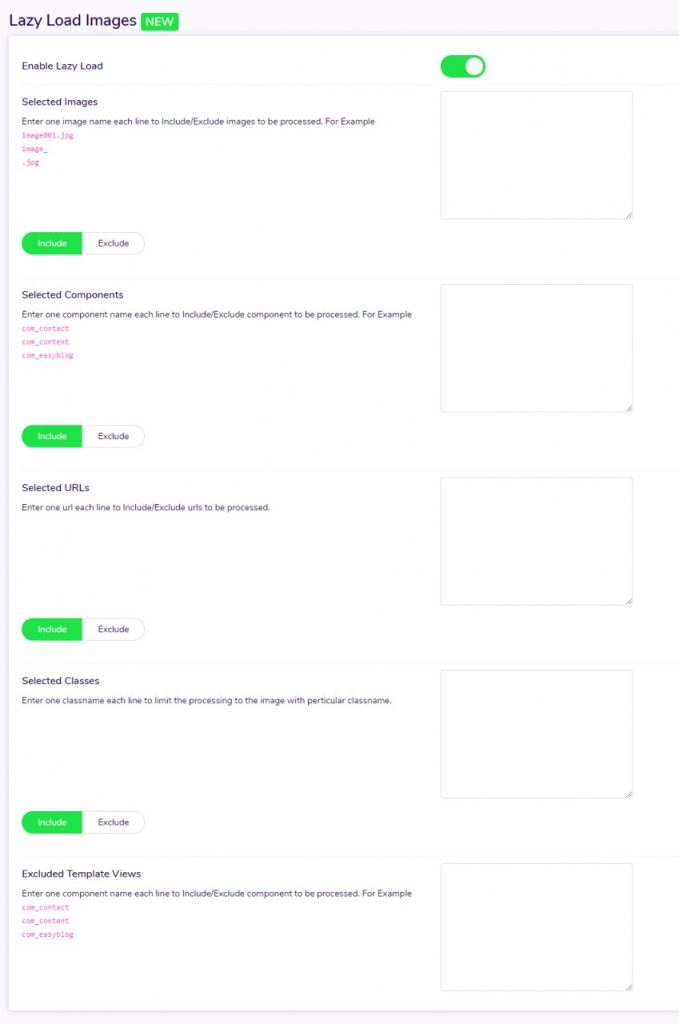 Let's take an example. You don't want to lazy load images from a specific page. Then just enter the URL of that page under the URL section and exclude it. Now it will lazy load the images from that specific page.
Be a Joomla Pro and Push to the Limits!
Download Astroid Framework today and design simple to complex design layouts. Download Now!