Optimization is one of the hottest catchphrases in the world of eCommerce. Why wouldn't it be? The changeability in customers' demands and revolutionizing tech have forced business owners to stay on their toes to enhance engagement and optimize their websites.
Without product page optimization, the entire effort for traffic generation and marketing for conversion is equal to zero. There is no point in driving people to your website if no one takes out money from their wallets.
Undeniably, industry, market, and consumer behavior is changing at a rapid pace and to stand fast in this cutthroat competitive world you have to work on your conversion rate. Because conversion is directly related to sales and without enough profits, your business longevity is highly questionable. Increasing the conversion rate is a crucial task.
Having an adequate rate of conversions is the basis of the long sustainment of your business. So, let's learn how to do that effectively.
How to Optimize your Service or Product Pages for Better Conversions?
What makes a product or service webpage great?
Your prime motive is to persuade customers that purchasing your product will work for them. To make your product or service page truly great then you need to factor in the following:
Product: This should be presented in a well-informed, structured, and clear way.
Brand: Branding on every webpage of your store matters a lot.
Copywriting: This combines the written data with your brand tone and voice.
User experience: The way things are arranged on the website really impacts the conversion rate.
Key ingredients to improve conversions through optimization of product pages
With all the above factors (product, brand, copywriting, and user experience) in mind, the following are some of the essential things to be considered in order to level up your conversion game.
Making product video
A perfect video of the product will speak 10 times more than just words. The more detailed info you provide about your product, the more trust will be built.
This would persuade your customers to make a quick purchase decision. Creating a clear visualization or video of your product will surely optimize your service or product page to improve conversions.
According to the latest analysis report, almost 60% of users look for product videos before purchasing them from any online or retail store. A detailed video helps users understand the product more which improves trust. If you offer clothing, make-up, or any such product that needs much info, then putting a clear video is a smart way to do it.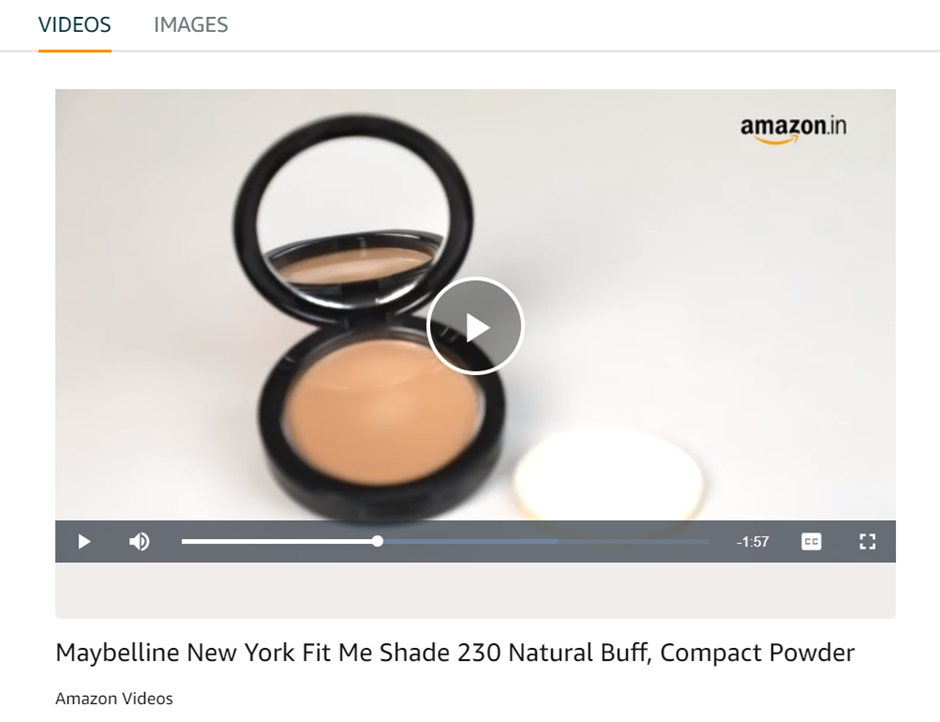 In the above screenshot, Maybelline has included a video along with the images on the Amazon site. This video not only shows that the product is authentic but clearly demonstrates how to use it. Such a tactic is very beneficial in converting a potential buyer into a loyal customer.
Consistent customer support
Inefficient customer support is one of the major reasons for low conversions. Focussing on this often neglected aspect can really help in yielding profits and churning out a soaring conversion rate. If you want your existing customers to remain loyal to services and earn more than you need to work on this aspect as well.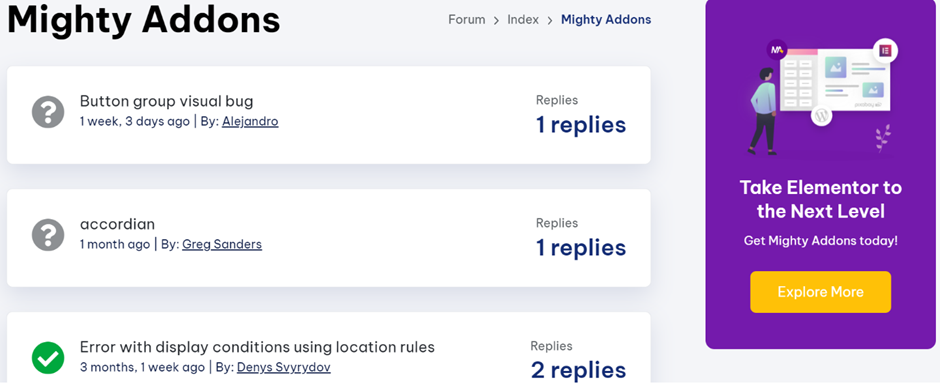 In the above screenshot, you can see that Mighty Themes provides consistent support to their customers. If you want your customer service to improve your conversion rate, along with all the key aspects such as price, product, etc. you need to put support on top of your list.
When you are 24X7 ready to provide answers to your potential customer's queries then not only their experience is enhanced but also you increase the odds of converting them into your actual clients.
High-quality product images
Online shopping is the most preferred method of buying things due to the comfort aspect. Shoppers want to see every minute detail of the product before purchasing it. As products that are sold online cannot be touched, the significance of their picture and other information increases even more.
The presentation of products on your eCommerce store plays a key role in conversion rate. An unclear or bad picture of the product can highly discourage people from buying it. Well-prepared and high-quality product images not only increase sales but also minimize return rates. If people will get what they have been shown, why would they return it?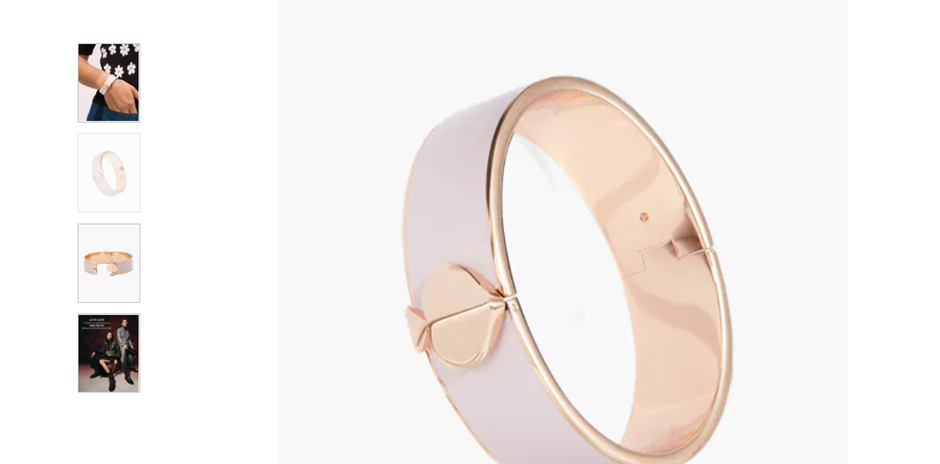 In this screenshot, you can see that AJIO Luxe has put a high-definition picture in their eCommerce store. You can check every minute detail of the bracelet. We cannot touch it but women who are looking for bracelets online will surely take a pause on this web page. High-quality pictures support sales.
It also builds a strong image of the brand of all businesses, especially those that sell lifestyle products. Blurry, poor resolution or vague pictures weaken the conversion rate, so avoid doing that.
Branding and placement of business logo
Having a catchy logo is undeniably important because it is the face of your business that reveals your identity and improves brand recognition. People are magnetized toward appealing colors and designs. So, a business logo design should intrigue your potential customers.
A captivating logo prompts people to at least have a look at the website and this interest converts into sales. A logo also helps in distinguishing your business from others offering the same products in the market. You need to make sure that your logo is distinctive, interesting, and attractive to catch enough attention.
In the above screenshot, you can clearly see the business logo of JoomDev. They have sharply placed their logo to catch the interest and have done a smart branding of their service on this webpage. The color is not either dull or too bright. But it is unique, simple, and attractive.
People who are looking for the same kind of services will definitely take a halt and navigate to their website. Creating your unique business logo and the correct branding of your product/services will increase customer recognition, gain loyalty, and help build trust.
Appropriate product description
The product and its cost are two major things that help in constructing the content of the website. You need to provide appropriate content for customers to learn about your offerings. All your product pages should contain the right amount of description that caters to your existing as well as potential customers. There are two types of customers.
One has little knowledge about the product and the other knows almost everything about it. Make sure that the product information is well comprehensible and useful for all types of users.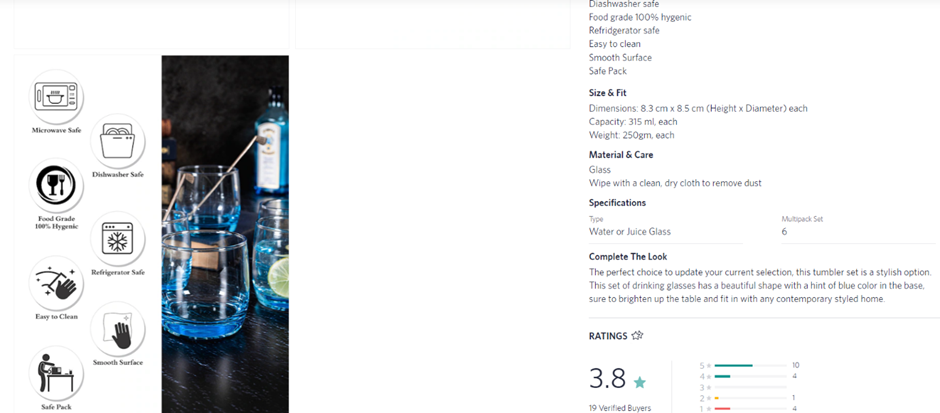 In the above screenshot, you can see the description is well-written for the set of glasses with all the details. The whole product description is easy to understand for a person with less knowledge about the product and also the savvy one.
In addition, you should mindfully communicate the benefits of using the product. For example, a big suspension in a mountain bike offers stability and more control but this feature is unnecessary for a person who rides on a gravel path.
Showcase your authorization
A certification not only acts as a symbol of your excellence in the field but also creates trust among your customers. As already mentioned, no matter what product or services you sell in your online store, there will always be a certain level of competition in that niche.
In this case, how will you weigh out among others who are selling exactly the same thing as yours? The answer is your business authorization or license that tells your credibility to your potential clients.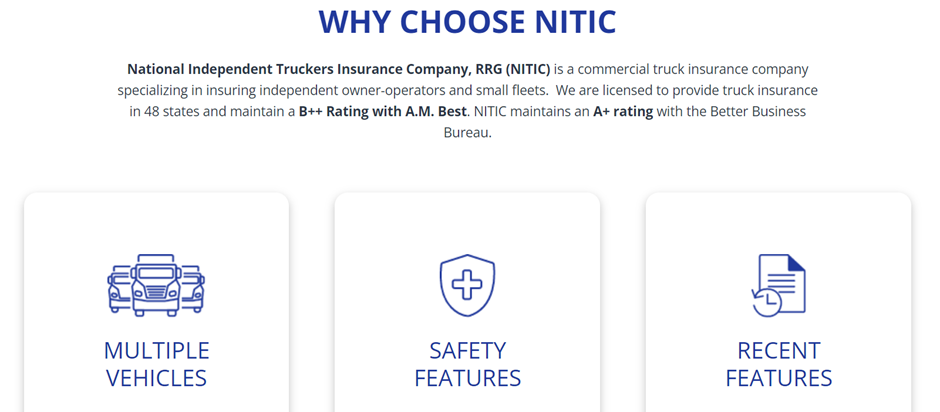 In the above screenshot, you will see that NITIC, a very renowned commercial truck insurance provider in America has showcased its certification to build credibility among customers. The clear representation of an A+ rating with BBB (Better Business Bureau) has helped them to gain a loyal customer base across 48 states in the US.
Speak to your users
When you feature your products and services on your website, you might want to use paragraphs and bullets. It is fine for the initial draft but before making it live for the public, ensure that it has the correct brand voice.
Having descriptions is good but if you speak to your users, it will be more impactful. If you see the attached screenshot in the below section, you will get to know what we are exactly trying to put across.
This watch is one of the products by Wristology that invests not only in the description but also does the effort in making it sound human. They have given human names to all the categories of their product. If you check the description, you will note that it is talking directly to the user in a very unique way. Users don't read lengthy content but they remember distinct ones.
Include FAQs section on page
Other than purchasing products from you, users also visit your site or product pages to get help or find answers. You cannot sell your products to people if you can't solve their problems.
It is one of your prime jobs to convince users that your product or service is the right solution for their problem and worth their investment. Providing the answers to the maximum of your visitor's queries is a great way to boost your conversion rate. You should include an FAQ section and all the helpful info about your products on your website.

In the above screenshot, Apple has included all types of information on their website that a common buyer would have in their mind. This type of FAQ section is present for several other topics on their website.
In this way, they have helped each user to find the answer to all questions they have regarding the product. You should include FAQs in the fold, lightbox, or drop-down menus. Take out time to educate your customers via answers that address their query or dismiss any objection. This will push your potential client a step closer to being your customer.
Pro Tip:
Alway mark your FAQ pages with FAQ schemas to increase the visibility on SERP.
What should be avoided?
There are certain things that completely ruin the rate of conversion. Having awareness will help you sidestep those pitfalls such as:
Poor product descriptions: If your product doesn't explain what it does then how it will convince your customers that it will solve their problem? The poor or inadequate product description is a big no-no!
No customer reviews: People read reviews before buying anything. If you don't include positive reviews on your site, you are probably playing with your conversion rate.
No or poor customer support: Consistent customer support is essential for improving the conversion rate. Having a poor or no such service can push away users from buying your product.
Inefficient website performance: If your website takes time to load then there are high odds that users will close it and move to your competitor's website.
Variance in expectation and reality: Don't make false promises because product experience leads to gaining or losing a loyal customer.
Common titles: If you include boring common titles on your website, it might not entice users. Include appealing headers that grab users' attention.
Duplicate content: Never copy-paste the same content from your competitors who are performing at par. Duplicate content is bad for conversion.
Poor design: If your website design is not appealing or looks poor then it is one of the biggest turns off for your visitors. Work on it and give them the best user experience.
Parting thoughts
Well-executed product descriptions along with high-quality pictures and videos can persuade your target audience to buy your offerings. Use headings and subheadings carefully and clearly structure the copywriting on your website as this makes it easier for customers to scan your product pages. They can easily find what they are searching for. This offers a rich user experience.
Put yourself in your customer's shoes and analyze what type of questions they would have in their minds while looking for a product. Create a section that addresses all those queries.
Make sure that you consider all the above points in making great product pages and optimizing them. This way you will funnel more leads to your site and increase your sales in no time!