Before 4 months back we released a brand new Joomla page builder – JD Builder. We got overwhelmed response from our users which makes us keep working on it and release its pro version.
The JD Builder Pro brings you more advanced features such as navigator, Pixabay integration, extensive premium sections, and page templates and much more.
Excited? We have much more for you to explore in the pro Joomla page builder. Check out what JD Builder Pro has to offer. 
What JD Builder Pro Brings You?
JD Builder Pro is an advanced Joomla page builder that brings you endless possibilities to take your Joomla design to the next level. Apart from the premium elements, it offers you to complete layout packs, pre-designed sections, Pixabay integration, FAQ Schema integration, Icon library, save section design, and many others
With JD Builder pro, you can design imaginable designs in no time. Let's have a look at what JD Builder Pro brings for you. .
Advanced Builder Elements
Animated Heading, Before And After, Business Hour, Countdown, CTA, Facebook Page, Flip Box, Gallery, Icon Box, Image Box, Number Counter, Progress Bar, Slider, Team, Testimonial
Premium Section – Create Joomla Web Pages in minutes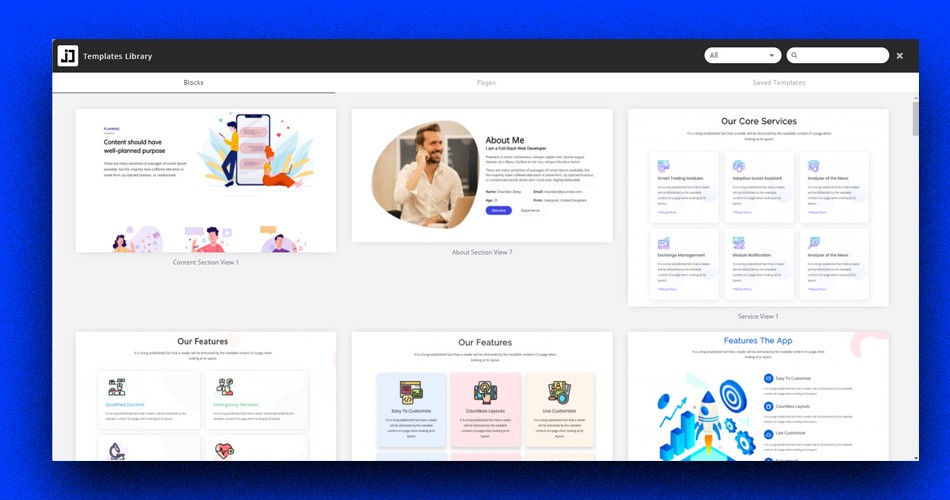 JD Builder pro takes care of each and every details of your Joomla website. Regardless of having the features to create any imaginable layout from scratch, JD Builder offers you 100+ ready to use highly responsive sections which can be used inside any of your page.
You may wants to showcase team members, testimonials, pricing table, features, CTA, hero section on a page. So why to recreate the wheel. JD Builder provide you all with multiple designs. You can choose any design to meet your diverse needs.
JD Builder Pro has different categories for the sections. Some of them are:
About
404
Team
Hero
CTA
Clients
FAQ
Pricing
Testimonial
Pricing
Services
Features
Content
Premium Page Builder Templates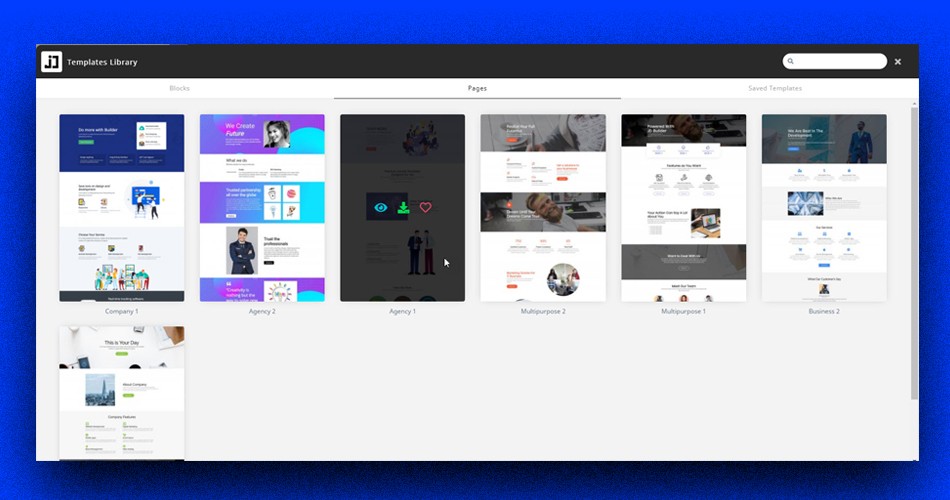 Our goal with JD Builder pro is to enable you to develop your Joomla website in no time. So we have added Layout packs so you can build your by just inserting the ready to use page templates.
At the time of release, JD Builder Pro brings you 2 complete layout packs and more than 20 page templates. You just have to create the page and import templates from the library.
Let's assume you want to create a website for your business, you will need a home page, about us page, services page, service details page and contact page. Creating all these pages would be time consuming and sometimes if you are not technical, you need to hire a Joomla designer. So to save your time and $$$, simple import the pages from the library and replace the dummy content with your real content. You will be done with creating a highly professional and responsive Joomla website in minutes.
FAQ Schema Integration
If you have a Question answer section AKA frequently asked question on your page, you can markup them with FAQ schema. This is available in the Accordion element.
To use this feature, you have to create your FAQ page with Accordion element.
Why is this so important?
Well, if implemented correctly, your listing can take up so much space in search results to push down all your competitors.
Finder – Find & Switch Between Pages Easily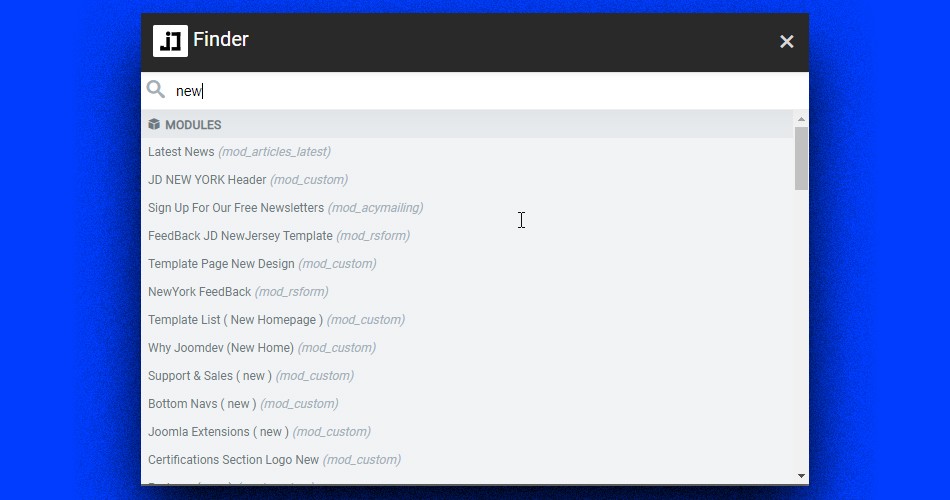 The Joomla Page builder comes with Finder Feature. It is a search window that allows you to find anything from your Joomla site and go from anywhere to anywhere. You can reach any JD Builder Page or Joomla article or create a new menu from anywhere from your Joomla site.
Pixabay Integration
Use unlimited stock photos for your website from Pixabay. You don't need to search for stock photos websites or even download them. Do this without even leaving JD builder backend control panel easily from its media manager.
Extended Designing Features
JD Builder pro offers you endless design functionalities so you don't have to compromise with any design. The flexible drag and drop layout builder allows you to create simple to complex page layouts.
It offers you advanced features such as shape dividers, particles background, image and video background, parallax effect, animations, custom background positioning, icon library, SVG support and many other features which will enable you to create responsive and interactive page designs.
Page Level Typography
Most of the time you need to have a same typography on complete page. But in most of the page builder's, you either have to setup your typography on section level or element level. And to change the typography of a page can be time consuming and hectic.
JD Builder Pro brings Page Level Typography which enables you to set typography and color scheme for the complete page from a single place.
You don't need to change from each section or element.
Icon Library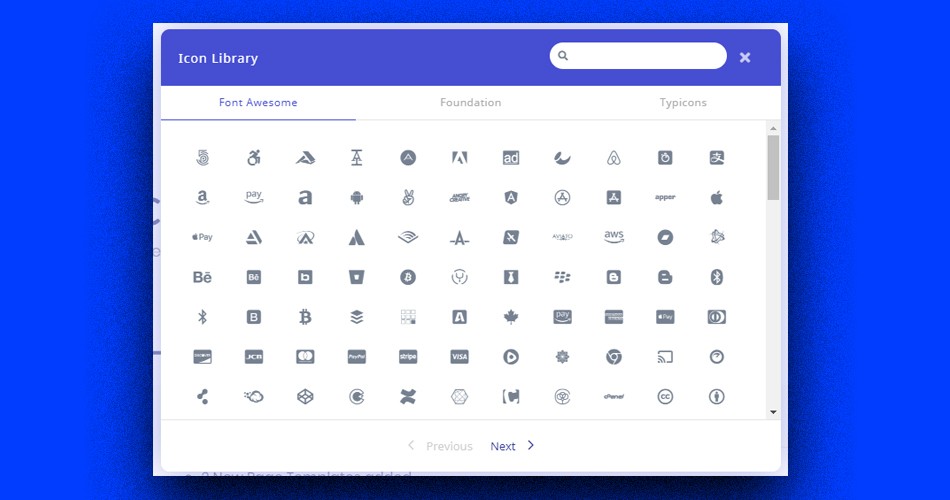 The Joomla page builder comes with a built-in icon library. You can choose icons from FontAwesome, Foundation Icons or Type Icons and combined these 3 libraries make up for over 1400+ icons in your Joomla backend.
Plan & Pricings
JD Builder comes with 3 types of annual pricing model.
Sprout – It will cost you $39/year and you will get a license for single website.
Blossom – It will cost you $79/year and you will get 5 website licenses.
Garden – It will cost you $149/year and you can use Joomla page builder on unlimited websites.
Create Stunning Websites and Themes With
Joomla Page Builder
Choose from 100+ ready to use template layouts and 200+ sections and design your website in minutes.
Not sure what page builder version is best suitable for you?