It is no wonder that the mobile app is the future of any industry as there are over 1.96 million apps in the Apple App Store and 2.87 million in the Google Play Store across all categories, including education, entertainment, fitness, and others.
But the question arises, with such a huge number of apps how will you make your app stand out from the crowd?
How will you let your audience know about your mobile app?
How will you persuade your audience to download your app?
Well, the answer you are looking for is the right mobile app marketing strategies!
As more and more apps are entering the market, it has become very important for companies of all scale sizes that they invest in the right marketing strategy to promote their app.
Although different marketers are creating and implementing different strategies, here are 13 proven marketing strategies to promote your mobile app, boost engagement and thereby get more downloads.
So, let's get started!
Promote Your Mobile App – To Do List
Choose an icon that represents your app well
Visuals are always important! And that implies on your mobile app icon too.
When a customer is searching for an app, he or she will scroll through various categories and apps before making a final decision. Your app icon should be visually appealing and catch the user's attention.
Moreover, the icon should very well represent the brand and the thought behind the design of your mobile application. Your icon should give potential users a good sense of what they can expect when they download and use your app.
For example,
One of the very well-known companies in the food industry, Zomato, never fails to catch people's attention and has always been in the news for its excellent marketing strategy.
Recently, it has updated its icon from Zomato to Zomato Safe. This signifies that the customers' safety is a top priority for the company, and they adhere to the highest standards of food and delivery safety while delivering orders on time.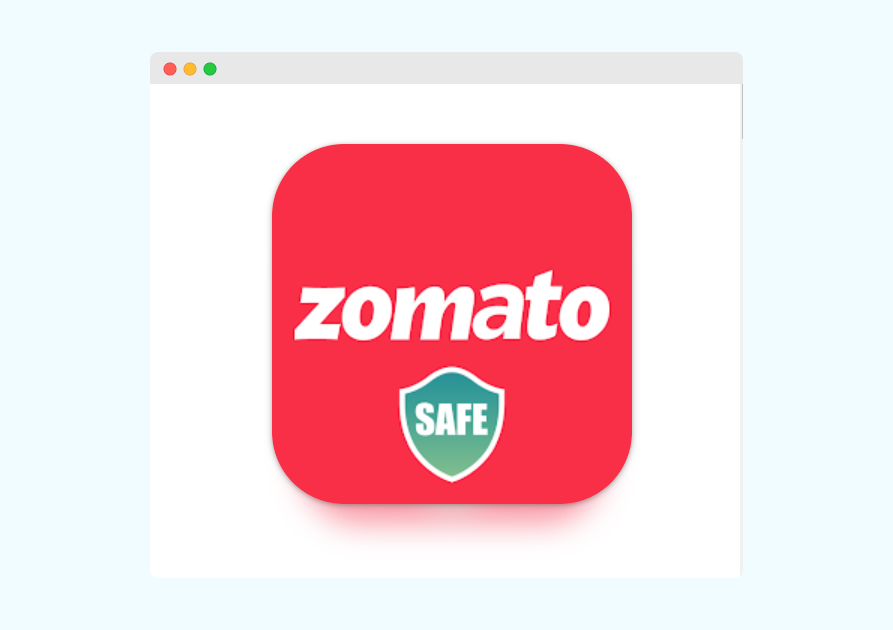 So be sure to invest proper time in creating your mobile app icon. When you are creating an icon, focus on the details and represent your thoughts clearly. Your icon should be your identity.
Focus your efforts on App Store Optimization (ASO)
For all the app creators who want to get more mobile app downloads, they need to master the skill of app store optimization. In the App Store and Play Store, the ASO helps you to make sure that your app is discoverable by users.
Most marketers put a great deal of effort into SEO, which is great, but when it comes to mobile apps, they tend to focus less on ASO, which is a key aspect of your mobile app's success.
Although these two are similar, the ASO focuses on one goal – increasing mobile app visibility.
This is how you can optimize your app store:
One of the most important things you can do is optimize your app's title and description with keywords that your target customer is likely to use when searching for similar apps. The best keyword research tools for doing this are Google's AdWords keyword tool and a keyword tracker like Wordtracker, Sensor Tower, or App Radar.
It's important to be strategic about which category you select for your app in a mobile application store. Figuring out where to place your app will depend on its purpose and who it's intended for.
A number of app downloads directly impact your app rankings. If more users download your app, it is more likely to show up on the first page when people search for similar apps.
As you build your app, remember to engage with users who've downloaded it. The better your app's user retention rate, the higher your app's ranking will be.
Consider where your app's target audience lives and tailor your store description accordingly. This might mean translating your description into another language or using images that are relevant in that region.
If you get more positive reviews about your app, it will be ranked higher in the app store and it will be more visible to users. You can encourage users to leave reviews on the app store at key points in your app's lifecycle by making it easy for them to do so. Make sure you are also responding to the reviews so people can know that you are active.
Building an audience on social media platforms builds credibility among users. Keep track of where your app is mentioned on social media by creating a separate account for it or by incorporating it into your company's existing accounts.
Create a website and start a blog
Finding success with mobile app marketing requires more than just creating an excellent app – you also need to make sure that potential users have a way to find it.
Marketing experts say that you can increase your app's reachability by creating a website and then educating people about your app through a blog and linking your app to the website and the blog.
Most people turn to the web when they're looking for solutions. Whether they're about education, financial planning, getting things done, or having fun, your brand can reach a large audience if you have a good search engine presence.
And that's where the role of SEO comes into play.
If you want your app to be discovered in the app store, consider setting up an SEO-optimized website that expands on the information in your app's listing. For example, include a blog or a YouTube video showing how other people use your app.
If we take an example of Uber mobile app. It is mostly used on mobile phones only to book cabs. But if you will see, they have nicely optimized their website and also added a blog to educate and update its audience.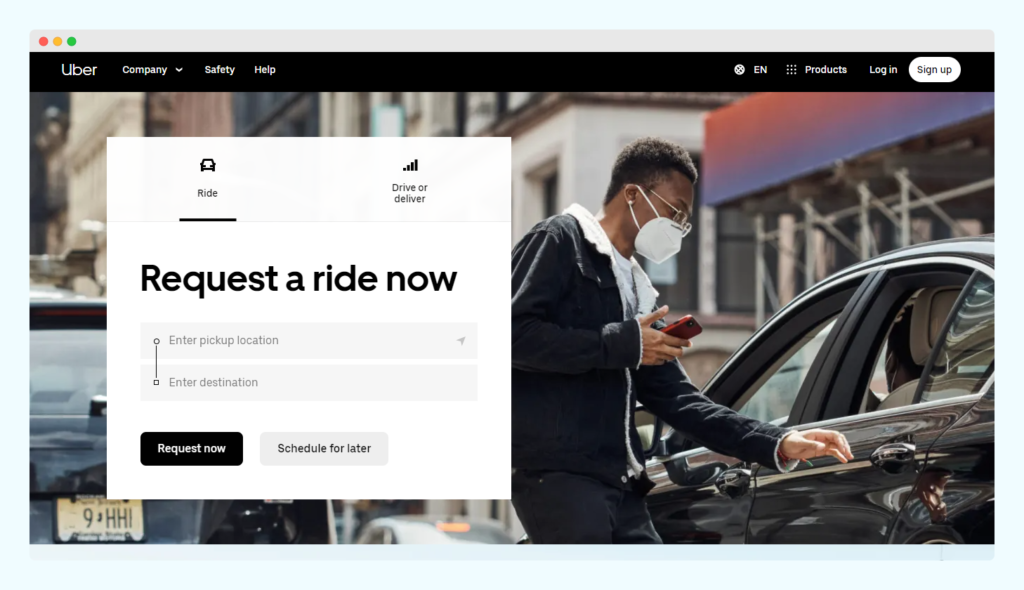 Make a mini descriptive video
People won't always understand the value of your app just from reading your description or looking at screenshots. If you want to increase downloads, you might consider posting a demo video.
Make a video that shows the value of your app in less than 30 seconds. Include screenshots showing how easy it is to use. Post the video on your website and social media channels, and add it as a link to your app's listing on the app store.
Use analytic measures to evaluate and verify qualitative insights
It's helpful to know which avenues are most effective for marketing your apps so you can make the most of what you've got. You should track and adjust your marketing efforts to meet changing conditions.
A mobile attribution tool helps you track the effectiveness of specific advertising platforms. In addition, it allows you to track the specific ad types and target audiences associated with your app's installation. Mobile analytics tools give you enough data for app improvement. Some examples of widely used mobile attribution tools include Adjust or AppsFlyer.
Take advantage of mobile channels
To reach your mobile users, you can connect with them directly. You can use an in-app message or a push notification to send an alert to your users when they're most likely to notice it.
In-app notifications are a way to let users know about something without bugging them. Give reminders about new features or tips that will make the app easier to use.
In addition to using in-app messaging and push notifications to directly reach potential customers, you can also encourage current users to market your app by asking them to share on social media, refer a friend, or leave feedback in the app store.
Use these tips to keep your users interacting with your app and talking about it with their friends!
Leverage in-app tracking tools
When you get feedback from your users, you learn how to improve your app and develop marketing campaigns that will increase the downloads and user engagement of your app.
In-app tracking lets you track users' behavior and preferences in real-time.
Are users installing your apps frequently?
At what time does the user log in to your app and how often?
Are there specific features that users are more interested in?
Or are there any issues regarding the app usability that needs to be addressed?
There are several different kinds of in-app tracking tools you can implement, and most require the installation of a software development kit (SDK) that gives you access to your app data.
Some apps have features, such as tagging and tracking behaviors, that help you monitor the user experience and learn about what users like or dislike about your app.
Use deep links in your app
To increase the number of downloads of your app, you can create links that allow users to easily access the mobile version of your app.
Using mobile app analytics tools like Adjust, Branch or Kochava means you can get a holistic picture of how users interact with your app regardless of what platform they come from.
They can help you gain insight into how users interact with your app so that you can track how they're finding it and how they're using it.
Social Media Promotion
If you want to promote your mobile app, it's a good idea to consider using social media. Social media is one of the most popular ways to market mobile apps because so many businesses use it.
Do you know there are over 3.6 billion users of social media worldwide? Huge, right!
According to Mobile App Daily, a popular website for mobile app development news, over 70% of businesses with an online presence now use social media for their mobile app marketing.
But how do you start?
The primary step is to identify your targeted audience.
Your first step should be to identify your audience. If you are trying to reach business people, LinkedIn or Twitter might be a good place to promote your app. Facebook and Instagram, on the other hand, can help you target individuals who already have shown interest in similar products and services.
Once you decide on the social platform, you can then start running social campaigns. Use of relevant hashtags and adding a bit of your creativity will help you in creating brand awareness and promotion of your mobile app.
You can reach a lot more Facebook fans by using targeted sponsored stories and promoted posts delivered to their mobile news feeds.
Promoted tweets are a great way to drive app downloads.
Check out influencer marketing to find out how you can use social media and technologies to get your name out there.
Promote your app by holding contests.
Users love sharing photos and creating content, and your app can help give them the tools to do so with you.
You can position yourself as an expert in your field by answering questions on Quora and similar sites.
Make sure to check social media analytics to see how your content performs. In case you use Instagram to market your app, you can export Instagram analytics and track important metrics including engagement, impressions, reach, follower growth, and comments.
Use the power of Retargeting Ads
When you have a dedicated website for your app, you can use retargeting to run ads targeted at people who have already visited your site but have not yet downloaded the app.
Most of the platform offers you retargeting feature so you can target the visitors who have visited to your website or performed any specific action.
A new research report by ReadyCloud found that people are 69 percent more likely to convert after seeing a retargeting ad and those ads have a much higher click-through rate than other types of display ads.
Spend time on customer feedback
Spend some time reading reviews by people who have already downloaded your app. That might help you decide if it's something you would want to try.
Positive user feedback will improve your app's visibility and rankings in the App Store or Google Play. According to Nielsen's Global Trust in Advertising Survey, consumers trust word-of-mouth recommendations, such as positive user reviews, over other types of advertising.
Ensure that users enforce positive habits through regular check-ins and praise. This helps to create a personal connection that builds a sense of ownership in the app.
Give out promo codes
You are more likely to engage with a business that offers you a discount than one that does not. And yes, always listen to your users.
With the help of a QR Code Creator, you can easily integrate discount offers into your marketing strategy. Since the people who are currently using your product are already familiar with it and the technology behind it, they can provide valuable insight on how to improve your product. They might also share similar experiences and help you find opportunities for new marketing channels.
Leverage the power of email marketing
Email marketing has proven to be the most efficient marketing method for digital products and services. One study found that digital marketing via email is almost 50 times more effective than other forms of online advertising – making email the most efficient form of digital marketing.
Once you've created a website and blog for your app, collect the email addresses of potential customers by embedding a sign-up form on your website or creating a landing page.
After you have attracted your prospects with valuable blog posts and relevant articles, continue the relationship with a dedicated email campaign. Each email in the series should address a different point of concern and provide the prospect with an incentive to convert.
You are ready for success with your mobile app!
Consumers are looking to fill their time with apps that make them feel productive or help them while they complete a task. Your app has to be one that's useful and easy to use.
Use these mobile app marketing tips to get your apps noticed and increase your downloads.
Hope you liked our tips for promoting mobile apps! Let us know which marketing strategy works best for your app. We will be happy to hear from your side!
Want to Hire a Mobile App or Web App Development Company?
Don't worry, we are here to help you. Let's book a free consultation call with our expert and let us understand your business and what you want to achieve.
FYI, JoomDev has been offering custom mobile application development services for more than 7 years.