"Be the change you want to see in the world" and we did exactly the same. After looking up to so many Joomla frameworks, our developers were not satisfied. So the last option available to us was either to accept the current framework or develop an all-new Joomla framework on our own and we choose the later one…
Introducing to you the latest and most advanced Joomla framework – "Astroid". In Astroid framework, we have included so many exciting features which we always wish to have in other frameworks. Astroid is a revolutionary framework for Joomla that will make developing websites in Joomla! Faster, simpler and incredibly easy for the end user.
The credit goes to our developing team who sacrificed their valuable hours in developing this framework from an idea on paper to a full-fledged Joomla Framework and finally, we all as a team feels proud to introduce it to the world.
What we got? – A wide range of Features! Have a look.
Loaded with Drag and Drop Layout Builder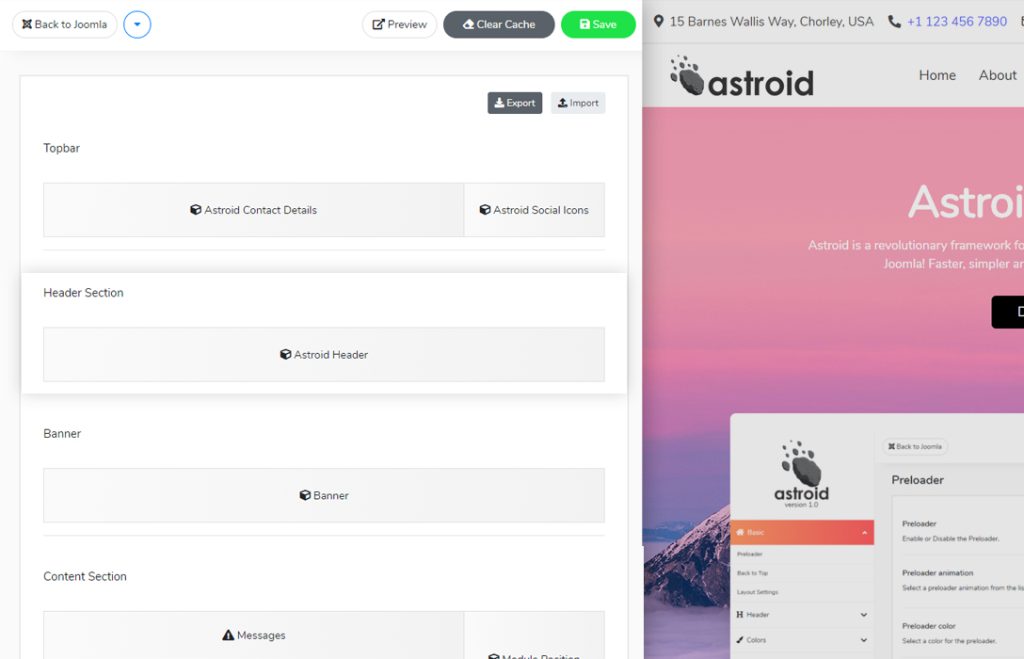 Astroid Framework comes with drag and drop layout builder which enables you to design the layout of your website or template as per your need. You can make the position of each separate modules which you want to add and customize its properties as well.
The page layouts are saved to the database and later displayed in the front end. There is not the need for any advanced technical need to use this, all you need it just a simple information about how this thing works.
Import and Export Layouts Directly
We have incorporated the functionality to directly import or export your page layout directly from the layout builder panel. This feature is very much useful when you want to have the same layout for your next website.
Crafted with engaging UI and UX
A Good UI and UX can help the user to focus on important elements, relieve them of information clutter and make the browsing experience simple and intuitive. Clear fonts and icon designs help the user navigate better.
Designed for the Perfection
Designers of the Astroid framework focused on the UI and UX of this framework from the very first day of its development. Each and every part of the Astroid framework from its admin panel, backend and frontend are crafted carefully to give the users a seamless experience.
Responsive Layout and SEO Optimized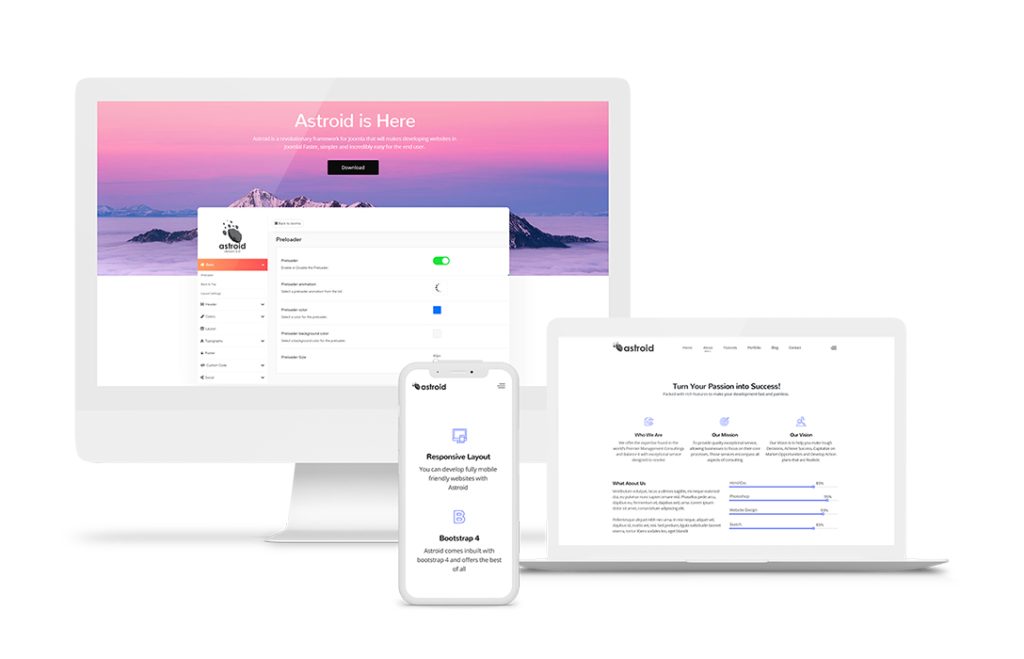 In 2015, Google rolled out an update stating that now it also take website's mobile responsiveness as a ranking signal. I think this reason alone can justify why responsive design is important.
Fulfils all major SEO Guidelines
Astroid Framework allows you to develop fully mobile responsive Joomla templates and website. Along with all this, Astroid Framework follows all the SEO guidelines, to offer you the best SEO optimized Joomla framework and a boost in your SERPs.
Bootstrap 4 Compatible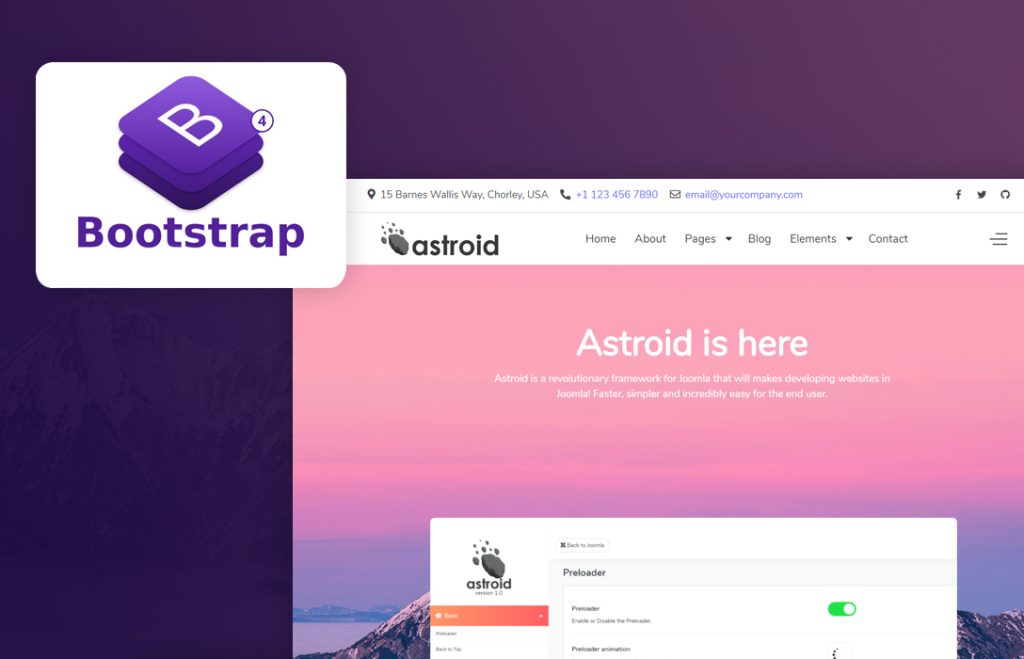 Astroid Joomla template Framework is built on the top of the latest version of bootstrap i.e. bootstrap 4. Integrated with advanced and polished Bootstrap 4, Astroid Framework is faster and have responsive layout than any other Joomla Framework out there and of course got all the features of Bootstrap 4.
Future updates support
One of the best features of Astroid framework is that, that all the future updates of Astroid Framework are going to support the latest version of bootstrap available at that time.
Mega menu & Off Canvas Menu along with attractive Mobile Menu
We all can't ignore the fact that, Menu is one of the most important things on your website as most of the visitors navigate on your website through this thing only. A Properly categorized menu bar can really help your site visitors and also increase your user engagement to a great extent.
Drag and Drop Interface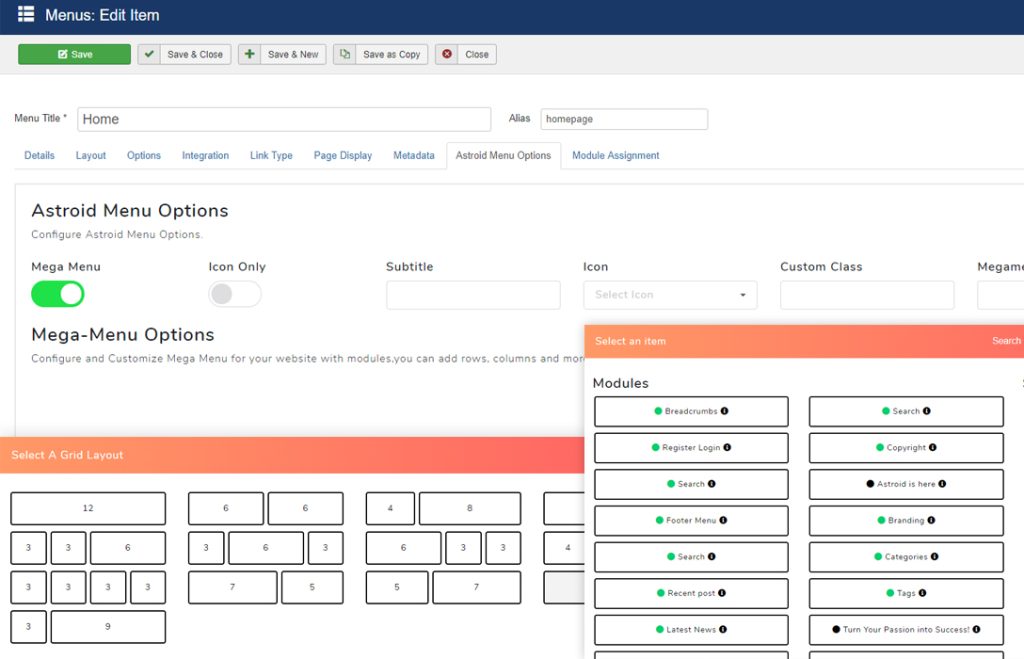 Astroid Framework comes with drag and drop mega menu interface that helps you to manage your menu in any way you want. It works on a grid system so you can add column and rows to design your mega menu easily and easily can insert modules, menu items just by drag and drop features.
You can manage your mega menu by drag and drop the elements from one row to another or left to right.
Mobile & Off-canvas Menu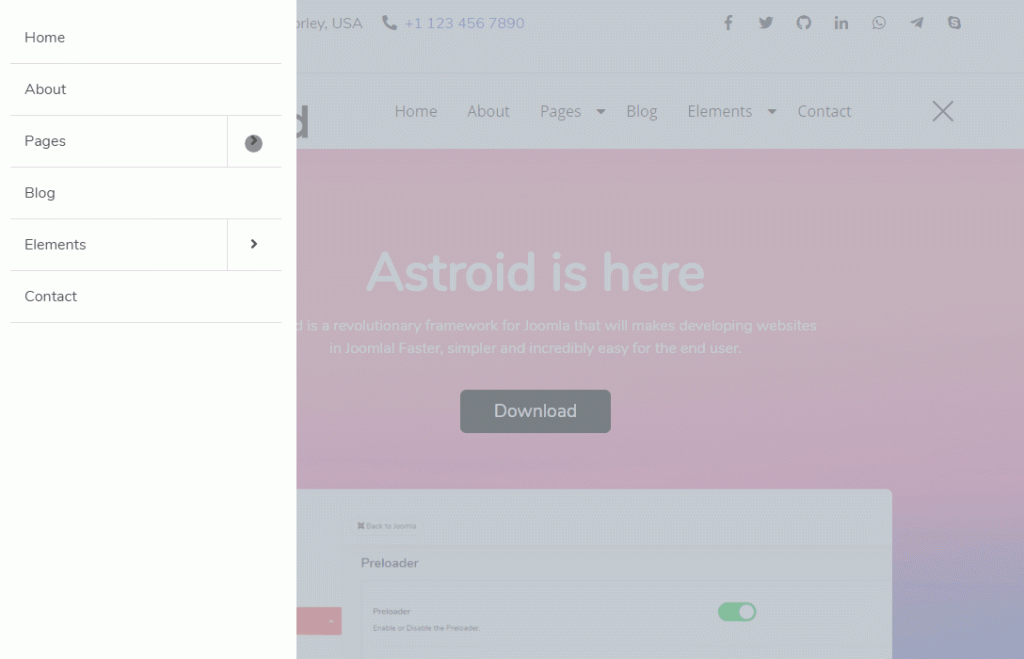 Astroid enables you to add both mobile and off-canvas menu at the same time. You can publish anything in Off-canvas and which can be trigger always or on the mobile devices where the mobile menu will work on mobile devices only.
6 Header variations for Versatility
So we are giving 6 header variations in Astroid framework that will enrich the scope and versatility of your sites created with the framework which is categorized as follows:
Horizontal Menu Mode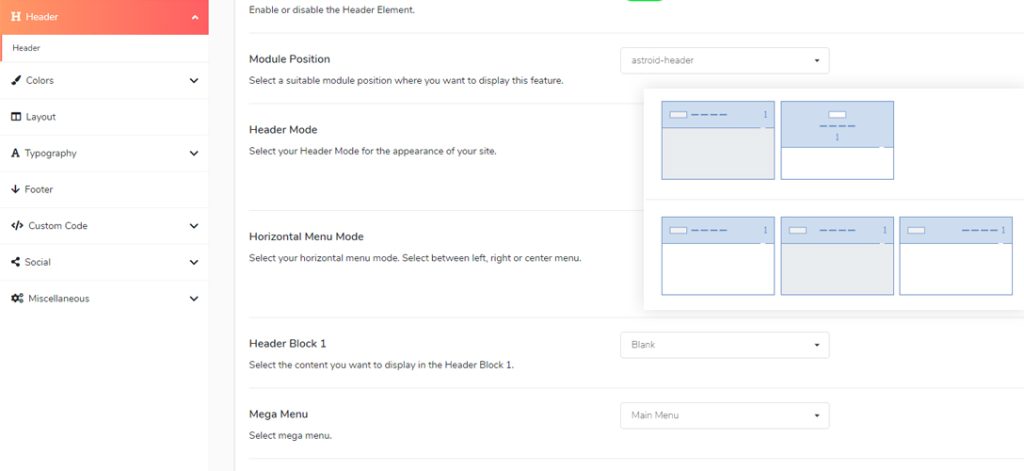 Here you can select the three menu presets based on Horizontal Menu Mode approach
Stacked Menu Mode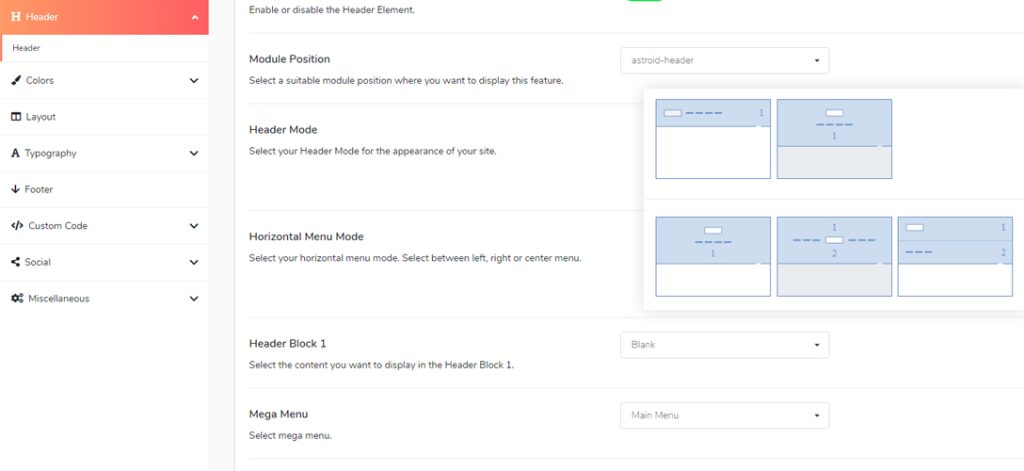 Same thing with this but instead of Horizontal Menu Mode, In Stacked Menu Mode your menu items will be stacked along the row in your webpage. This mode also comes with 3 presets which you can choose as per your needs and creativity.
Having multiple header variations allow you to try the format you like the most and can also analyze the engagement factor by testing every available header option.
Separate logos for Mobile, Desktop and sticky header
Yeah, you have heard it right. We are providing you with the option to upload the same or different logo for your website.
Other than that it has got too many features too like…
Can use text or image as the logo
Ability to select between a fixed and sticky header
Unlimited Colors and Customization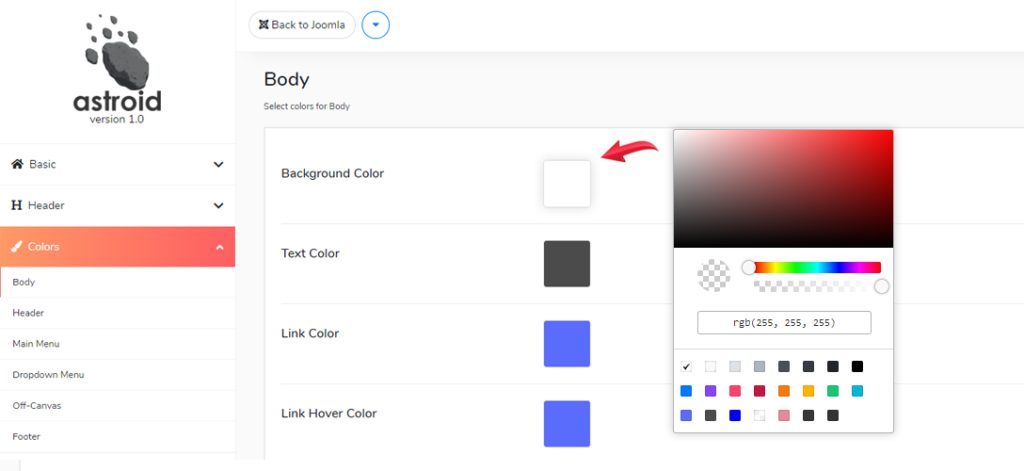 Having an appropriate color combination in the website design process is one of the most important factors for having a successful website. A researched by UCLA reveals that people are susceptible on a subconscious level to color impressions and that over 60% of acceptance or rejection of a website is tied to this very fact.
With Astroid, you have the ability to choose and manage your colors for different components/elements from a single place. You don't need to edit or write any custom codes. Simply choose from the color picker and manage your website.
Customize Every Color Options
With Astroid framework, you are in the driver seat. You can customize each and every color of the website or template likes background color, body colors, header colors, menu colors, drop down colors, off-canvas color and footer colors. This functionality gives you the freedom and a way to play with your creativity.
Custom code – A Helpful Feature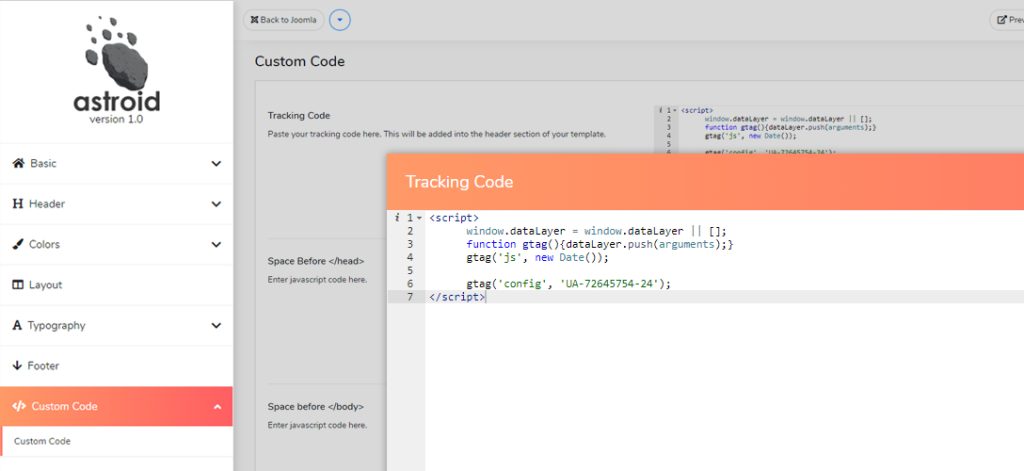 If you are using Astroid framework, there is no need of using any other third party extensions for adding custom codes in your website.
We are providing you with the inbuilt functionality with Astroid, which enables you to add your custom codes like tracking code, google webmaster code, analytics code, custom CSS directly into your website with just from one place.
Clean and Lightweight Code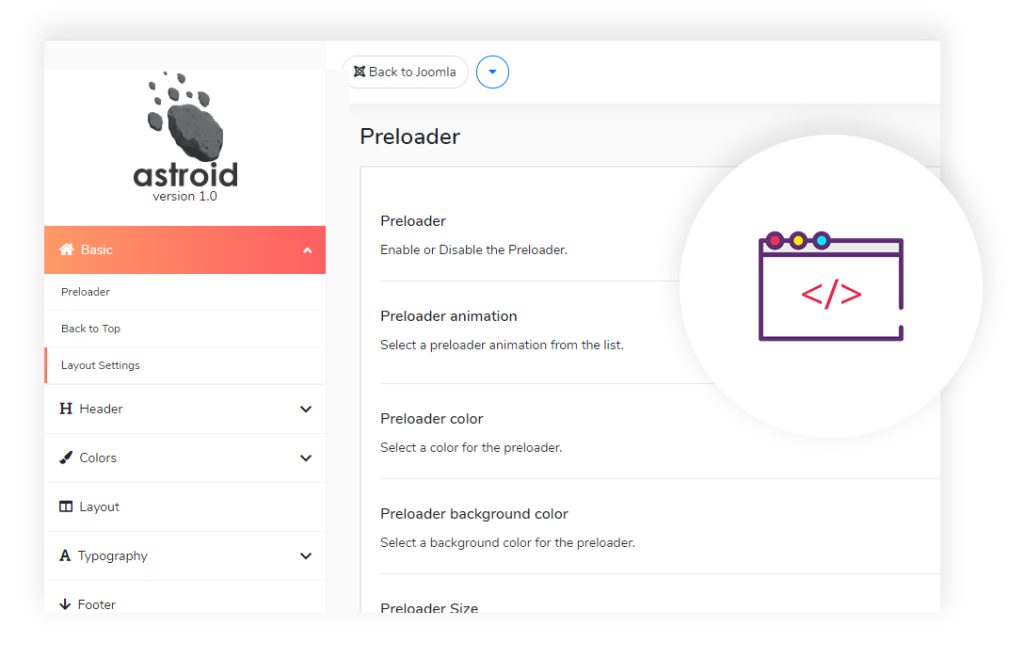 Google factors page load speed in its ranking algorithm. If you are trying to optimize your website for a search engine, keep page load speed low and Astroid framework is very much capable of doing it.
With clean and lightweight coding, the websites and template developed on top of Astroid Joomla framework always have a low page loading time and offers a smooth experience to your end users.
Social Icons for More Engagement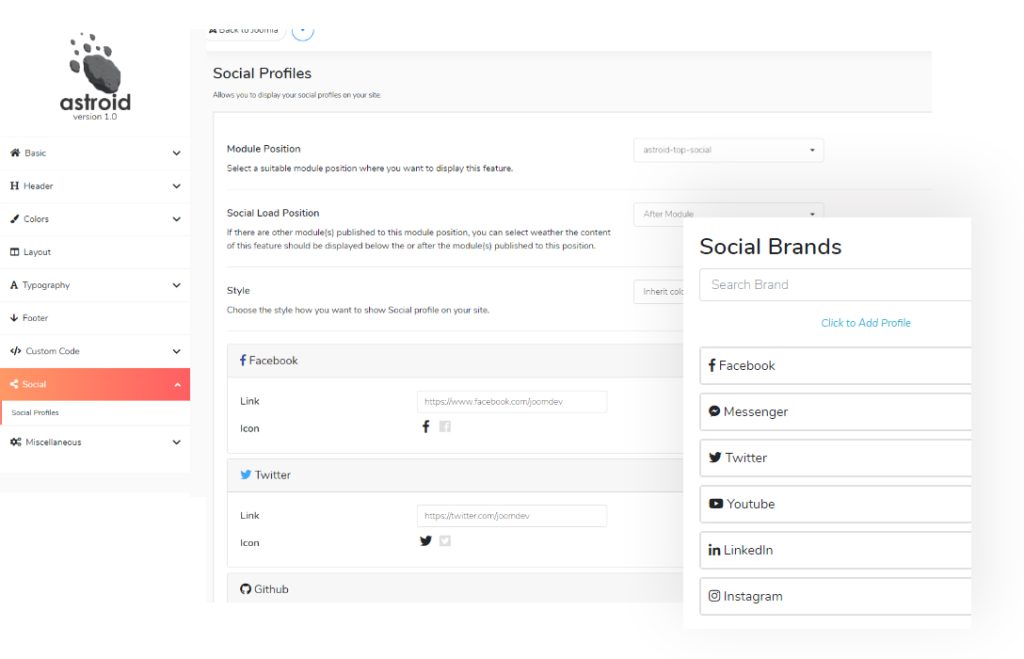 Astroid Template framework is integrated with the awesome Font Awesome 5 third-party extension which instantly makes your website pop with vector icons and social logos.
If you want to get some social presence for your next web project then it is sure that you need to have these. You have the freedom to choose any social platform from the long list we have on Astroid Framework, and you will always get an icon for that too.
SCSS Support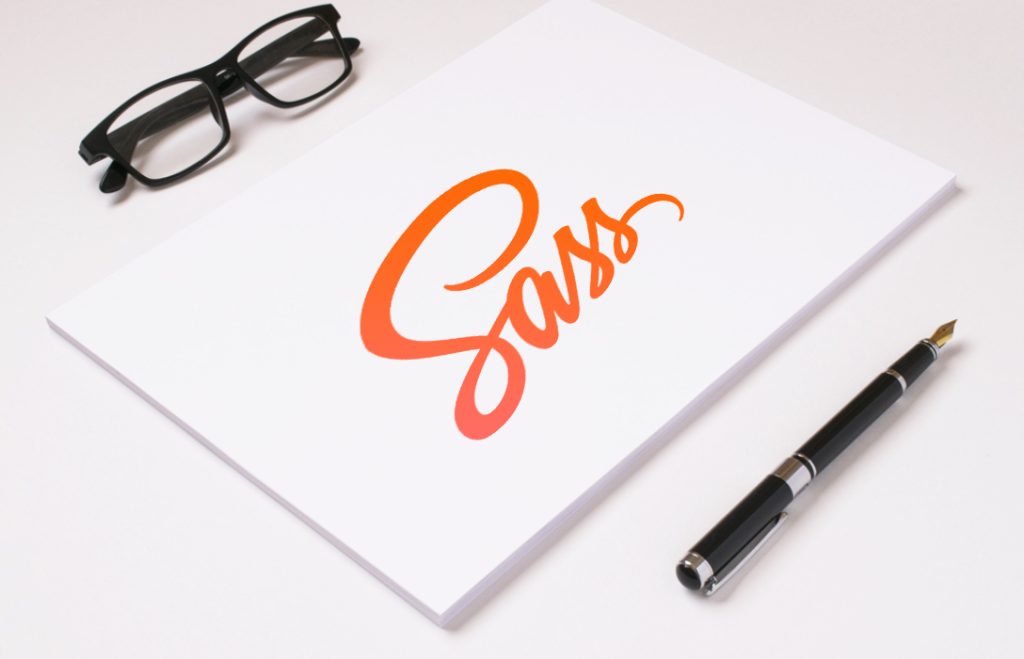 JoomDev is famous for using the latest technologies in its product, the same thing was done in Astroid templating Framework. By using SCSS, we enable the website and Joomla template developer to write the complex CSS in a more easier and efficient way than ever before.
Well documented and Open source
Astroid framework is well documented with screenshots & video references. All Steps for creating templates and websites with Astroid framework are described in details in the documentation which is of great use if you just started using Astroid.
It's Free
Astroid Framework is Open Source i.e. you can use it to make any kind of Joomla based website or templates without any restrictions.
Well Managed Media Manager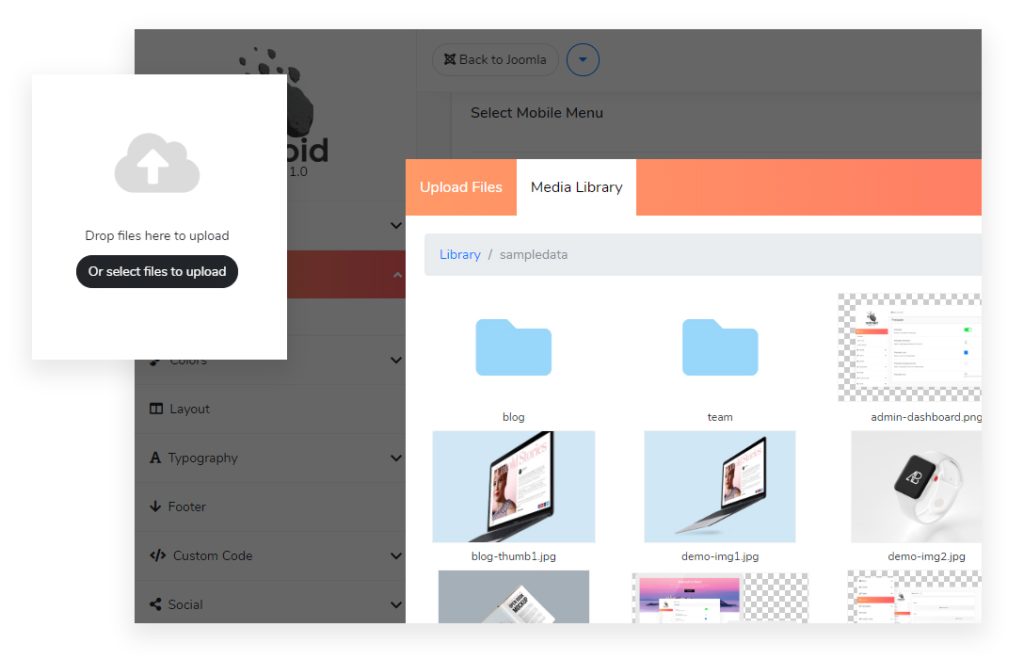 We have designed an all new media manager just for this framework. This new media manager is going to help you a lot in managing all of your media files. An intelligent folder creation algorithm will always make sure to properly organized your media in the folder even though if you have forgotten to make the one.
Additional Important Pages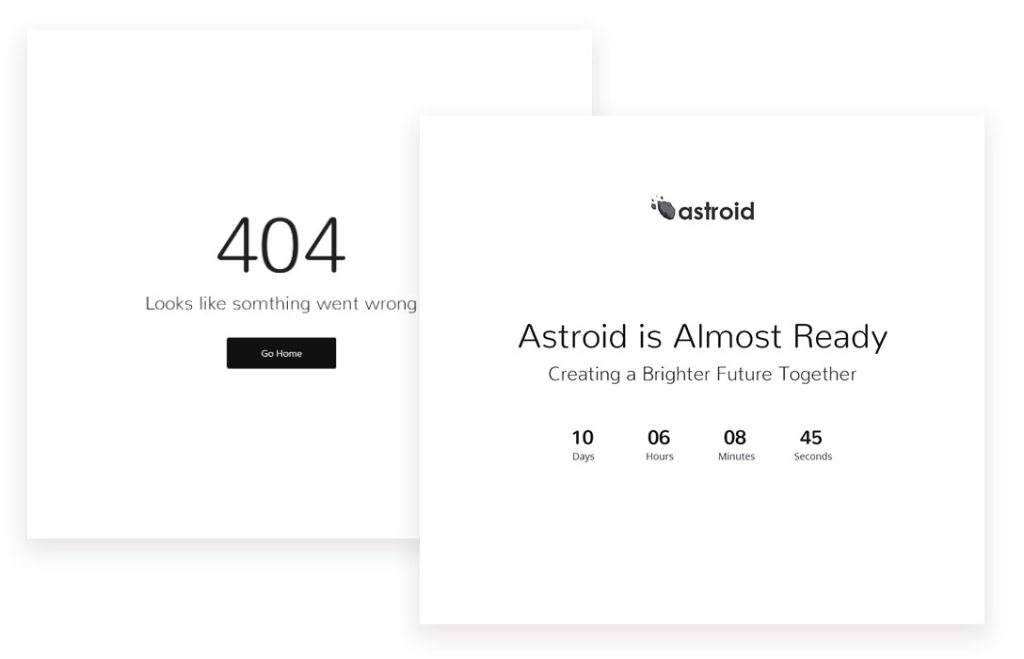 As we discussed in the above section, Better UI and UX are one of our top priorities and designing custom pages default pages like 404 Page, Coming Soon/maintenance Page is some of the important things to take care.
Pages like these are often underrated by other firms but we are not like them. In Astroid Framework, you can use your own custom default pages or can use the default one designed by us.
Wide and Boxed layout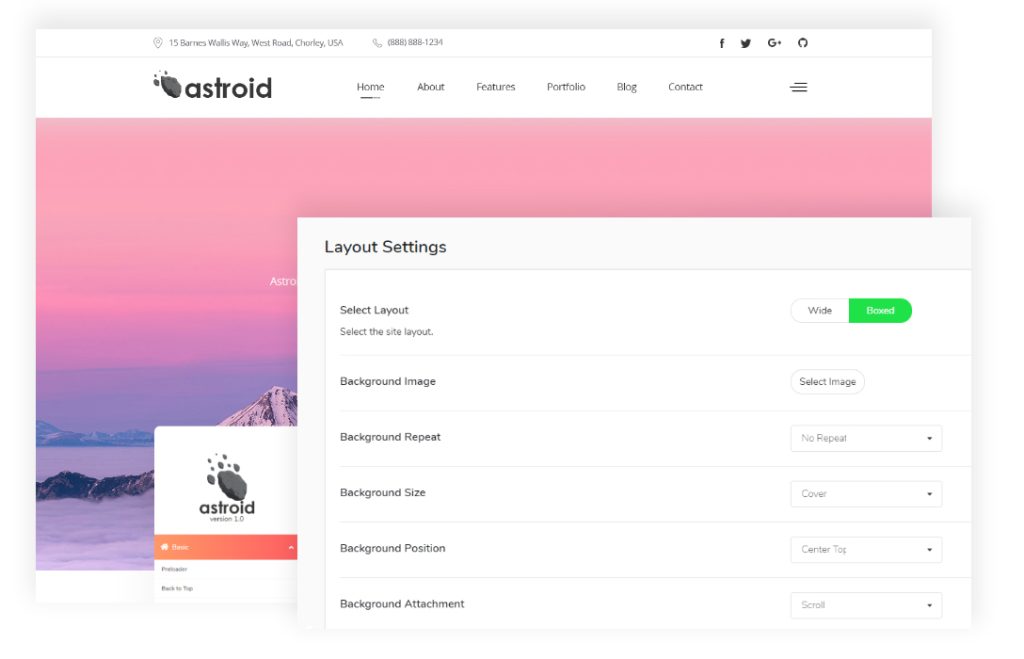 You are getting two predefined layouts i.e Wide and Boxed, to present your website in Astroid framework. Full-width web designs flow nicely because elements, such as columns and sidebars, are of the same width. On the other hand, Boxed designs are clean and provide a uniform website design that it can be viewed at different screen resolutions. Choose the one which you like and more importantly choose the what your visitors like.
Typography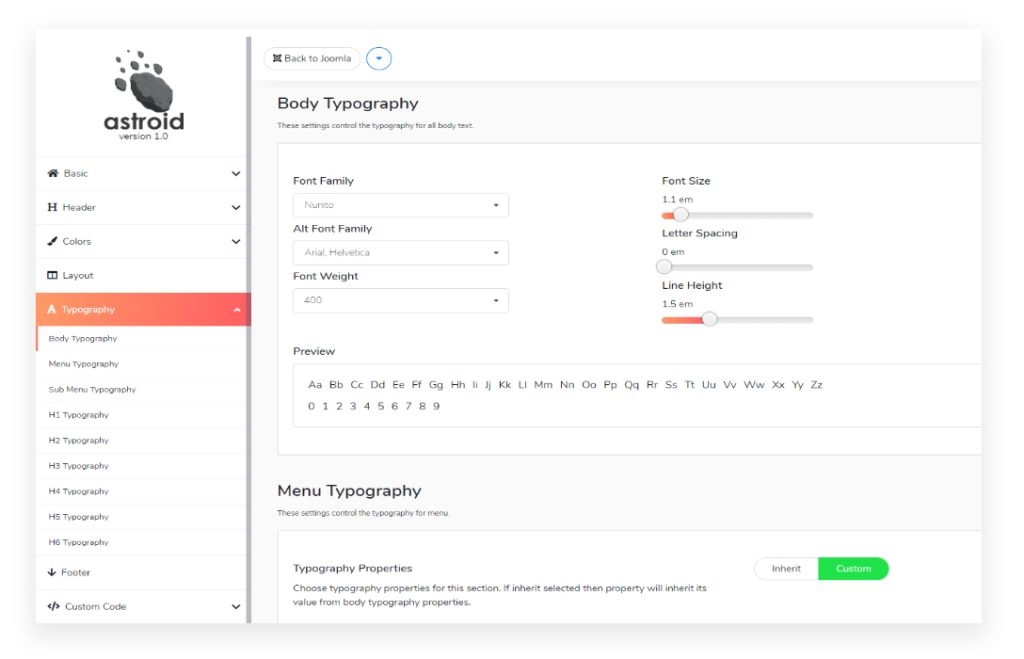 Again, typography is one of the most important parts of your website as major part of your website is text. There is the term called visual language which means creating a visual appearance of the text just by the typography used. This is the beauty of typography and we understand it too.
That's why we have given a dedicated section to typography itself from which you can control the text font, color, size, letter spacing, heading and almost anything which deals with the typography of your whole website or the template.

So, this is all about Astroid Framework, a dream framework for all the Joomla based developers. And at last we want to appreciate you all for your patience, constant suggestions and inspiration which keeps on driving us towards the ultimate goal i.e. to make Astroid, the best Joomla Framework.