A few days ago, we announced that we were working on a Joomla Page builder and shared the sneak peek with you. Now we are about to release it and just giving it a final shape. So before releasing it for the public, I would love to share a preview with the help of screenshots.
JD Builder is specially developed to make it easy for everyone (developers & end-users) to develop websites in Joomla quickly without any need to write code. With the help of our drag and drop Joomla page builder, you can simply create pages and sections by just dragging and dropping the elements. You don't need to code anything, you just need to play with available options and you are done.
Let's have a quick look at its features.
Live editing preview without leaving the backend.
50+ Elements (Including Pro elements)
Access to the library. (100+ Section and pages)
Shape divider
Custom CSS on the element level
Custom CSS on Page level
Custom ID & Class
Responsive Settings
3 in-built icon libraries.
Media Manager
Google Fonts
Advanced Typography
Add row within the column with the help of Inner Row element.
Page level SEO and Open Graph options.
Page Import/Export feature
Advanced ACL Control on Pages, Sections, Rows, Columns and element level.
Undo/Redo feature
Global Option to set default colors and fonts
Option to save your page as a template.
Section & Page Library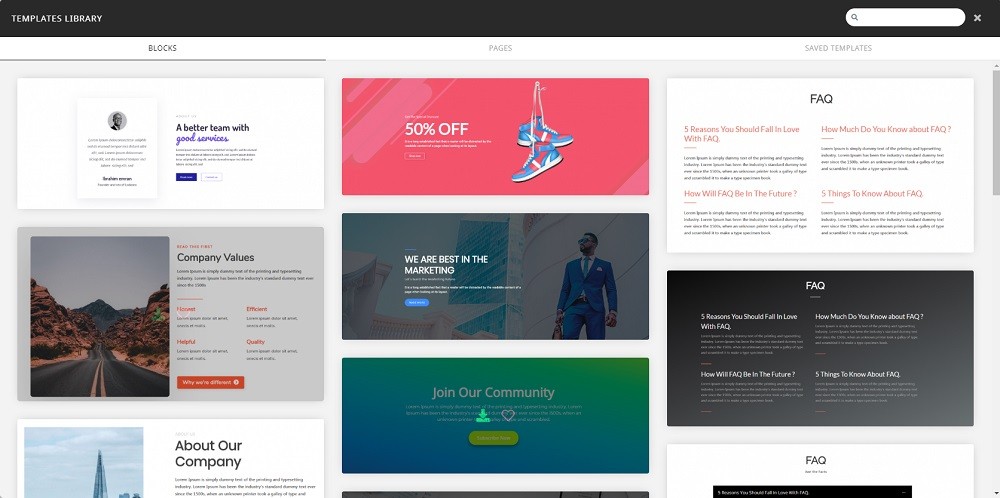 JD Builder comes with pre-designed sections and page library. It has 100+ premade different kinds of sections and pages. You can insert these into the existing page or design a new page.
Element Library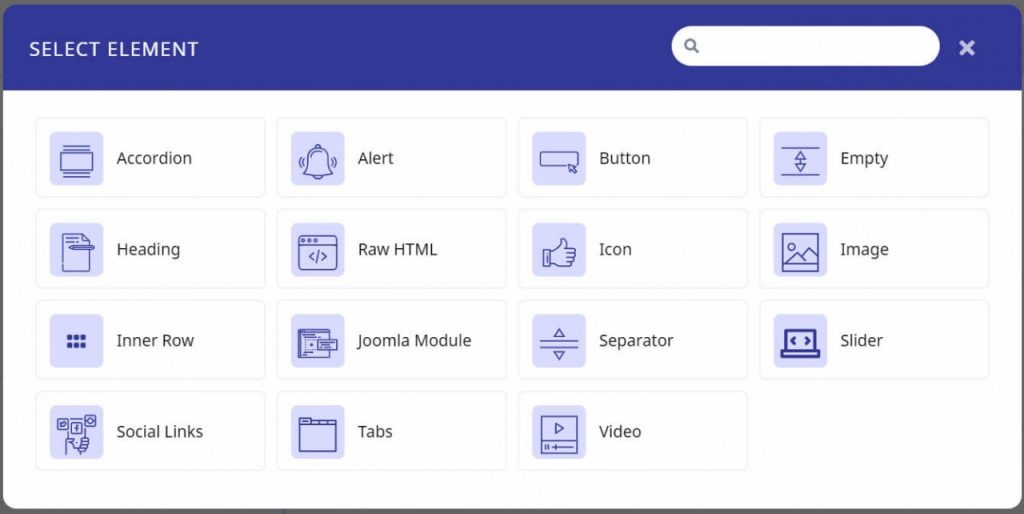 This landing page builder has more than 50 free and pro elements. Initially, it will come with 15+ free elements and these elements will be sufficient to design any kind of Joomla based website. Here are some of the free page builder elements.
Accordion
Alert
Button
Divider
Raw HTML
Heading
Content
Image
Empty
Icon
Joomla Module
Tabs
Video
Social Links and more on the way.
Clean Layout builder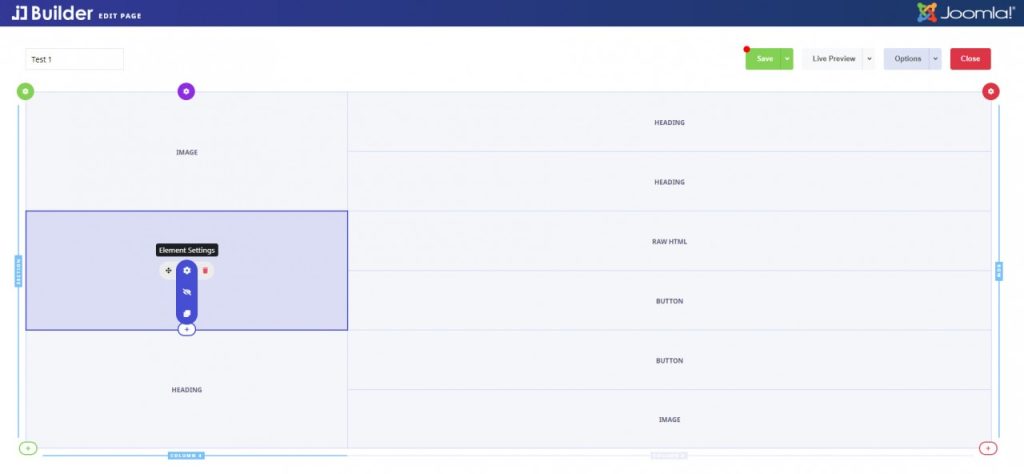 JD Builder will be known for its neat and clean layout builder. You can easily identify whether it is section, row, column or element.
Draggable Setting Pop-Ups
Want to move your settings popup? JD Builder allows you to drag or resize setting popup throughout the screen. This will be a unique experience for users.
Custom CSS to design more complex designs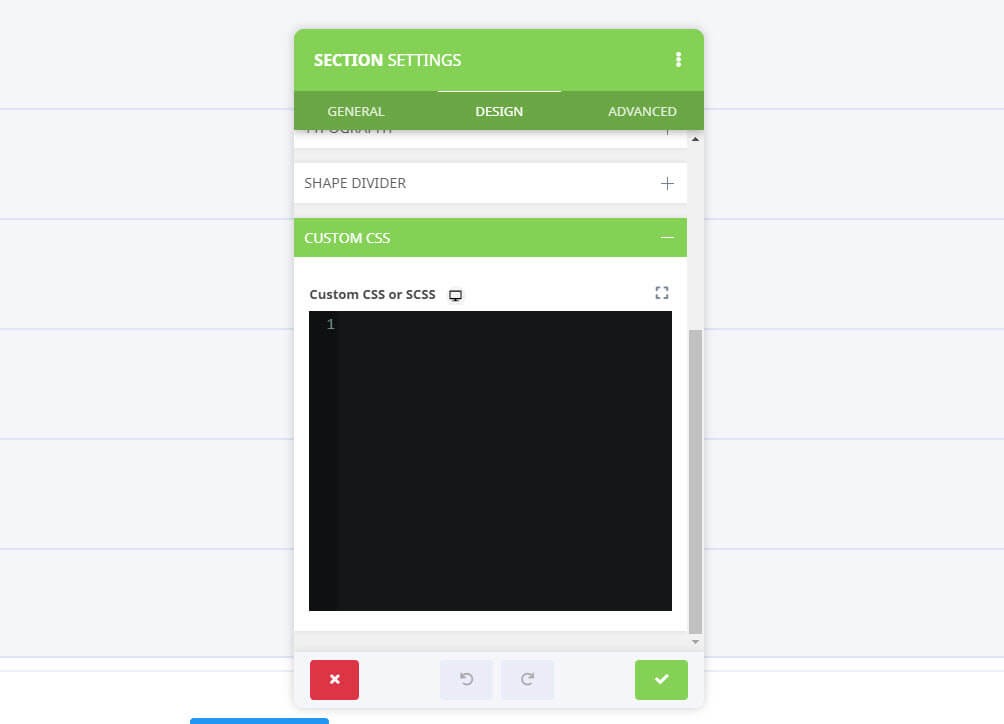 JD Builder offers you to add Custom CSS on each level of the builder where it is page, section, row, column or an element. If you want something unique and you are unable to design with available options, you can write your own CSS.
One more thing, it doesn't only support CSS, but it also supports SCSS as well which makes it unique among other Joomla page builders.
Style with confidence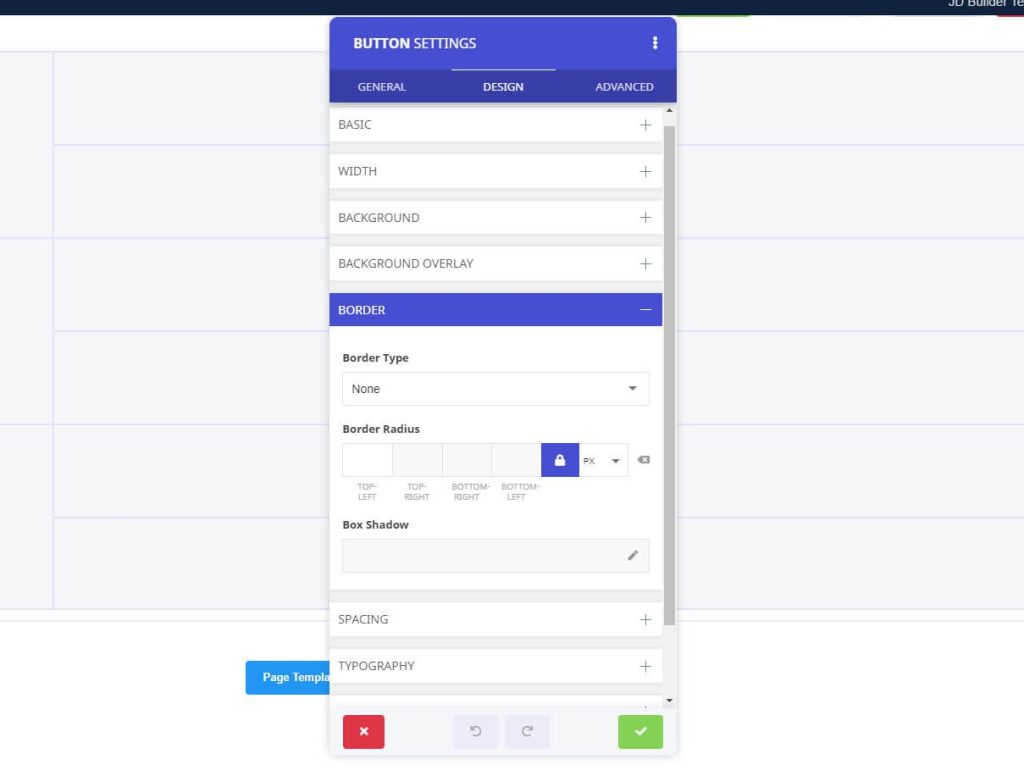 Yes, now beat the complex designs with unbeaten Joomla visual builder. You need custom margin padding, you can do it from the backend, Whether its border, border radius, border shadow, you can do it easily by just changing the values. You need to change the typography, colors or anything you want, you don't need to edit the files, just simply adjust it from the backend.