Hello JDians,
JoomDev is happy to announce that after a long cycle of research and development, we are releasing a new product for creating dynamic and stunning websites in real time.
Experience with us the new generation of Page Designing with JD Builder. It's a brand-new Joomla drag and drops page builder which will help you to design your Joomla website easily with drag and drop interface.
It is the most advanced Joomla page builder specially designed for freelancers, agencies and website owner. In short, you don't need to be a master, if you want to create or edit your Joomla website.
You can edit and build your own webpage in real time with powerful built-in layouts and tools that help you in creating an immaculate web interface.
So, Let's have a look at its features
Simple and Clean Dashboard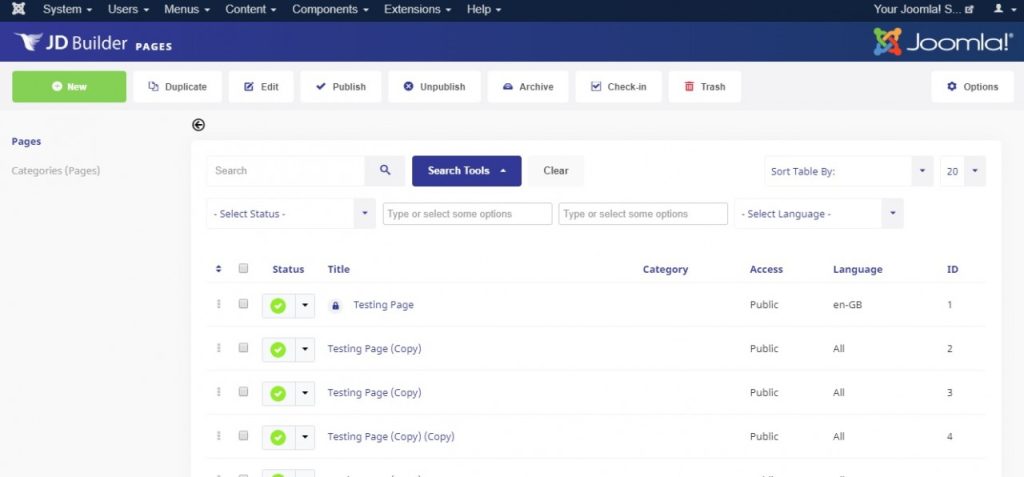 We believe in simplicity and we don't want to confuse users with useless things on the dashboard. And this is the reason we keep JD Builder dashboard really simple and clean. On the dashboard, you have all the options like add a new page, duplicate, edit, publish, unpublish, archive, check-in, trash, Search, sort and all the other which you need the most.
Custom & Pre-defined Column Grid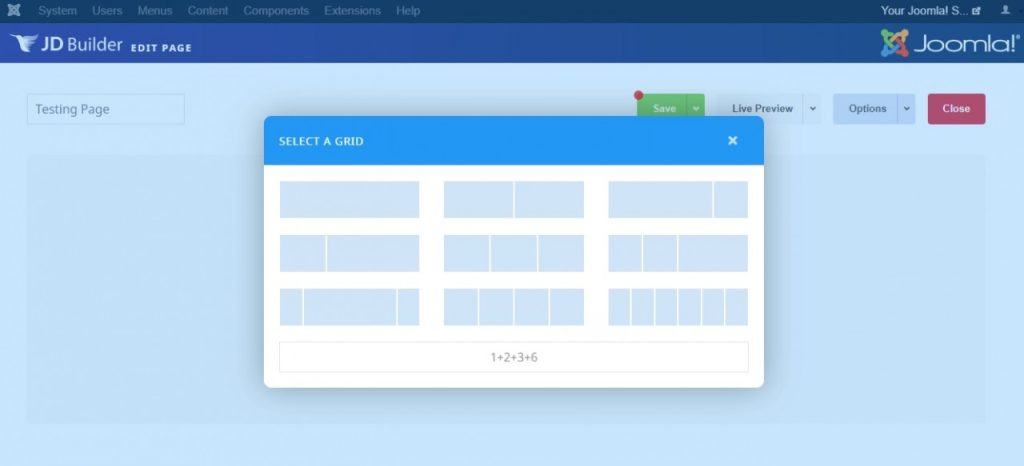 JD Builder comes with 9 pre-defined column grids. But it is not limiting you here, it has also a custom option. You can use it to create your own grid column combination.
Crystal Clear and Easy to use Layout Builder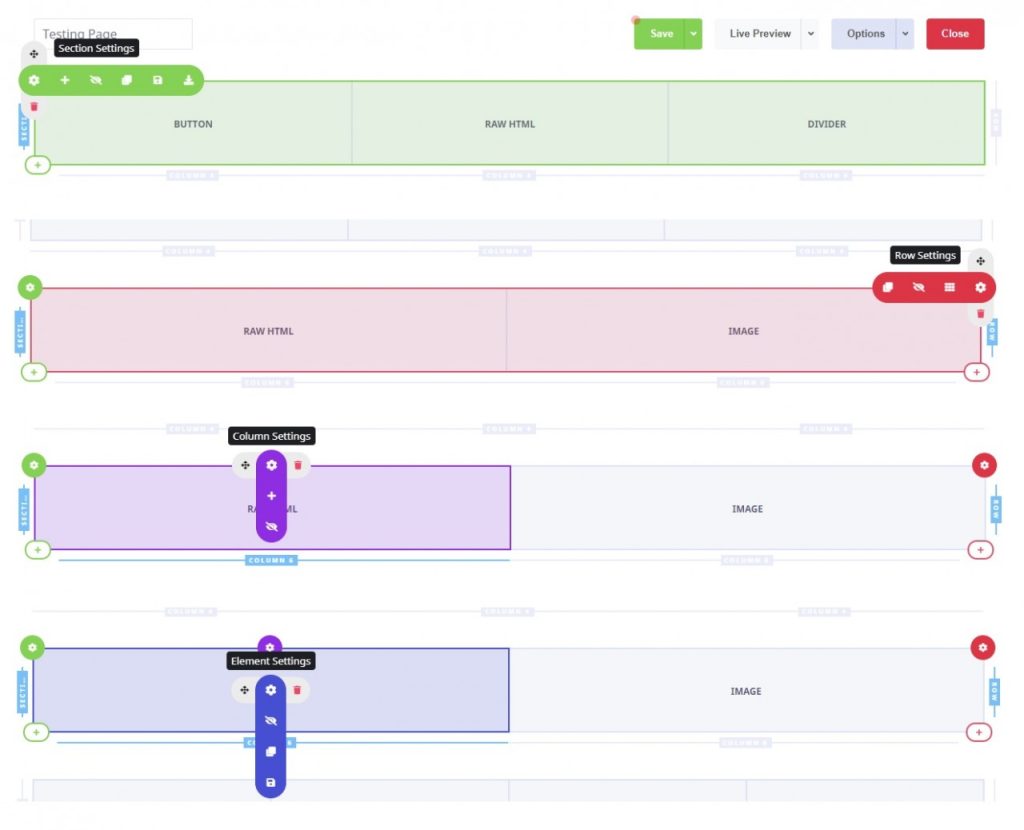 Layout builder is the most important part of a page builder and user spend most of the time on this view. And thanks to our developers, they made it really simple and easy to use for everyone.
You can easily differentiate between section, columns, rows and sections.
Dynamic Live Preview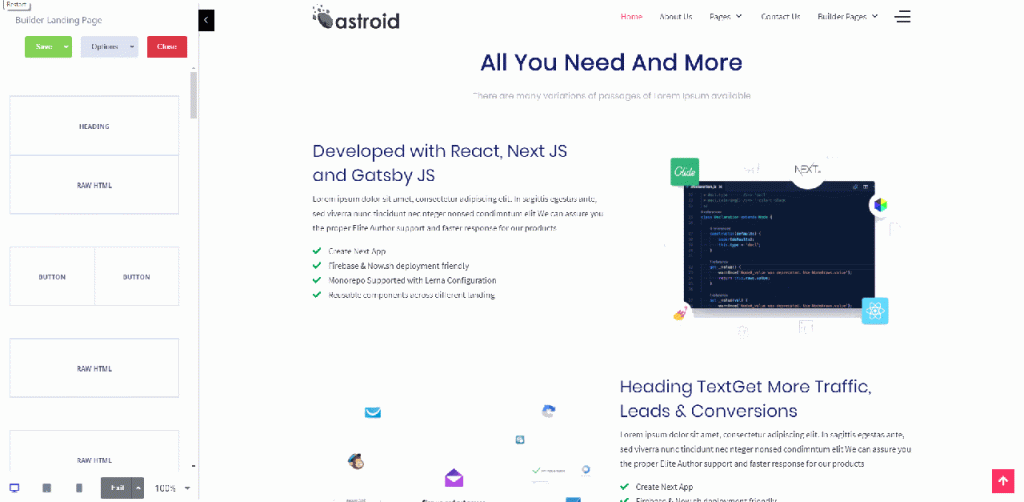 With the intuitive "Preview" feature, users will have the ability to create and test pages in real time. The tool will also allow users to rapidly and easily develop/change the interface of the website as needed.
Through innovative control response, it is easy to manage dynamic web pages which are mobile and tablet friendly. It will also be easier for you to check the responsiveness of your webpage in real time. With the ability to make changes with just a few clicks, you will immediately see the effects it has on the webpage.
All this from a single central dashboard!
No More Complex Joomla Coding
It will remove the need for knowing various coding languages just to set up your website in the way you want.
All you will need to do is select and drop elements on to your webpage.
Real-Time Design
All the elements are accessible from a single location and have a collection of complete page layouts along with, complete ready-made sections and template designs.
Customization Maximized
JD Builder offers full access to customize your Joomla website at any level. You can do anything that you can think about the design. We will have plenty of elements and features which will help you to customize your Joomla design easily.
Reduce Workload by Months!!!
With our Joomla page builder, you will reduce your own workload and create webpages in record time with real-time design. The complexity of coding in complex web interfaces coupled with bugging and debugging operations can take a huge amount of time. JD Builder removes that hassle.
JD Builder is a refined tool that we are proud to present to the web development community. It helps in creating websites without knowing a single line of code but still creates stunning and visually pleasing web pages in a matter of minutes.
We've made it in such a way that it will work with anything and everything.
We hope that you are as excited about our page builder as we are for you to try it out and use it to its full potential.
Keep your eyes and ears peeled for more information about our revolutionary product that will change the web development landscape.
…Till then just sit back and start planning to build the website of your dreams.
Also, don't forget to join the launch event on Facebook.