Is your business process comprised of a lot of back and forth? You should start thinking of a versatile CRM tool for your company.
When it comes to CRM tools, it is better to understand what is QuickBase. Its exceptional features can streamline even the make most intricate tasks. It helps you see, connect, control, and manage every component of your project. Let's explore all things about QuickBase!
If you own a business, you must have important data to be managed and organized in abundance. Handling massive data makes it difficult for your employees to be on the same page, especially when they talk to your customers.
In addition to that, 85% of customers expect uniformity or similar responses whenever they interact with your company. But it is difficult to achieve it because when different personnel handles diverse data, there are high odds of slipups, especially when it comes to customer management.
You would want to avoid that right?
Here, customer relationship management software (CRM) aids not only in organizing bulky data efficiently but also helps you do business much smarter.
Regarding a good CRM tool, QuickBase is among the most preferred and popular options to create your own customer management system and automate the workflows for improved results.
Does organization size matter?
Not really, QuickBase is not only utilized by multinational companies operating across the globe but also by small businesses and startups functioning from a single location. This platform can be scaled to diverse organizational sizes.
No matter how many complex projects you have undertaken, with the help of QuickBase, you can handle it like a pro. Let us talk more about QuickBase and how it can help you in transforming your business!
What is QuickBase? An Overview of the CRM Tool and Why It's Important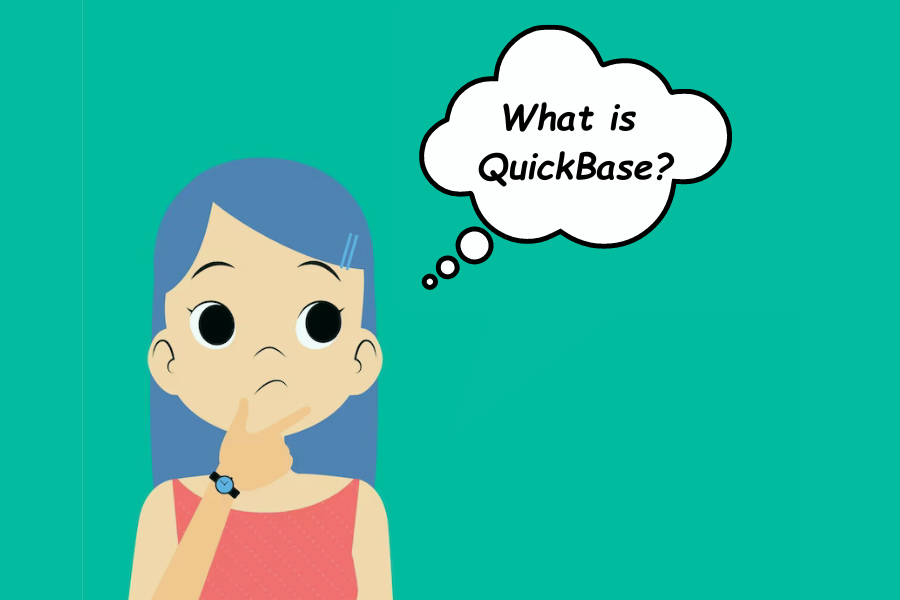 With customers in more than 118 countries, QuickBase is quite a popular application development platform that enables users to capture, tune, share, and handle documents and data easily.
What is QuickBase?
QuickBase enables users to build their own system for customer communication management. This CRM platform helps businesses to keep abreast with the latest innovation via top-notch custom applications. The entire app development process is low code or no code which is productive for non-tech individuals.
No matter what type of information and data you collect from your customers, this CRM tool lets you do it effortlessly. This no-code platform competes with other products in app development, project collaboration, lead management, database, etc.
To help you understand more about the very platform, let's take a quick look at what tasks you can accomplish with it and what is quickbase used for:
Data capture: From workflow agendas, catalog schedules, and sales leads to project milestones, QuickBase forms help you easily document and manage the data according to your preference.
Modification of data: Not only you can capture any type of data but you get complete freedom to modify the records. You can do this modification in bulk or one at a time depending on your need.
Display of data: QuickBase offers six different types of reporting styles namely table, chart, timeline, calendar, and grid edit. You can use any type of style to display and summarize your report. Also, switching back and forth between reports is easy.
Printed reports: You can easily create printed reports with pre-set QuickBase charts. Whether you want its hard copy or email the annual sales report, you can do it with a few clicks.
Sorting, filtering, and grouping data: Displaying bulky data at once on a single screen is not possible for any tool. You can filter and sort any particular record and sort it into groups easily.
Now you have learned what is quickbase, let's quickly go through its features and benefits.
Features and Benefits of Quickbase for Businesses
QuickBase CRM come with some extremely cool features that help any type of business improve its operation including:
Built-in apps
Users are not required to learn the process of designing the QuickBase app as this platform offers an array of built-in apps. From project management and back-office operations to sales and customer management, issue tracking, etc, you can pick anyone and start using the app like an expert.
Email notifications
Users can send important notifications to selected people whenever they want to let them know about the changes in records. Whether a manager assigns new tasks to their subordinates or someone uploads the newest version of any specific document, you will get notified without fail.
Customization
QuickBase applications are not only user-friendly but also can be customized according to the organization's needs. From addition, removal, and shuffling the order of the fields to changing a text box to a drop-down menu with several choices, you can achieve anything. You can customize apps according to your company processes, workflow, and other specific needs.
Accessible
As QuickBase is a web-based app-building platform, you can access it anytime and anywhere with an internet connection. You can build your own CRM system from scratch and handle it from any part of the world.
Reliable and flexible
Being a product of Intuit (a renowned American software solutions company) who are in the business for more than two decades, this name offers reliability and dependability in terms of usage of the QuickBase CRM platform.
User access control
QuickBase lets you assign different roles to different people within the app. One can be assigned as a viewer, administrator, or participant. Viewers just have the right to see the app's data, administrators have complete control over the app including making changes, and participants can work with the data. Plus, you can easily switch roles to meet your organization's needs.
So, these were some of the popular features of the QuickBase. Let's quickly get down to the benefits of using this platform for businesses.
Rapid development
The ability to access fully functional applications is one of the biggest benefits of QuickBase. This is because developing a custom application takes months or even years to align with your business. Depending on the level of needed functionalities, it can be done in weeks and even days.
Versatile
From handling a barcode-based inventory system to automation of workflow, QuickBase can do it all. Not only this but if you need a unique functionality, you can accomplish your goals on this platform. Plus, it can be seamlessly integrated with most applications.
Low cost of the license
The cost of obtaining a QuickBase license is comparatively lower than other platforms including SalesForce. You can check out the in-depth comparison between QuickBase and Salesforce to understand the key differences between the two popular tools.
Robust enterprise-level security
One of the biggest benefits of using QuickBase is the robust security that comes with this platform. QuickBase offers round-the-clock support, monitoring, advanced data encryption, IP filtering, two-factor authentication, etc. Users get powerful administrative control to ensure each of them is adhering to policies. This platform is DFARS, SOC 1/ SOC2, HIPAA, and EU-US Privacy compliant.
How QuickBase Helps Businesses Streamline Their Operations?
Besides connecting different departments and staff together in one place, it helps businesses in streamlining their operations as follows.
Process management
It offers ease of connecting team members from different departments. This affords dynamic and effortless communication across platforms. You can get detailed insight in real-time and find out areas that need improvements. With one authoritative central database, you can manage the entire business process easily.
Financial management
QuickBase offers inbuilt forms that can be processed faster. You can find easily find out data and documents that needed to be audited. This platform helps you track any financial processes from one centralized system. This way you can adeptly manage your finances which eliminates the time wastage on budget management.
IT management
QuickBase streamlines ticket processing, and managing times, and eliminate the backlog. This helps your IT team stay on top and handle priority requests quickly. This platform helps you build a management system aligned with your business requirement.
CRM & sales management
You can handle and access complete customer data from a single interface. QuickBase's in-built report filing enables you to easily share the database among your sales team, systematize your workflows, and update shareholders easily.
Employee management
Using QuickBase, you can simplify the entire process of onboarding and offboarding employees. Recording and keeping track of employee data, training, and other human resource functions can be done effortlessly. You eliminate the need to manage paper forms and other records of the employees.
Training management
With QuickBase, you can manage each aspect of employee training. You can record certifications, qualifications, and other vital data of each employee easily. Plus, protect all this data in a cloud-based platform. This means you can control access to any specific data effortlessly.
Marketing
Based on the clear and easily accessible data, you can implement a more cohesive marketing structure. With a centralized database, you can gain insight into each customer's perspective and make improvements in your marketing campaigns.
Customer support
With QuickBase, your team will have instant access to the customer database. This helps them quickly answer customer queries and build a long-lasting relationship with your customers. You can provide strong support to your customers with a central database.
QuickBase vs Other CRM Tools – Which is Best for Your Business?
When you search for CRM tools in the market, the options are quite overwhelming. However, the top three alternatives to QuickBase are SalesForce, Pardot, and ActiveCampaign. There are many other CRM tools in the market that are QuickBase competitors.
Let's learn who are the top 09 leading CRM tools in terms of market share and features in the below table.
| Alternatives to QuickBase | Features | Market Share | Price |
| --- | --- | --- | --- |
| Salesforce CRM | Massive customer base, and better market share coverage, and holds the first position in the market share ranking index. Personalized customer support. Comes with various advanced features that make the digitization of business processes easy. | 33.10% | Ranges between $25 to $300 per month. |
| ActiveCampaign | Good customer base and better market share coverage. Outstanding customer experience automation. Contact migration, customer enablement workshops, accelerated onboarding, video tutorials, and much more. | 12.34% | Ranges between $49 to $149 per month. |
| Pardot | Marketing automation tool by Salesforce. Aids in automating email marketing, lead generation, email campaigns, and multi-channel marketing. | 8.77% | Ranges between $1250 to $15000 per month. |
| Marketo | Offers an engaging marketing platform with other third-party services including automating email marketing and much more. Best customer support and training. | 7.43% | Ranges between $895 to $1795 per month. |
| Leadfeeder | A cloud-based tool that identifies website visitors and leads 'hence the name. Integrates well with most CRM tools. Offers ease of lead management, automation of lead capture, analytics, and more. | 5.99% | Free plan to $199 per month. |
| NetSuite | Cloud-based CRM tool that provides a 360-degree view of the customer database. Monitoring top-performing marketing campaigns based on demographics is easy. | 5.49% | Ranges between $99 to $999 per month. |
| Infusionsoft | Customer tracking software that gives a detailed insight into past purchases. Crafting personalized messages to offer great customer service is the unique selling point  (USP) of this tool. | 3.68% | Ranges from $100 to $199 per month. |
| Pipedrive | Ability to synch your CRM with more than 400 tools. Sending customized emails with great-looking templates is easy. | 2.71% | $178 annually. |
| Sales Cloud | Boosts overall productivity via process automation. Manages and tracks leads. Displays detailed reports in a dashboard that can be accessed from any part of the world. | 1.38% | Starts at $600 per month. |
| | | | |
When you look for QuickBase alternatives in the market, you will probably get the aforementioned options on top. All of them offer great features to their users in automating their business operations and much more.
However, if you look at the price column, the top three CRM tools have mouth-dropping price plans. Whereas QuickBase not only offers a 30-day free trial (the highest free trial in the list) but the cost starts just at $30 per month.
There are three quickbase pricing plans that users can pick according to their needs:
Team: Starts at $30 per month (minimum 20 users) which needs to be paid annually.
Business: Starts at $50 per month (minimum 40 users) which needs to be paid annually.
Enterprise: You can customize this plan according to the need of your organization.
So, in terms of pricing, QuickBase is the clear winner.
Although the market share of QuickBase is 5.64%, most of its clients are among Fortune 500 companies. If you are looking for a reliability aspect, undoubtedly this platform is the right pick. You can hire the best QuickBase developers and start leveraging this platform for the betterment of your business.
Understanding QuickBase's Customization Capabilities for Specific Business Needs
QuickBase is a cloud-based database platform that offers numerous advantages over other tools. Every QuickBase app looks and feels different from the other apps developed on the same platform. This is because it is highly customizable and can be tweaked according to preference.
Even the prebuilt QuickBase applications can be modified and tailored to specific organizations' requirements. You can do the following customization on your QuickBase app.
Adding and removing the fields.
Shuffle the order of fields.
Transform a single text box into a multiple-choice drop-down menu.
Modify the name of the records, etc.
Case Studies: Success Stories of Businesses that Have Utilized QuickBase
Case 1: Data Integration
Issue: Lack of data integration within systems
Solution: QuickBase enables companies to create a data collection mechanism that helps them seamlessly flow information between marketing systems. Departments with integrated system views can easily prioritize what needs to be done. This improves overall efficiency and customer experience.
Case 2: Roles
Issue: Inconsistency in permission and access of data across various teams and departments.
Solution: QuickBase offers the freedom to create customized roles with specific permissions and dashboard access, ensuring greater control and consistency across different areas of your organization.
Case 3: Dashboards
Issue: Difficulty in finding specific reports or calendars in a large list.
Solution: QuickBase allows you to add buttons for quick access to frequently used reports and calendars on your dashboard. Additionally, important reports can be displayed directly on your dashboard.
QuickBase also offers a search feature to easily find any Project, Activity, or Opportunity by searching through relevant fields like customer name, mobile number, or email. This makes it simple and efficient to access the information whenever needed.
Case 4: Project Duplication
Issue: Inability to duplicate a project for a particular customer followed by cancellation of the previous one.
Solution: QuickBase has a "Duplicate Project" section that offers three options: duplicate with copied data, duplicate as a blank project, and duplicate until a selected task. This feature makes it easy to keep a record of tasks and maintain records within an opportunity, allowing clients to easily duplicate projects for customers.
Case 5: Reports
Issue: Time-consuming navigation to find customer information within projects.
Solution: QuickBase's tabular report feature offers ease of creating customized reports with different filtering conditions. For example, a "Canceled Projects" report can be changed to 'show only canceled projects' in QuickBase. This enables faster navigation and provides all necessary data in one place, allowing quick access to customer information. As a result, this feature has proven to be a valuable resource, saving time and resources for the organization.
Case 6: Emails
Issue: Time-consuming process of tracking all the functions going in QuickBase.
Solution: QuickBase sends email notifications to inform relevant roles/individuals for specific functions based on certain conditions. For example, email notifications can be sent to the assignee of a task whenever the project is started. This feature saves time and helps users stay up-to-date with their assignments and responsibilities.
QuickBase's Data Management Capabilities and How They Benefit Businesses
From simple project tracking and reporting to managing systems that handle the entire business, QuickBase can fit each organization's needs. No matter how big or what domain you operate in, you can unlock many benefits of this platform for your business.
QuickBase has numerous data management capabilities that help you gain a lot for your business including:
In-depth insight into the system
QuickBase is a great platform for collecting data and information from different systems and transmitting it into in-built reporting tools and gaining detailed insight. The quick centralization of enormous data coming from diverse systems is the key reason for its popularity among users.
Better usability
Receiving mail in bulk can pile down high-priority orders received via email. Using QuickBase, businesses can save themselves from the headache of maintaining colossal emails, databases, and notes. Users can keep a check on the priority orders and respond more rapidly to each of them.
Organizational responsiveness
Many businesses leveraged QuickBase and earned great returns after its deployment. This platform work towards consistent improvements to make organizations responsive to changing future needs once businesses start scaling.
Fill organizational gaps faster
If you have many projects running, then you essentially need a centralized system to allow managers easily handle customer feedback and manage returns. Using QuickBase, you can achieve this goal without much hassle. This platform is much trusted by most IT companies to streamline their projects and fill potential organizational gaps quicker.
Ease of meeting demanding tech
If you want your IT department to focus more on strategic operations, then utilizing QuickBase is the right way to do it. Aligning your operations with high-end tech software solutions is essential for all organizations; this demand cannot be solely met via an internal team.
QuickBase and Sales Management: Improving Efficiency and Results
QuickBase helps businesses in automating their process to reduce the effort and time of their teams, so they can focus on core activities. Using the QuickBase pipeline channel, you can strengthen your sales process. QuickBase pipeline integrates with third-party solutions to help your sales team to manage and track customers and lead information better.
You can utilize the QuickBase sales management app to streamline the entire process including:
Automate a sales quote to the purchase process.
Handle marketing campaigns.
Setting goals both monthly and annually.
Quickly respond to high-priority matters.
Track your progress.
Examine results with the help of detailed reports.
Adjust plans according to your findings.
Ease of handling and compensating the sales team.
How Can QuickBase Help Businesses Increase their Customer Relationship Management (CRM)?
QuickBase provides a platform for growing businesses to build custom apps cost-effectively. Using the QuickBase tutorial, any type of organization can quickly learn to build applications in a low-code interface. No matter what your requirement is, you can fully automate the specific business process.
Integrations: Whether you want to text files into a single place or synchronize the data from spreadsheets, you can centralize the database using QuickBase Webhooks and a range of APIs.
Customization: Users can easily pick any type of app from the QuickBase exchange. Once they select the app, creating custom fields and forms, labeling their interface, running unlimited reports, accessing the developer to test new applications, etc. are super-easy.
Workflow automation: You can effortlessly set up schedules that automate task processes across all applications. You get guidance via generated reports and reminders which also help you focus on core business processes.
Roles and permission: You can allocate permission and access to various systems and data to specific departments only. Users who have been provided access to a particular dashboard can only access the data they need.
Support: QuickBase offer robust customer support and a huge community that ensures your queries are addressed and request are resolved at the right time.
Security: This platform provides never-ending security features that make QuickBase the most reliable tool. From two-step verification and advanced data encryption to an identity management system, log audits, and many other features make it a dependable platform in terms of security.
Mobile: Using QuickBase native mobile apps, you can run your business along with integrate applications from any device. The sessions are managed this way so that inactive users are automatically logged out of the session.
How to Implement QuickBase into Your Business?
Although QuickBase is highly accessible and offers ease of building and deploying applications rapidly, not everyone has the experience and time to develop what their company actually needs. Plus, you will have to devote a significant amount of time to learning the platform for building apps.
As a company owner, you always think of optimizing your business processes and automating workflows. But do you know where and how to even start it?
Do you know the areas your business needs to improve to get the anticipated ROI? Plus, building a solution in-house might end up costing you more money and time in the long run.
That's where our QuickBase services come to the rescue.
Opting for our QuickBase services helps you develop, test, and deploy custom apps that your business requires. We have a team of specialists who are experts in getting out most of the QuickBase applications.
When you trust an experienced QuickBase partner, you can sidestep the potential pitfalls that tag along with the app development process.
Here is the list of things that we do for our clients:
Design, create, and test custom applications.
Deploy process improvements.
QuickBase integrations.
Apps repair and improvements.
Mapping workflow.
Educating your staff on app builds and functions.
Boost ROI and much more.
When you partner with us, you get the following benefits from our top-notch QuickBase services:
Rapid development: You get rid of the headache of building apps in-house as you get them delivered quickly.
Rare errors: Our highly experienced team can meet your expectations from your app solution without much rework and bugs.
Better ROI: We know what areas of your business will help you yield more profits. We work on each of them to increase your returns. You will definitely experience a justifiable ROI quicker than earlier.
Comprehensive security: Issues related to security can plummet a business no matter how flourishing it was. At JoomDev, we value and understand the need for data protection and ensure the same for our clients.
Deeper understanding: Once our team finds out the issue or reason for inefficiencies in your company. We understand it deeper and work towards the betterment of each affected area.
Tactical enhancements: Based on our findings, we carve out a roadmap for improving all the pitfalls and helping your business scale tactically.
Consistent support: We aim to build long-lasting relationships with our clients. We offer consistent support to answer each query and help your business succeed in no time.
Want to Hire a Quickbase or CRM Consultant?
Don't worry, we are here to help you. Let's book a free consultation call with our expert and let us understand your business and what you want to achieve.
FYI, JoomDev has been offering custom Quickbase development services for more than 7 years.
Take Away on QuickBase
QuickBase saves you time and a lot of money. It offers the ease of managing and sharing vital information effortlessly. You can easily handle project timelines, work requests, purchase histories, drafts of documents, and much more on this platform.
If you are looking for a low-code platform to build custom apps quickly, then QuickBase is the right choice. The flexibility of this low-code platform stands apart from all other CRM tools present in the market. Using QuickBase, you can outpace the ever-growing competition.
Now you have learned what QuickBase is. It's time to get rid of manual and tedious tasks and start utilizing this platform and take your operations to the next level.