Shopify and WooCommerce are the two popular options that strike people's minds who are looking to start their own eCommerce store or revamp the existing one. But when they try to do Shopify vs WooCommerce, they get consfused.
However, choosing one between these two eCommerce giants can be very tough for those seeking sales growth from an online store as both offer great power to build striking web stores.
Don't worry! In this post, we have compared each nitty-gritty detail of these two platforms to make you understand how Shopify and WooCommerce have maintained an unwavering position for many years and counting.
Let's see when two leading platforms battle together who comes out as a winner!
Overview of Shopify and WooCommerce
eCommerce is ever-growing, and the number of online shoppers has reached 2.64 billion. This means 33.3% of the global population are digital buyers. By 2025, this number will hit 2.77 billion.
Currently, 4.4 million sites are built on Shopify. With more than 5 million active installations, 20.2% of websites on WordPress use WooCommerce. Both platforms are equally popular and preferred by many businesses.
Whether you have a soft corner for Shopify or the popularity of WooCommerce has caught your attention. First, you need to know the basics of both platforms to make an informed decision, let's begin.
What is Shopify?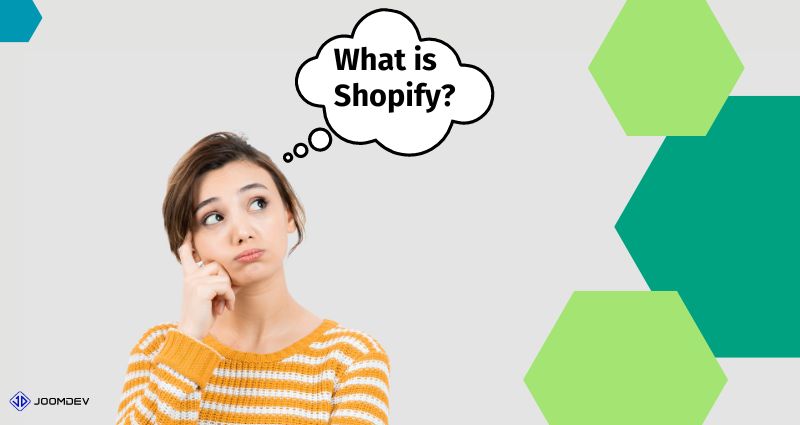 Shopify is an eCommerce platform that allows all sizes of businesses to create online stores. This platform lets the users build and sell their products online through one efficient and simple dashboard. Shopify is an all-in-one platform that streamlines the process of managing inventory and accepting different types of payment effortlessly. Even with less technical know-how, you can manage your online store professionally.
What is WooCommerce?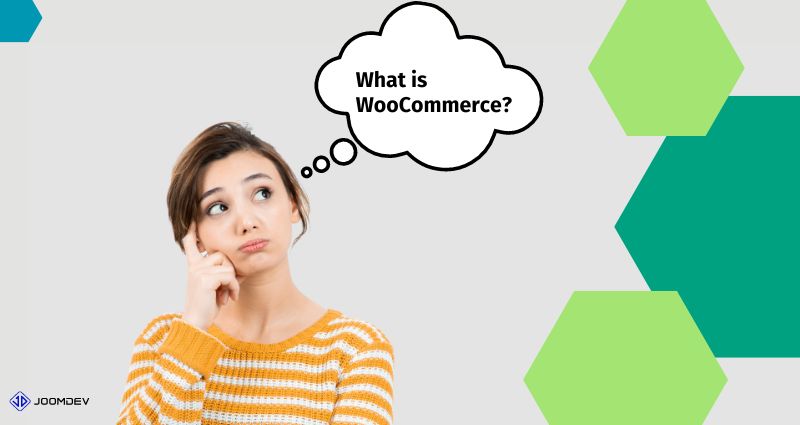 WooCommerce is an open-source and flexible solution designed for WordPress websites. Using this platform, users can utilize the most influential CMS (content management system) for running their online stores. You can also convert a regular website into stunning yet fully functioning online stores with the help of this flexible software. WooCommerce offers ease of customizing each aspect of your site and the effortless addition of custom extensions.
Importance of choosing the right eCommerce platform
Your website is the digital face of your business, it has to be the best. The choice of a site-building platform highly determines the end result. Your business site comprises all the details that make it a credible brand. And your business credibility is among the major factors that bring in new customers and earn the loyalty of existing ones.
So, choosing the right platform for building the finest digital picture of your brand is more than important. Here are a few factors that your website-building platform should provide:
User-friendliness: No matter which platform you pick, it should be user-friendly or easy to manage for beginners.
Easy integrations: You need third-party tools or other services to grow your online store, make sure the platform facilitates this feature.
Budget: Every online store-building platform has a cost of creating an operational and niche-centered site, keep the initial price of all these in check.
Payment methods: The platform should offer multiple payment support to meet all types of customers' needs.
Scalability: Your business grows with time. Therefore, the web-building platform that you pick should offer scalability features as your business expands.
Customizability: A good website-building platform offers customizing options and a range of templates to outrun your competition.
Security: Safeguarding customer's personal details and business vital information is vital for you. So, pick a platform that offers robust security.
Support: No matter how efficient a platform is, there will be some technical issues. Therefore, web-building platforms should provide unfailing customer support for your queries and problems.
Now these are some important aspects that website-building platforms should offer. However, understanding all the vital specifics, features, pricing, pros, and cons of Shopify and WooCommerce is vital to make the right choice for your business. Let's dive in!
Shopify – All in one eCommerce Platform
Shopify has gained a lot of popularity over the decades. This platform recorded $5.6 billion in revenue in the year 2022. It is a CMS that allows users to create and run online stores efficiently. Over 1 million online stores are built using Shopify and in more than 175 countries merchants are gaining profits from this platform.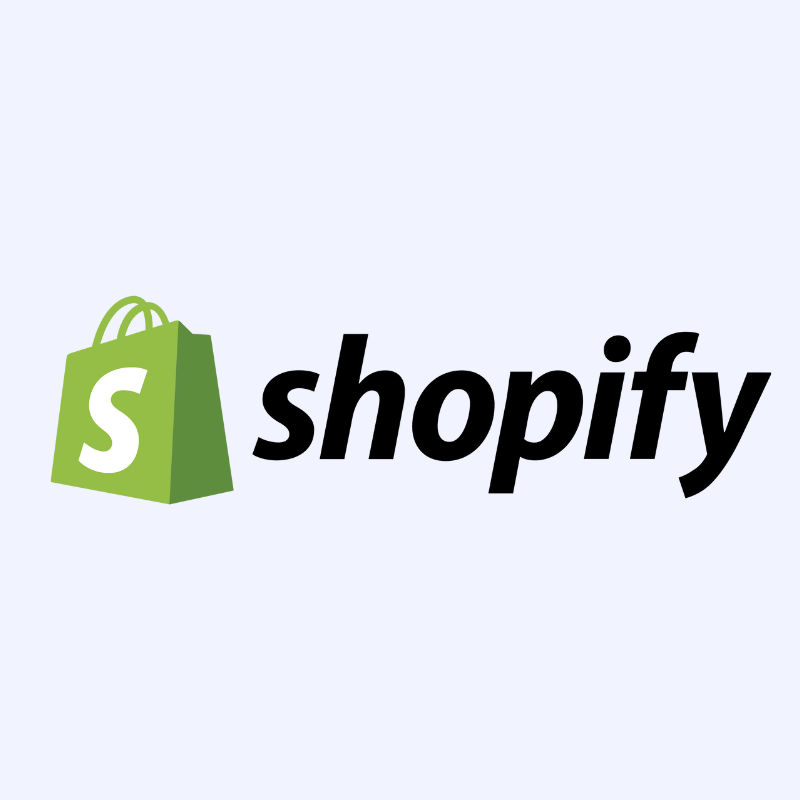 Let's quickly understand the major attributes of this platform to know about it comprehensively.
Features of Shopify
Point of Sale (POS): Using this feature, businesses can sell their offerings to the real world. Simply put, companies can start physical stores to sell their products directly and accept card payments from buyers. POS eliminates maintaining records of online and in-store sales.
SEO tools: Smart SEO app on the Shopify Store offers many useful features including metadata input and structured data. There are other more applications that optimize SEO success such as Alt Text, Meta Tags, Site Maps, etc. which help in increasing footfall and improving the visibility of your site in search engines' rankings.
Dropshipping: Dropshipping eliminates the need to maintain a warehouse for product storage. Using this Shopify feature, you can connect with countless suppliers and do imports across the globe.
Analytics: Shopify provides various analytical tools to examine the performance of its store. This feature offers impactful insights into sales, marketing, customer actions, and other things that help you optimize business operations' success.
Abandoned carts prompts: Approximately 68% of people don't move forward with a purchase and this phenomenon drops the sales graph massively. Shopify offers a feature called 'abandoned cart checkout mail' that helps you identify people who left their cart before making the payment. So, you can give them a healthy reminder of those products.
Benefits of using Shopify
Robust security: Shopify offers 256-bit SSL certification to all websites. This ensures the protection of customer personal information including phone numbers, card details, residential addresses, email addresses, etc.
Customizing option: Shopify provides several in-built tools to customize each section of the website according to your unique business needs. You can offer personalized coupons, various options for shipping and payment, sales notification, etc.
Quick load: Slow website impacts business profits. Shopify offers a cloud-based service. Its optimized and sturdy hardware accelerates the loading speed of the website. Sites built on this platform load in a couple of seconds.
Mobile responsive: As most people prefer using their smartphone for shopping online or browsing the internet, Shopify helps companies to build mobile responsive sites that run seamlessly across various devices.
Customer support: Shopify offers 24X7 customer support to its users. It provides voice support, live chat, and community forums to address its client's problems. They also offer a massive database of FAQs to resolve issues quickly.
Shopify App Store: Shopify has its own application store that has numerous apps to integrate novel features into your online store. Smart SEO, Printful, Plugin SEO, and OptinMaster are one of popular applications on the Shopify App Store.
User-friendly interface: Shopify has a very easy-to-use interface that allows users to understand and use this platform effortlessly. This platform offers multiple drag-and-drop features that help non-tech-savvy people run their online stores efficiently.
Shopify Pricing and plans
Starting an online store is super easy at Shopify with a basic plan starting at just $39 per month. You can upgrade your plan for $105 per month. If you want to access advanced features, you can purchase Advanced Shopify Plan which will cost you $399 per month. All three plans include web hosting and an SSL certificate.
If you want to use your own domain name (ownname.com), you can buy it separately for an annual cost of $14. This platform also offers Shopify Starter Plan at $7 per month to add buttons on a website or utilize in-person selling in selected regions.
However, this plan excludes add-ons and third-party tools to make your online store modish. So, as your business scales the cost of maintaining the Shopify store will also start adding up.
Pros and cons of using Shopify
Although Shopify is a fantastic choice to start an online store, it is essential to learn all the pluses and pitfalls of this platform.
| Pros | Cons |
| --- | --- |
| Simple to use and start a site. | Limited options in customization. |
| Offers an array of features to manage the site. | The processing fee is high. |
| Access to a range of Shopify payments. | No email hosting. |
| Huge selection of store themes. | |
| Great customer support. | |
| Dropshipping is simple. | |
Want to Hire a Shopify Expert?
Don't worry, we are here to help you. Let's book a free consultation call with our expert and let us understand your business and what you want to achieve.
FYI, JoomDev has been offering tailored Shopify development services for more than 7 years.
WooCommerce – Most Robust eCommerce Plugin
According to the BuiltWith report, over 6 million websites use WooCommerce out of which more than 40,000 are top websites in the world. Currently, this platform enjoys 23% of the market share across the globe. This platform offers the best features to build a stunning and contemporary online shop. Let's quickly understand the features and benefits of the WooCommerce plugin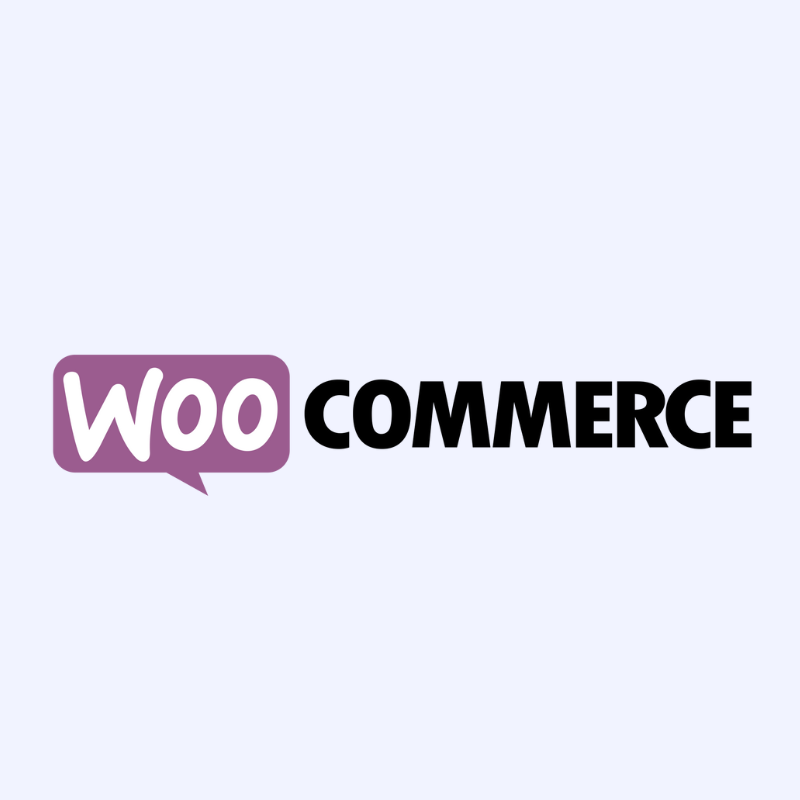 .
WooCommerce Features
Customization option: Without paying any extra charges, you can change and customize your online store the way you want. You can choose any in a range of stylish themes and customize it further easily.
Inbuilt analytics: WooCommerce offers in-built data analytical tools that give you full insight into your business performance and growth. Even if you are inexperienced in tracking growth, these inbuilt wooCommerce tools help you keep track of all things.
Many shipping options: Using this eCommerce platform, you can provide several shipping options to your customers including international delivery, local shipping, and nearby pickup. Plus, you can limit the options in shipping according to your convenience.
Payment gateway integrations: A smooth and efficient payment process is an integral part of a successful online store. In your WooCommerce store, you can offer several payment options to your customers including cash on delivery, bank transfer, credit/debit cards, PayPal, etc.
Automatic tax calculation: WooCommerce comes with an automatic tax calculation tool that can be utilized easily. You just need to do some configuration in the settings to let your WooCommerce store compute taxes automatically in each order.
Inventory management: The in-built IMS (inventory management system) feature of WooCommerce allows you to manage and track all your supplies. From handling inventory to shipping them to different locations, you can handle the whole order process easily.
Benefits of Using WooCommerce
Free WordPress plugin: As WooCommerce is built on WordPress, you get access to various editing tools for web pages and blogs. You can easily manage WordPress and your eCommerce store on a single CMS system.
Complete control on site: Unlike other eCommerce platforms, WooCommerce gives you complete control of the website data. Also, you get a backup platform that stores vital data related to customers' order history and other personal information.
Unique and stylish store designs: WooCommerce offers the ease of switching store designs back and forth according to your preference. This platform offers an array of free and paid stylish themes to enhance the appearance of your online store.
SEO friendly: WooCommerce is designed keeping SEO in mind. This platform optimizes all your content and product pages to gain visibility in search engine results. You can also utilize third-party plugins for further SEO optimization of your web content.
Loads quickly: Websites that are built on the WooCommerce platform comparatively load faster than other platforms. The files and database are very lightweight which accelerates the loading speed of your online store which is good for conversions.
Seamless integration: WooCommerce is a flexible plugin that affords seamless integration with third-party software systems. Order management tools, CRM systems, and third-party shipping services can be easily integrated into your WooCommerce store.
WooCommerce Pricing and plans
Although WooCommerce is available as a free plugin, you will require a domain name, hosting account, and SSL certificate to start your online store. The cost of a domain name is $14.99, for SSL certificate is $69.99 per month and web hosting costs you $7.99 per month.
You must have noticed that the cost of starting a WooCommerce store is cheaper than Shopify. When it comes to pricing and plans, WooCommerce comes out as a clear winner. However, the cost of purchase of extensions will increase the overall price plan. Once your business starts growing, the hosting cost will also keep adding up.
One of the biggest advantages of using the WooCommerce platform is that you will find many free alternatives. Purchasing only essential plugins and tools will help you keep the price in control.
Pros and cons of using WooCommerce
Despite various benefits, WooCommerce has a few shortcomings that you should learn before coming to a decision.
| Pros | Cons |
| --- | --- |
| Complete customizable options. | Performance gets hampered with a few plugins. |
| Great flexibility and is user-friendly. | There is a cost for each plugin, hosting, and theme extension. |
| Optimum security. | Hard to employ multiple currencies. |
| Ease of configuration. | You need to manage the security, maintenance, backups, and hosting of the site yourself. |
| Huge community support. | |
| Massive plugin and themes library. | |
| Great customer support and order management. | |
Looking for a WooCommerce Expert?
Don't worry, we are here to help you. Let's book a free consultation call with our expert and let us understand your business and what you want to achieve.
FYI, JoomDev has been offering custom WooCommerce development services for more than 7 years.
Shopify vs WooCommerce- What to Choose?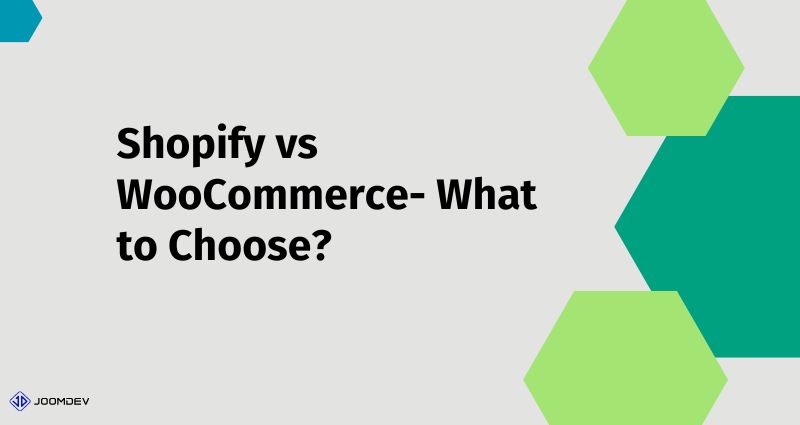 Both Shopify and WooCommerce offer innumerable features and multiple strengths to high-end and fully-functioning online stores. These platforms are the perfect solution for creating an eCommerce website. The best part is, you can create and run your store without any professional help.
The key difference between these two platforms is that WooCommerce is a WordPress plugin and Shopify is SaaS (software as a service). Both these eCommerce platforms have their own pros and cons (as discussed in the previous section).
To pick the better, let's have a quick look at the side-by-side comparison table of these two leading platforms.
| Specs | WooCommerce | Shopify |
| --- | --- | --- |
| Design and customization options | 1000+ official and third-party themes are available. All can be easily customized further according to the needs. | 100+ official and third-party templates. However, customization is limited. |
| Payment and shipping options | Free plugin. However, you will need to pay for a domain name, hosting, and extensions ranging from $7.99 to $69.99. | Three paid plans range from $7 to $399. |
| Security and reliability | Users are completely responsible for the security of their site. Regular website maintenance is important. | Shopify offers robust security features. It secures all vital information and payment details of the site. |
| SEO and marketing tools | SEO and marketing tools are available as extensions and plugins. | In-built SEO and marketing tools. |
| Integrations and add-ons | 59000+ WordPress plugins to add specific features to the site. Third-party software and tools can be seamlessly integrated. | A few options for extensions and add-ons. But, third-party integrations and add-ons are seamless. |
| Scalability | WooCommerce hosting infrastructure can handle any size of online store. | Upgradation of plans is necessary to scale your online store. |
Factors to consider when choosing between Shopify and WooCommerce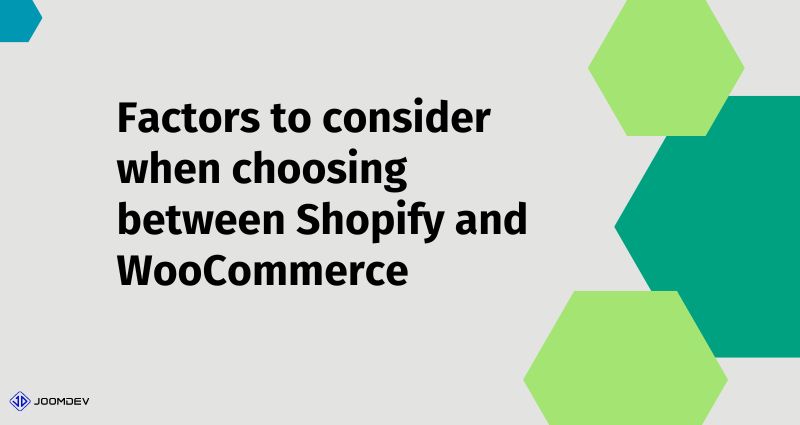 Before you pick one platform between Shopify and WooCommerce for building your eCommerce site, consider the following factors to make the right decision.
Size and type of business
The size and type of business matter a lot before choosing an eCommerce store development platform. If your business is small and you have just started your entrepreneurship journey, there is no point in spending huge bucks on web store development.
As WooCommerce is a free plugin, you can utilize this platform and purchase plugins according to your business needs. Whereas if you already have a fully-functioning website, you can pick any Shopify plan to polish and enhance your site further.
Budget and resources
Whether you are an established company that is moving online or just starting with your small business, you should know what the entire web development will cost you. Both Shopify and WooCommerce have a fee to kickstart your online journey. Remember, avoid paying unnecessary prices for add-ons/plugins or sacrifice essential elements for a cheaper plan.
Technical expertise
It is easy to create and run online stores in Shopify without any coding know-how or technical expertise. However, to run an online store in WooCommerce, you require technical knowledge as there is a bit of a learning curve.
Support
Server downtimes and other technical glitches occur unexpectedly. Some issues even lead to server crash which affects the revenue, reputation, and brand of your business. You should get consistent support to tackle these issues. WooCommerce offers great support options whenever needed. You can also access forums to get quick support from experts and support teams.
Talking about Shopify also offers 24X7 support via phone, live chat, Twitter, and email. However, both platform doesn't provide support for issues in third-party templates and apps.
Future growth and scalability
Even if you have started off as a small online business, it will grow and your needs will change. Both Shopify and WooCommerce can handle huge traffic, and orders, and are completely scalable.
As WooCommerce is a self-hosted eCommerce platform, it makes you responsible for backups, maintenance, and security of your online store. Remember, you will need to upgrade your plan which will surely add up the business cost. So, make sure that you don't pay any extra bucks for unneeded resources.
Case studies and examples
Many businesses are getting benefited and making enormous revenue with the help of Shopify and WooCommerce stores. Let's explore a few of them!
Success stories of a few of many businesses using Shopify
Asphalte: This company started in 2016 with a unique business model i.e. preorders. It makes outfits based on their customer preferences. Now it makes € 25 million each year. Shopify allowed Asphalte to build a stunning website along with a survey option (Typeform). Asphalte founders utilized striking popup designs on their website that drives over 4000 conversions each month. This means good web designs impact SEO rankings.
Allbirds: It is a 1.4 billion running shoe company that utilized Shopify to operate its online store. This company creates sneakers that are utterly comfortable with a small carbon footprint. It became possible as they used merino wool and eucalyptus tree fibers for making each running shoe. This company makes $305 million annually.
Beardbrand: This company makes $7 million annually and has to be in Shopify's success story. After quitting his job as a financial advisor, founder Eric Bandholz targeted the most underserved customers who love keeping beards but have no products for their care. With a great plan and stunning Shopify store, it has become one of the known brands in Washington and Texas.
Success stories of a few of many businesses using WooCommerce
WorthPoint: WorthPoint is a renowned resource provider that utilizes WooCommerce. They smoothly manage over 300 million items on their website. They have auction houses and online markets across the globe.
Forage & Graze: This company's Shopify store is striking and very attractive with HD images. Forage & Graze is quite a renowned company that offers healthy and nutritious fad diets. They have a vast customer base who buys directly as well as online.
Blue Star Coffee: Blue Star Coffee is one of the most popular online coffee shops on the internet. This company uses WooCommerce to offer its products. Their online store has premium and impressively designed web pages that attract massive traffic to their site.
Shopify is easier to set up. You don't need to install anything extra to kickstart your journey. Make sure you understand its pricing plans and features that are accessible in each. The only drawback of Shopify is the limitation in control over your site. Plus, the cost associated with integrations, add-ons, and transaction fees keeps adding up as your business grows.
As WooCommerce is an open-source and free plugin, you get complete control of your online store. The cost of starting an online business is comparatively lower than Shopify. The major pitfall of this platform is that users are responsible for maintaining and security of the website. Also, non-techies will find it difficult to set up their store in the beginning.
Shopify and WooCommerce are both powerful platforms that are helping many eCommerce stores to reach their financial goals. It is up to you to choose which features entice you the most and matches your business needs.
Final thoughts
Countless businesses are extracting huge revenue from the eCommerce sector. No wonder why more and more entrepreneurs are setting up their businesses around this industry. However, to eliminate the gap between you and your customers and bag massive profits from your eCommerce store, you need to have a powerful online presence.
Your website is the quintessential digital face of your business. It is a hub of all the important details you want to share with your visitors. You need to ensure that you meet your customer's needs, answer their queries, and give them the best user experience to outrun the competition.
Setting up Shopify is easy but you will get fewer customizing and flexibility options. Whereas WooCommerce gives you immense control over web functionality and design but needs more technical know-how to operate.
As WooCommerce is an eCommerce plugin created for WordPress, the popularity of this platform is comparatively higher than Shopify. Undoubtedly Shopify is growing faster but WooCommerce is still the market leader. With a massive ecosystem of themes, experts, hosting, and plugins, WooCommerce offers comparatively huge benefits over other platforms.
However, if you want full control of your website with a cost-effective feature then go for WooCommerce. Whereas, if you are looking for scalability and consistent support then Shopify is the right pick.
The choice is ultimately yours!