The world of e-commerce is ever expanding with the phenomenal potential of online selling. Concurrently, the number of Joomla eCommerce Templates with numerous powerful functionalities have overwhelmed website owners. But in the jungle of hundreds of thousands of templates, it is very difficult to find the right Joomla eCommerce template.
To facilitate your choice and save your precious time, we have prepared a list of Joomla eCommerce templates to help you decide the right template for your next online store. This article will comprehend the quick walk through the 10 popular Joomla eCommerce extensions in the Market. Now, scroll down, check these and download the template that fits your requirement.
Free E-Commerce Joomla Templates
JD New York - Multipurpose Joomla Template
JD New York comes at the top of our list. Of course, there is a reason. Recently Joomdev has made tons of upgradation in this Multi-Purpose Joomla Template and transformed it completely into a power-packed sophisticated Template.
It comes with the Helix3 framework which gives you more flexibility to customize your website as the way want. With Smart Slider3, you can showcase best products differently on the homepage to retain customer attention to maximize sells.
If your website is rich in content, then integrated Mega Menu and Drop Down menu will definitely help you to develop such website.
Key Features of JD New York:
Powerful Helix 3 FrameWork
Smart Slider3 for Best Sliding Experience
Fully Responsive
Mega Menu and Drop Down Menu
First and Lightweight
SEO Friendly
JD Focus - Hikashop and J2 Store Compatible Joomla Template
JD Focus is a newly launched freemium eCommerce Joomla Template which is already made customers attention. However, you can even use this template for other websites as well.
It is a feature reach multi-purpose theme developed on the Helix3 framework which is one of the best known Joomla Framework. This responsive Joomla 3.8 template offering J2Store and Hikashop integration. This Joomla template is best for Startup, small business owners including agencies and fashion designers.
JD focus layout is very intuitive and can easily be customized. It is integrated with robust Quix Pro Page Builder to create stunning pages just by drag and drop.
Key Features of JD Focus:
Helix3 Framework
Smart Slider3 Pro
Quix Pro Page Builder
Mega Menu and K2 Component
Wide and Boxed Layout
MegaDeal II - eCommerce Template for Joomla
MegaDeal II is a modern multi-purpose eCommerce Joomla Template developed on powerful Helix3 Framework. Its flat design and endless customization options attract most of the developers. Although specially crafted for digital products, but it can be used for any type of online store.
It is fully responsive Joomla 3.0 Template which is awesome for those customers who wish to buy products using the mobile device. In addition to that, this template comes with a robust VirtueMart extension which is said to be most powerful online shopping platform for Joomla that helps in setting up managing an online store with ease. Finally, if you go with the premium version, then you will also get Quickstart for a hassle-free installation experience. If you are really looking for a solution for your upcoming online store, this would be a wonderful template to start with. If you are looking for the website creator tools, you can check this article.
Key Features of MegaDeal II:
Powered by Helix3 Framework
VirtueMart 3 Support
SP Page Builder Pro
Modern & Responsive Design
Virtuemart SP Modules
Easy to Install & Use with Quickstart
Pajuh - Responsive Virtuemart Template
Pajuh is a clean and sleek, stunning and a fresh freemium eCommerce template for Joomla 3.x.x. This template can be used for any type of online store whether garments or digital. Besides excellent clean and polished designed, it comes with power packed T3 Framework, newsletter plugin, 5 color options, slideshow module and many more powerful extensions. Pajuh is a responsive template and highly optimized for mobile and tablet screen. This template ensures cross-browser compatibility and has the options to enable JS and CSS compression. So, If you are looking for a fresh Virtuemart Joomla template, then you should not look further.
Some of its excellent features include:
Fully support the latest Virtuemart
Fully Compatible with Joomla 3.x.x
Fully Support a powerful K2 component.
Boxed and wide layout option
5 color options
Amazing homepage slider option
All Installed Extensions components, modules, plug-in included
JA Bookshop - Responsive Joomla template for e-commerce
JA Bookshop is fully responsive, nice and features reached Joomla eCommerce template for an online store. However, it would be best suited if you want to make your physical bookstore into a digital online shop.
It is developed on the powerful T3 Framework with Bootstrap 3 while bringing an awesome blogging experience with EasyBlog. Its clean and engaging design sense will definitely boost sales of your online store. Moreover, it comes with dynamic shopping cart component Mijoshop which is compatible with most of the payment gateway plugins to ensure an ideal business solution for your e-business.
It is available in 5 color scheme options and 8 ready-made pages which are good to have for an elegant, unique and multi-functional eCommerce website. This template, in addition, supports RTL CSS Style.
Key features of JA Bookshop are:
Built on the latest T3 Framework compatible with Bootstrap 3
Options to choose Mega Menu or Off-canvas menu
Fully Responsive Design
Support RTL
Supports Easyblog
Boxed and wide layout option
5 Color Options
Support K2 Component
SJ The Cool - Free Responsive Joomla eCommerce Template
SJ The Cool is one of the best free responsive Joomla e-commerce template powered by Helix3 Framework and K2 component. It can be used to develop any type of online store whether cloth or book.
The Cool comes with professional homepage design that fits perfectly to any Joomla eCommerce websites. With built-in SP page builder, you can easily create and customize your e-commerce site.
Having fully responsive layout, it will flawlessly work on any devices or any screen resolutions. Why not Let experience it now?
The helix3 framework being the most advanced Joomla Framework gives you an awesome experience with drag and drop functionality in making custom websites with endless options!
Key features of SJ The Cool:
Compatible with Joomla 2.5.x and Joomla 3x
Helix3 Framework
Fully Responsive Layout
Flexible Layout with Sidebars (Left and Right)
Powerful Admin Panel
Powerful Mega Menu
Integrated to K2 store component
State-of-the-art Technologies
Free QuickStart installation package
Cross-browser compatibility
ADOT - Joomla eCommerce Template
Adot is an impressive and a free Joomla eCommerce Template. This is modern, sleek and clean, user-friendly and highly customizable Joomla Template. It is an ideal Joomla Template to develop creative portfolio websites.
This responsive eCommerce Joomla template comes with the best eCommerce Extension Virtuemart that you can use to create eCommerce shopping site for selling any kind of products especially fashion items.
With ADOT's, powerful and modern features, creating a beautiful unique website is just a matter of time. You can easily develop a unique website just by drag and drop the elements. This sophisticated Joomla template comes with boxed and grid layout, custom logo, 600 Google Fonts and readymade demos to help you develop a personalized website with the possibility to alter a lot of options to fit your business needs.
Key features of Adot:
Html5 + Css3 + Bootstrap
Drag and Drop Page Builder
Elegant product detail layout
SEO Friendly
Compatible with VirtueMart
RTL Ready
Awesome Typography Options
8 High-Quality Demo
CornerShop
As the name suggests, Cornershop is a Joomla Template comes with inbuilt shopping cart features. And not only one but two. Hikashop and Mijoshop are integrated with Cornershop demo and are designed to the perfection to fit any type of Joomla e-commerce shop needs.
The layout of Cornershop is effective and very flexible. In a matter of click, you can switch from full-width to the boxed layout. They have included 4 ready-made templates with custom background patterns and images that can spice up this stunning template's layout.
Key features of Cornershop:
Five Module Style
Shortcodes & Typography Included
K2 Component
MijoShop and HikkaShop extension
4 Ready-Made Template Style
Cross Browser compatibility
Fully Responsive
JF Mouti - Free eCommerce Joomla template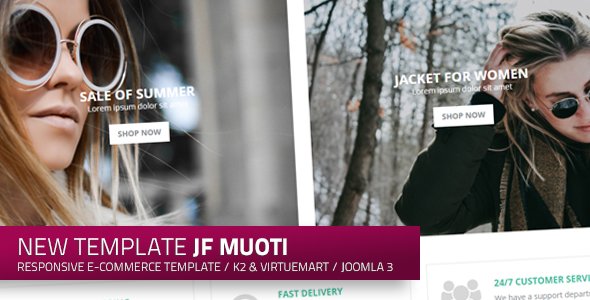 JF Mouti is another robust and a completely free Joomla e-commerce template. This awesome Joomla Template is fully compatible with the VirtueMart extension which is known to be one of the best shopping cart extensions.
It comes with 2 different Homepage layout options with various kind of module positions which lets you showcase your brand in a unique style.
If you also want to handle blog posts in an effective manner, then K2 will do the trick for you. It comes with Quickstart package for Joomla 3.x by which you can install this template in minutes.
Key features of JF Mouti:
2 Homepage Layouts
Fully Responsive
Virtuemart Support
K2 Components
Custom Coming Soon Page
3 Module Positions
Css3 Transitions Included
Supports Commonly Used Languages
Watches Shop - Responsive VirtueMart Template
Watches shop is a free and a clean Joomla 3.x Responsive VirtueMart Template. It is best suited for Watch store. However, you can even use this template for another type of online stores such as shoe store, gadget store etc.
This template has some of the best built-in features which would help you to showcase products in different ways. Clean and elegant design guarantee you better customer engagement which is very essential to maximize sell. In addition to that, there is a shopping basket placed at the top of the page, so that your customer can see a number of items have been chosen to buy.
If you are looking for a mobile-friendly, versatile template for your online shop Watches Shop is the best choice!
Key features
Fully Responsive Joomla Template
QuickStart Installation
Awesome jQuerry effects
Booststarp3
Well Documented
Cross Browser compatibility
Font Awesome Icons